Don Adair: Kia boosts fortunes of Cadenza near-luxury sedan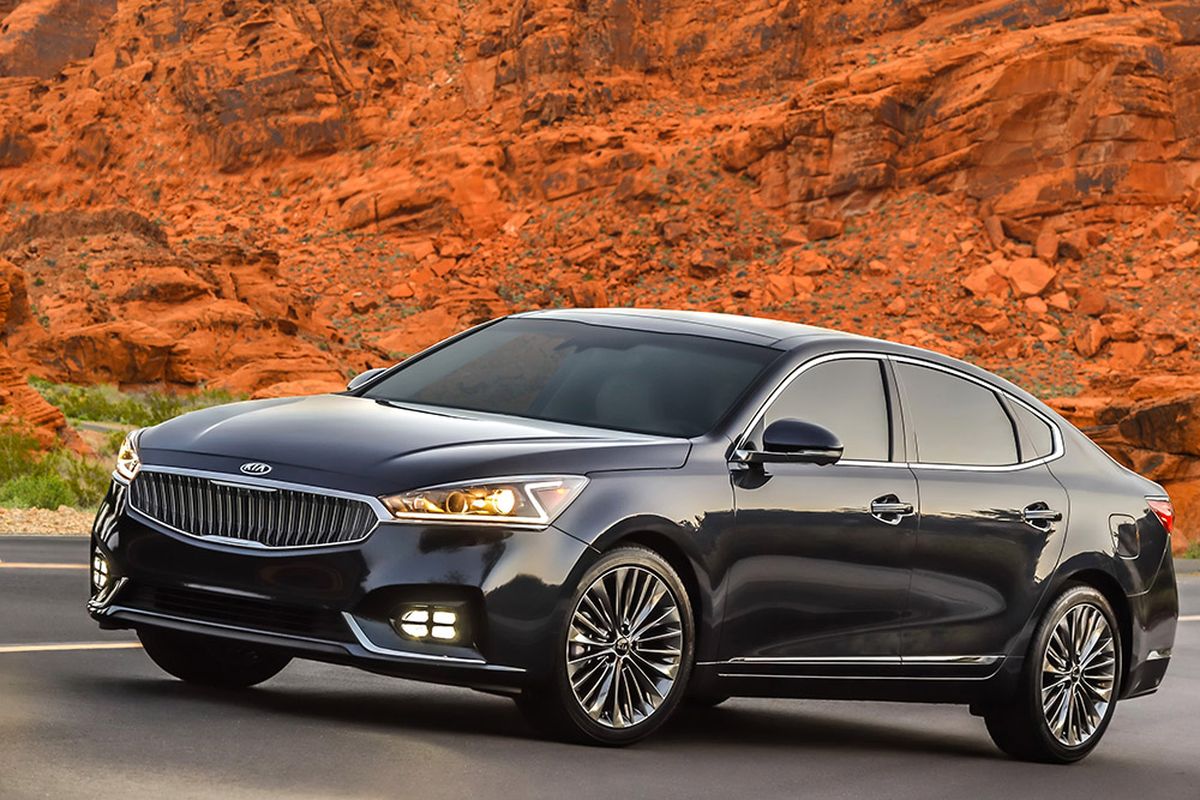 With the 2017 Cadenza sedan, Kia fast-tracks its North American learning curve.
Kia made its name here selling well-equipped, value-priced small cars and crossovers and covering them with the industry's best warranty. Now, it aims to repeat that success in larger, more luxurious segments.
Quickly.
The Cadenza, a large, front-wheel-drive near-luxury sedan, debuted here in 2013. Now, just three years later, the second-generation model has arrived. The upgrades are more evolutionary than revolutionary, but they bolster Cadenza's competitive position.
The 2017 Cadenza is built on a lighter, stiffer platform. It's roomier, more refined and more efficient.
Outside, clean lines, dynamic proportions and a flowing, coupe-like silhouette make for a strong presence, with a hint of European sophistication. The redesigned cabin adds upscale materials and updated electronics.
A new head-up display shows key information — vehicle speed, turn-by-turn navigation directions, etc — on the windshield ahead of the driver. The high-resolution rearview camera now includes adaptive guidelines that take the guesswork out of backing into tight spaces.
Sound-mitigation measures cut cabin noise levels and the front seats provide a lower — ie, "sportier" — seating position and accommodate a wider range of body types. There's abundant rear-seat legroom, though tall passengers may find headroom is compromised.
There are plenty of storage cubbies and cupholders. The trunk is about average in size, but the rear seatbacks don't fold, limiting its functionality. A Smart Trunk feature opens the lid automatically if the sensor detects the key fob for longer than 3 seconds.
The Cadenza can be had with adaptive cruise control that includes stop-and-go functionality; forward collision warning and automatic emergency braking; and lane-departure warning. A new blind-spot detection system can prevent an inattentive driver from drifting in to an adjacent vehicle.
A 3.3-liter, 290-horsepower V-6 powers all Cadenzas. In the interest of economy, it's down slightly on power this year. The eight-speed gearbox that replaces last year's six-speed box is similarly frugal. Upshifts are executed smoothly, but lazily, and throttle-induced downshifts — during freeway merges, for example, or when passing on a two-lane road — can cause it to hesitate while hunting the correct gear.
The new Cadenza is about a half-second slower (6.7 seconds) from 0-60 than last year's model. EPA ratings improve 1 mpg in city (20) and combined (23) driving, and holds steady at 28 mpg on the highway.
Suspension tweaks reduce Cadenza's propensity to lean in fast corners. Redesigned shock absorbers reduce harshness on rough surfaces. A 32-bit electronic control unit (ECU) replaces last year's 16-bit unit, improving steering responses.
It's an impressive effort, but if the Cadenza is to be faulted, it's for a failure to engage. On a six-plus-hour drive to Portland, our $45,000 tester revealed itself to be capable, quiet and comfortable, but not memorable.
That's an auto writer's complaint, though. In real life, the Cadenza does everything required of a full-size, near-luxury sedan. Time will tell if American drivers will warm to it as they have its smaller siblings.
One thing is certain; Kia won't let the grass grow between its toes waiting to find out.
Contact Don at don@dadair.com or visit www.dadair.com.
2017 Kia Cadenza Limited
Vehicle base price: $30,345
Trim level base price: $44,390
As tested: $45,290
Options: Our Limited tester included no options.
EPA rating: 23 combined/ 20 city/28 highway
Regular unleaded fuel specified
---
---