Collector Car Corner: The worst car years of the 1950s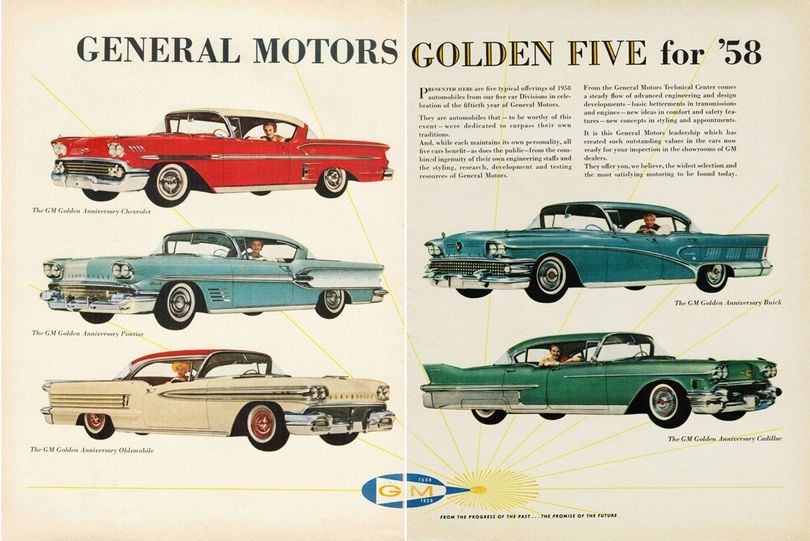 Cutline 1:
Q: Greg, I¹ve read your columns now for years and enjoy all the stories of you being a youngster in the 1950s. Being that you have said many cars from the 1950 decade were beautiful designs, you did mention once that you thought the 1958 model year was the worst. Can you explain further? Keep up the fun columns. Sincerely, Gene L., Illinois.
A: Gene, I¹ll sure try my best. For whatever reason, and following a wonderful year of car design in 1957, most every manufacturer in my opinion added bulk, chrome, and even more weight and then ushered in the beginning of a fin era that would quickly get out offhand by 1960. So, yes, 1958 was indeed the worst design year of the 1950 decade. From the beautiful 1957 Chevy, 1957 Ford, 1956 Plymouth, 1953 Corvette, 1953 Buick Skylark, 1956 Continental, 1956 Studebaker Hawk, 1956 Mercury, 1956 Packard Caribbean (and on and on), there were many great designs that to this day are highly sought collector cars.
These pre-1958 brilliant designs led all car enthusiasts to really look forward to 1958 model year with much gusto.
Boy we¹re we in for major disappointment.
When the new 1958 models arrived in late 1957 to much media ballyhoo, low and behold some of the most overgrown, chrome ³boxes² appeared at the new car showings. Of the big three, (GM, Ford, Chrysler) I feel General Motors led the way with the poorest of designs. The 1958 Pontiac and Oldsmobile were not much to look at, and the usually good looking Buick wasn¹t too far behind but a little better. Even the 1958 Chevy, which was probably the best of the GM bunch, looked nothing like its predecessor beauty 1957 Chevy.
Ford, too, lost its way, but not as much as GM. The 1958 Ford was at least acceptable in looks, but still nowhere near the 1957 models in aesthetic approval. A major ³downer² was the Mercury, which had already gained weight and some odd appearances in 1957 as it completely deviated from what I¹ve always said was one of the best car designs ever with the 1955 and 1956 Mercurys. For whatever reason, everything seemed to say ³let¹s add more weight and chrome to the Mercury, box it off and even add a backward window that opens and some really weird tail lamps. ³
To this day, I¹m still puzzled by the car designs f of 1958 and how far they deviated from auto design in Œ55, Œ56 and Œ57. Perhaps the biggest eyesore was the new 1958 Lincoln, which grew to immense proportions in all manners. As for the all-new Edsel, its unique new design wasn¹t nearly as bad since there was nothing to compare it to.
Even the Thunderbird, which made great impressions as a two-seater sports car from ¹55 through ¹57, fell to the 1958 design flaw. And, even though I do like the looks of the 1958 Thunderbird, it was a 180-degree switch from a sporty two-seater to a big, heavy four-seater. Ford marketing didn¹t seem concerned.
Over at Chrysler, the ³fin wars² began in earnest actually in 1957, and then took off. By 1958 some of the big wings ala Plymouth and DeSoto were sitting in the dealer showrooms and looking way different than before. However, of the big three manufacturers, I¹d have to say the 1958 MOPARS were the best looking, including the Plymouth Belvedere that made it to Hollywood fame as ³Christine² and those beautiful Chrysler 300s.
Studebaker and Packard, trying to unite the two companies did just the opposite, ruining both along the way. Packard put out its final model in 1958 while Studebaker was another story. Its 1958 models were horribly dull and ugly, especially the 1958 Studebaker Scotsman, a feeble looking stripped down car that ran zero to 60-mph in 21 seconds! Sales were atrocious, and the Studebaker/Packard nameplates were brought to their knees. So, what did Studebaker do? They stopped making Packards, and took the horrible looking and selling Scotsman, added all new sheet metal and unique design and prestoŠthe 1959 Studebaker Lark! The Lark went on to save the company and put off bankruptcy for a few more years! Packard? Take a close look at that 1958 Packard Station Wagon and you¹ll easily understand how this once prestigious mark came to an abrupt end.
Rambler, meanwhile, wasn¹t as bad. Since its previous designs never won any awards for ingenuity to begin with, the 1958 year was actually pretty good. In a year when big and ugly seemed to be the fashion statement, Rambler motored along with some decent designs and today those 1958 Ramblers and Ambassadors actually look pretty good (especially compared to that gargantuan ¹58 Lincoln).
Can¹t end without mentioning a few more 1958 gems. The 1958 Corvette went from great to excellent; the 1958 Cadillac Eldorado Biarritz is another huge winner, as is the 1958 Dodge D-500, 1958 Buick Limited long or short wheelbase, and the 1958 Desoto Adventurer.
Did I miss a gem or another horrible design year of the 1950s? Let me know your feelings and we¹ll share with our readers.
(Greg Zyla is a syndicated auto columnist who welcomes reader questions and comments at 303 Roosevelt St., Sayre, Pa. 18840 or email him at reg@gregzyla.com).
---
---