Test Drive: 2016 Mazda CX-5 Grand Touring AWD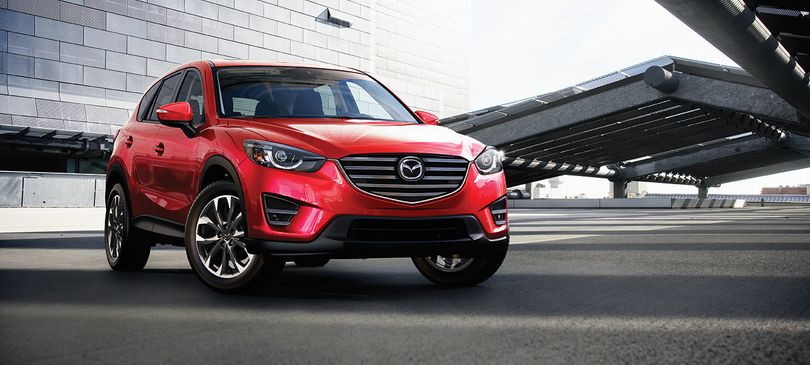 This week, we're driving the 2016 Mazda CX-5 Grand Touring, a compact crossover delivered in all-wheel-drive (AWD) dress with roomy five-passenger seating. Mazda clearly states in its marketing that its Skyactiv technology is a re-engineering process where each component complements the other resulting in supreme efficiency, performance and lower emissions. Further, Mazda's continued commitment to its Skyactiv Technology creed isn't just another gimmick born at some high dollar ad agency, it's now dogma for the popular car maker.
Mazda's CX-5 arrived in 2013 to rave reviews, and it's been a top seller ever since. New for 2016 is a tweaked front grille, quieter interior, electronic parking brake, and a new seven-inch color touchscreen display controlled by a rotary dial for stereo, navigation, and the many other infotainment features. By the end of the week's test, I finally felt comfortable with all the controls as it does have a learning curve.
The entry level front-drive Sport, which comes with a smaller 2.0-liter four-cylinder coupled to a six speed manual transmission, delivers 26 city and 35 highway for just $21,795. If you want the Skyactiv six-speed automatic transmission, where EPA mileage stays the same in the city at 26 but drops a bit on the highway to 32, the price jumps to $23,195 and includes the bigger 2.5-liter four cylinder.
If you want an AWD Sport, it goes for just $24,445 and also features the 2.5-liter four cylinder. EPA numbers for AWD CX-5 models are 24 city and 30 highway, both very impressive. Engine specs are 155 horses at 150 lb. ft. of torque for the 2.0 while the larger 2.5 delivers 184 horses and 185 lb. ft. of torque. The next model up the CX-5 ladder is the CX-5 Touring starting at $25,215 and then top line Grand Touring at $28,220.
Underneath, every CX-5 features unibody car-like independent suspension that results in a very agile and fun to drive vehicle. It's easy to park and a pleasure on the open highway, where again I'll stress that Mazda engineers have made the interior quieter than the last CX-5 we drove in 2014.
Standard features on all CX-5s'are many, but the top line Grand Touring models come standard with amenities sure to impress. Included are blind spot monitoring, rain sense wipers, heated side mirrors, Bluetooth, all the powers, tilt and telescopic, Mazda Connect Infotainment with nine-speaker Bose surround sound stereo, SiriusXM, Halogen headlights, power moonroof, 7.0-inch display with rear back-up safety camera, 19-inch tires on alloy wheels, dual zone air, rear split seat, roof spoiler, carpeted floor mats, leather trim, power driver seat with lumbar, heated seats and more.
Additionally, when equipped with Mazda's "Smart City Brake Support" that helps prevent fender benders and comes as part of a $1,505 Grand Touring Tech option, things can't get much better when it comes to traveling in a safe vehicle. Other safety items include rear cross traffic alert, all the air bags, hill launch assist, dynamic stability control, traction control and four-wheel disc anti-lock brakes.
A safety cocoon body-ring structure assures additional security and, when everything is packaged together, results in government "Five-Star" overall safety ratings and an IIHS "Superior Rating Safety Pick," which happens to be the top rating from the Insurance Institute.
Another area of notable upgrades is the interior. Here, you'll find more pleasing materials, extra storage areas, new instrument gauge designs and more colors to choose from. Since the CX-5 already offered excellent rear seat room for taller adults, it concentrated on a more inviting cabin with more luxury features.
Mazda feels that more than enough horsepower can be obtained from smaller cubic inch engines, transmission gearing and AWD underpinnings that will result in excellent performance and enhanced fuel mileage. Dean Case, Mazda's communications officer, explained that the same theory Mazda delivers to its millions of satisfied road vehicle consumers is developed and then tested on the nation's top road racing courses where Mazda competes in the top Prototype class. It is then passed on to the millions of consumers who park Mazda vehicles in their driveways.
Important numbers include a wheelbase of 106.3 inches, 3,426 curb weight, 15.3 gallon fuel tank, and 34.1 to 65.4 cu. ft. of cargo space depending of seat arrangement and an 8.5-inch ground clearance.
Mazda engineers don't know the definition of the word "complacent," and are still ahead of the curve with its "Skyactiv" doctrine. The result is another Test Drive CX-5 "Best Buy" recommendation.
2016 Mazda CX-5 Grand Touring
Entry Price: $21,795
Price as tested: $32,640
Likes: Quiet interior, Skyactiv doctrine, safety.
Dislikes: Expensive option packages, infotainment learning curve.
---
---