Test Drive: 2016 Mazda6 Gran Touring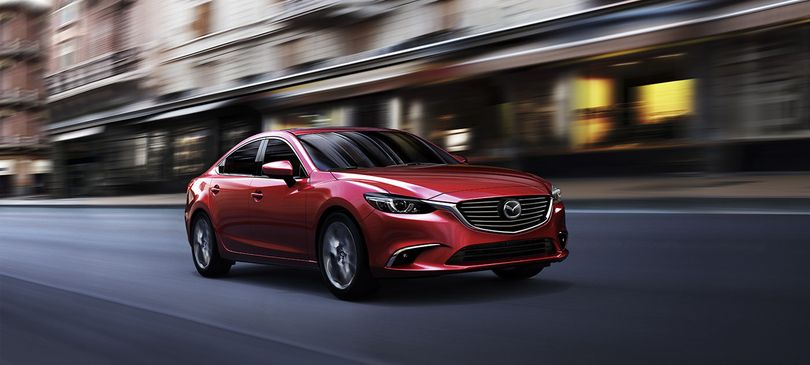 This week, we¹re driving the 2016 Mazda6, a fine looking mid-size sedan from front to back. Good looks aside, Mazda6 delivers an outstanding 40-MPG highway EPA number along with very good performance thanks to Mazda¹s respected Skyactiv powertrain combination. Currently, Mazda6 is the midsize fuel mileage champion in class, and it¹s been this way for a few years now.
Our tester arrived in top class Gran Touring trim, pushing the base price to $30,195 from the entry level Sport model, which starts at impressive $21,495. A mid-level Touring model starts at $23,945, allowing consumers much leeway when purchasing a Mazda.
Important is the fact that all Mazda6 models come with identical drivetrains, specifically Mazda¹s now heralded Skyactiv tech/mechanical combo that zeroes in on stronger, lightweight alloys and perfectly matched powertrain assemblies. Mazda6 features a 2.5-liter four-cylinder that delivers 184 horses and 185 lb. ft. of torque coupled to a fine shifting and precise six-speed automatic geared for both acceleration and performance.
For those who like to shift, a six-speed manual is available with the Sport and Touring models, although the Grand Touring comes only with the automatic. Not surprising nowadays is the fact that if you choose the six-speed manual you¹ll get less fuel mileage than the high-tech automatic as manuals deliver 25 city and 37 highway.
Just about every comfort and safety convenience imaginable is standard on the Grand Touring, including dual-zone climate control, heated power front seats, nice leather interior, rear view camera, Bluetooth, USB, navigation, heads-up display, blind spot with cross-traffic alert, 11-speaker Bose stereo, Smart City Brake Support, push button start, paddle shifters, XM/Sirius satellite, power moonroof, high intensity headlamps, fog lamps and much more.
A major option on our tester is a recommended $2,180 GT Technology Package featuring radar cruise control, I-Eloop regenerative engine braking, high beam control, forward obstructive warning, lane departure warning and active front grille shutters. The I-Eloop ("intelligent energy loop") is significant as it improves fuel efficiency by two MPG thanks to storing energy to a capacitor that allows air-conditioning and other accessories to work while the engine is shut down at a stop sign. Your dealer will fully explain how this system helps fuel economy.
This all leads to Mazda6¹s aforementioned and remarkable fuel mileage. Mazda6 with I-Eloop delivers 28 city and 40 highway with the automatic, a most significant improvement compared to the last generation which ended in 2013 where similar Mazda6 models delivered 21 and 30, respectively.
Thus, beginning in 2014 Mazda engineers added 10 MPG highway to the Skyactiv equation resulting in rave reviews from consumers and the automotive press. If you buy a Mazda6 without I-Eloop, you¹ll still get a most impressive 26/38, so the additional cost versus return on investment will be a decision you¹ll have to make when selecting your Mazda6.
If you can afford one of the $30K Gran Touring models, that¹s great. If not, start with the entry Sport model, add some options and you¹re on the highway with one of the best looking, fuel efficient sport sedans for less than $24K retail.
As for handling, Mazda6 Grand Touring comes with 19-inch tires on beautiful alloys and delivers many of the handling characteristics Mazda learns on the nation¹s major road racing circuits where they are major players. The ³6² sticks well in the turns and delivers a more solid ride that this scribe likes very much.
Inside, everything is within reach of driver and passenger, and I really like the new dash layout and gauges. There¹s also a new console mounted color display control knob that is cumbersome to earn, but the radio still relies on a volume knob. As for Navigation, there¹s a learning curve there, too, but you¹ll get it all figured out once you have it parked in your driveway. Rear legroom is good even for taller adults and there¹s ample cargo room, too.
Safety features on every Mazda6 include all the airbags, four wheel disc ABS, electronic brake assist, dynamic stability, traction control and more.
Important numbers include a wheelbase of 111.4 inches, 3,250 lb. curb weight, 14.8 cu. ft. of cargo space, 6.7-inch ground clearance and a 16.4 gallon fuel tank.
In summary, 2016 Mazda6 is sporty, looks good and delivers economy usually found only in hybrid cars. Consumer Reports bestows a solid ³recommended² rating while owners and predicted reliability ratings are excellent. Add in several safety awards and a Car & Driver Magazine ³Top 10² nod and you¹re making a good decision visiting a Mazda dealer.
Regardless of dress, 2016 Mazda6 is a winner.
.
2016 Mazda6 Gran Touring
Likes: Fuel mileage, reliability, Skyactiv technology.
Dislikes: Engine a little noisy, NAV learning curve, interior wind noise.
Entry Price: $21,495
Price as tested $33,815
(Greg Zyla is a syndicated auto columnist)
---
---