Don Adair: 2016 Honda Civic makes bid for class leadership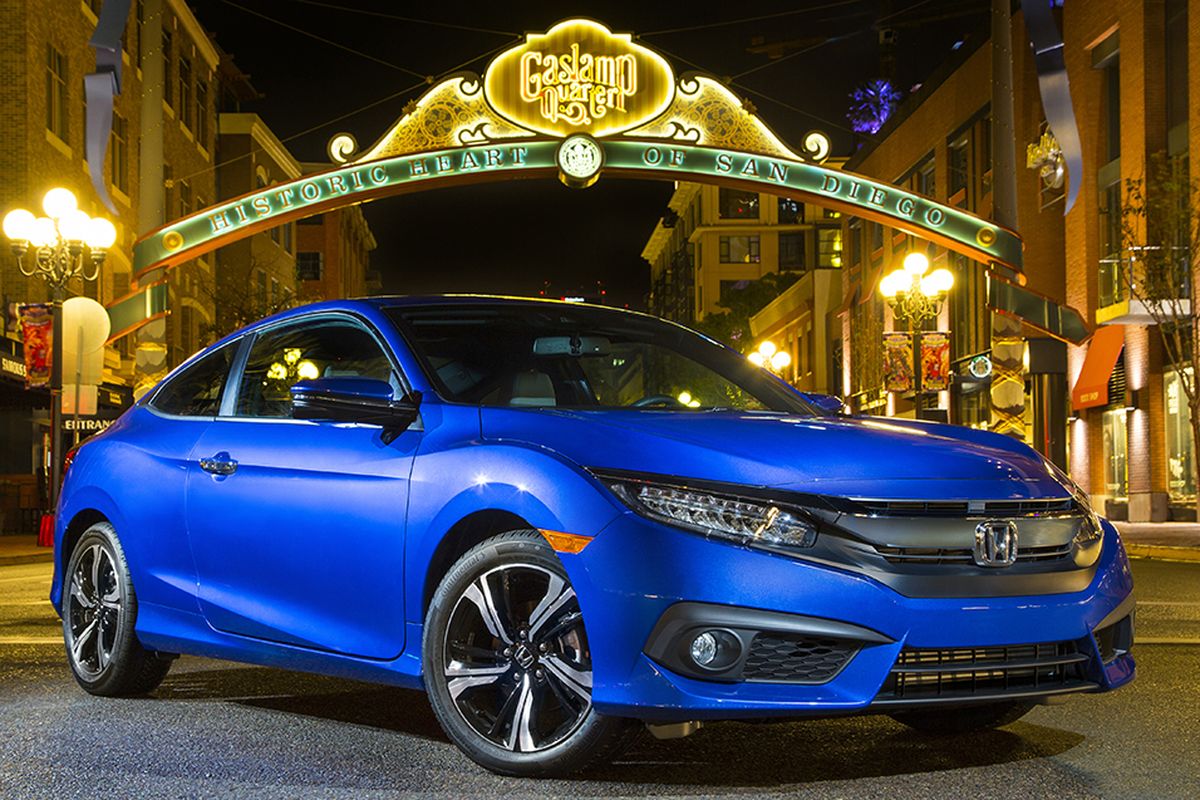 This winter, Honda dropped the first installment in the year-long launch of its 10th-generation, 2016 Civic.
The sedan debuted in November. A coupe came in March and a five-door hatchback arrives this summer. A pair of coupe variants — the youth-oriented Si and the high-performance Type R — will follow.
During its development, Honda benchmarked small cars from Audi and BMW. The resulting car makes a strong case for automotive upward mobility.
The new Civic's aggressive styling and redesigned cabin — it's roomier, quieter and better-equipped — make a compelling bid for class leadership. Its multilink rear suspension, hydraulic shock bushings and ultra-light and ultra-stiff platform lay the foundation for outstanding ride and handling.
Suspension settings are Euro-taut, but hydraulic bushings brush aside pothole-induced jolts. Steering feel is lively and communicative. Turn-in is quick and accurate. When entering a corner, Honda's Agile Handling Assist applies braking power to the front inside wheel, improving cornering attitude, stability and precision.
Civic's wheelbase grows three inches and the body by nearly two inches. Interior space grows by 8.4 cubic feet and rear legroom is up by more than five inches.
The coupe, which we tested, is an inch lower than the sedan and 5.5 inches shorter.
Honda equips every new Civic with automatic climate control, automatic headlights, cruise control, LED daytime running lights and taillights and full power accessories. Cabin electronics include a 5-inch central display screen, a rearview camera, Bluetooth phone and audio connectivity and a four-speaker stereo with USB port and Pandora radio.
Civic is available with one of the industry's most advanced safety and driver-assistance packages. Standard on the top-level Touring and optional on lower trims, Honda Sensing adds adaptive cruise control, lane-departure warning, lane-departure intervention and forward-collision alert with automatic emergency braking.
The Civic also debuts Honda's first U.S.-market turbocharged engine. The 1.5-liter four makes 174 horsepower and delivers up to 42 mpg highway and 35 mpg combined. Its broad torque band is well suited to the continuously variable transmission (CVT) it's paired with (a six-speed manual gearbox is expected by fall). The sedan runs the 0-60 sprint in a segment-busting 6.7 seconds.
A 158-hp, 2.0-liter four powers lower trims and can be mated with the CVT or a six-speed manual.
Sheet-metal updates include thinner A pillars that enhance sight lines and contribute to the cabin's open and airy feel. A simple and understated dashboard layout replaces last generation's two-tier dash. Abundant storage options include a deep center-console bin.
All trims but the base LX get a 7-inch touchscreen and an infotainment system that now includes Apple CarPlay and Android Auto. On the downside, the system can be slow to respond and is less user-friendly than competitive efforts.
The adaptive cruise control system also disappoints. It slows the Civic prematurely as it approaches slower traffic and, when able, only reluctantly returns to the preset speed.
Wrinkles aside, the new Civic delights on every level — and still to come are the new six-speed gearbox, the hatch and the performance coupes.
It's shaping up as a great year for Civic enthusiasts.
Contact Don at don@dadair.com, or visit www.dadair.com.
2016 Honda Civic 1.5T 2D Touring
Vehicle base price: $19,050
Trim level base price: $26,125
As tested: $26,960
Options: The Touring is a fully equipped trim; our tester included no options.
EPA ratings: 35 combined/31 city/41 highway
Unleaded regular fuel specified
---
---