Don Adair: Audi TT delivers peak experience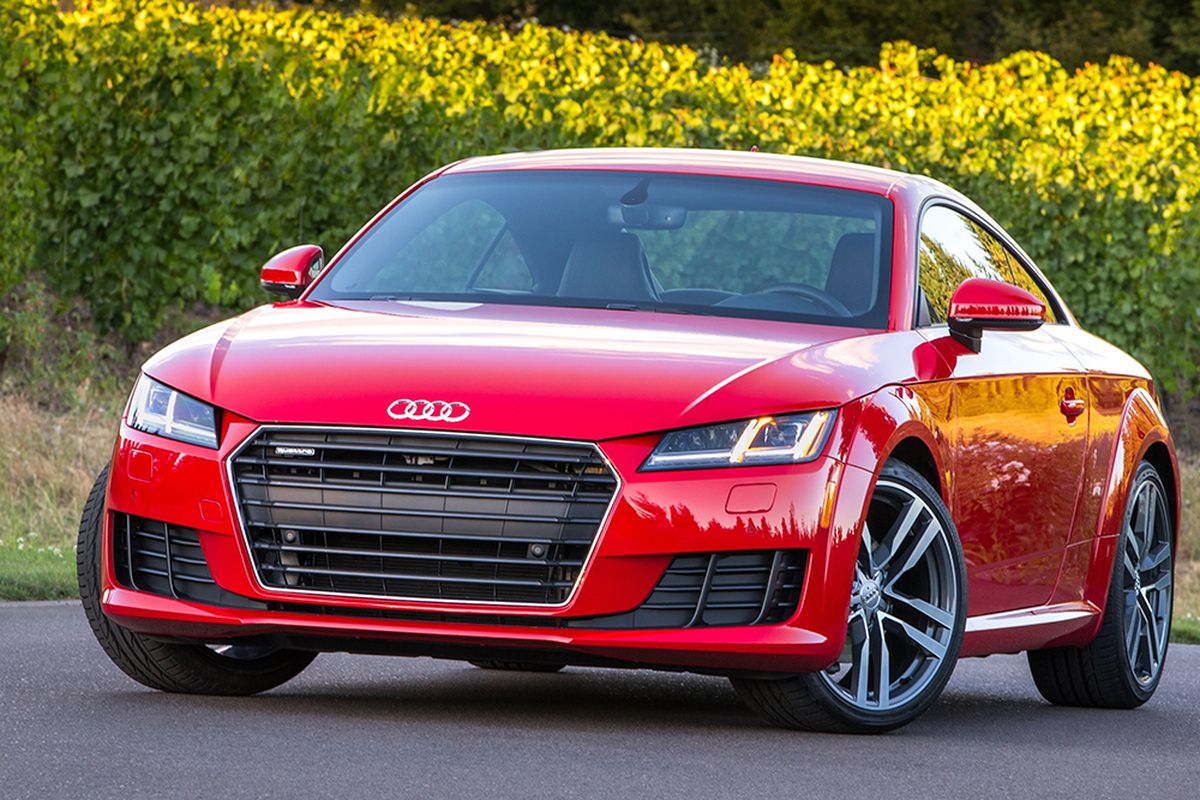 Certain French philosophers believed that our humdrum human lives are illuminated by moments of great clarity.
During these privileged moments, said one, " … the mind takes in the world with a rare and strange intensity."
Lucky me; I had one the other day. It took place out on SR 261, a winding two-lane that skirts the western edge of the Palouse, meandering alongside basalt outcroppings and spring-green wheat fields.
Its delights are available to any driver in any vehicle but that day it felt purpose-built for the 2016 Audi TT, a car that can turn a drive to the dry-cleaner into a privileged moment.
Coursing through the channeled scablands, the TT's turbocharged four-cylinder engine made enough grunt (220 horsepower/258 pound-feet of torque at 1600 rpm) to keep things interesting. Its double-clutch automated transmission clicked off perfect shifts, each punctuated by a rev-matching, chassis-settling blip of the throttle. Its ideally weighted steering wheel passed along vital road-surface information. Its diamond-stitched leather sport seats firmly gripped my backside.
A transcendent man-and-machine moment.
The privileged moments came courtesy of a remarkable new cabin technology, in tandem with the miracle of Google Earth.
The TT debuts Audi's "virtual cockpit," a 12.3-inch, high-definition dynamic display set in the dash directly ahead of the driver. It incorporates the gauge clusters, along with a navigation screen that displays Google Earth. Scroll in for streets and landmarks; scroll out for panoramic vistas.
With Google Earth tracking my progress through dry-land wheat country, I saw evidence of the great Ice Age floods that scoured the terrain millennia ago.
From within half-mile-wide washes, I peered over basalt walls to view the landforms beyond. I saw water-carved mounds lining vast bluffs, so symmetrical they appeared manmade. Roller-coaster dips in the road were revealed to be remnant fingers of ancient channels.
I was transfixed but not distracted; the screen's location and clarity allows it to be absorbed in a glance.
The virtual cockpit replaces a conventional center-of-the-dash display, and its functions can be operated via steering-wheel controls and the console-mounted knob that anchors Audi's MMI interface.
HVAC controls are embedded within the trio of circular aircraft-style vents spread across the dash. Seat-warmer controls are embedded in a pair of vents located on either end of the cockpit.
It's a startlingly unique and effective strategy.
Based on VW/Audi's new modular platform, the TT has the shortest wheelbase of any of the company's products. You wouldn't know it from the quality of the ride, though. Despite our tester's low-profile 19-inch wheels, the ride was firm but never harsh.
Quattro all-wheel-drive is standard. Front-to-rear torque distribution varies depending on driving conditions and a driver-selectable drive mode. Its control unit measures the coefficient of traction at all four wheels via 150 readings every 10 milliseconds.
Isn't that just like a car guy, though? I've used my allotted space on cool tech, with scant word of creature comforts, fuel economy or the available convertible. Guess you'll have to go try it yourself and experience your own privileged moments.
2016 Audi TT 2.0 quattro S tronic
Vehicle base price: $42,900
Trim level base price: $42,900
As tested: $50,600
Optional equipment included metallic paint; MMI Navigation Plus; Audi Connect w/online services; blind-spot alert; parking system w/rearview camera; 19-inch wheels w/summer tires; Nappa leather sport seats; Bang & Olufsen sound system.
EPA rating: 26 combined/23 city/30 highway
Regular unleaded fuel specified
---
---