Don Adair: Compact Mazda3 expresses Mazda's engaging DNA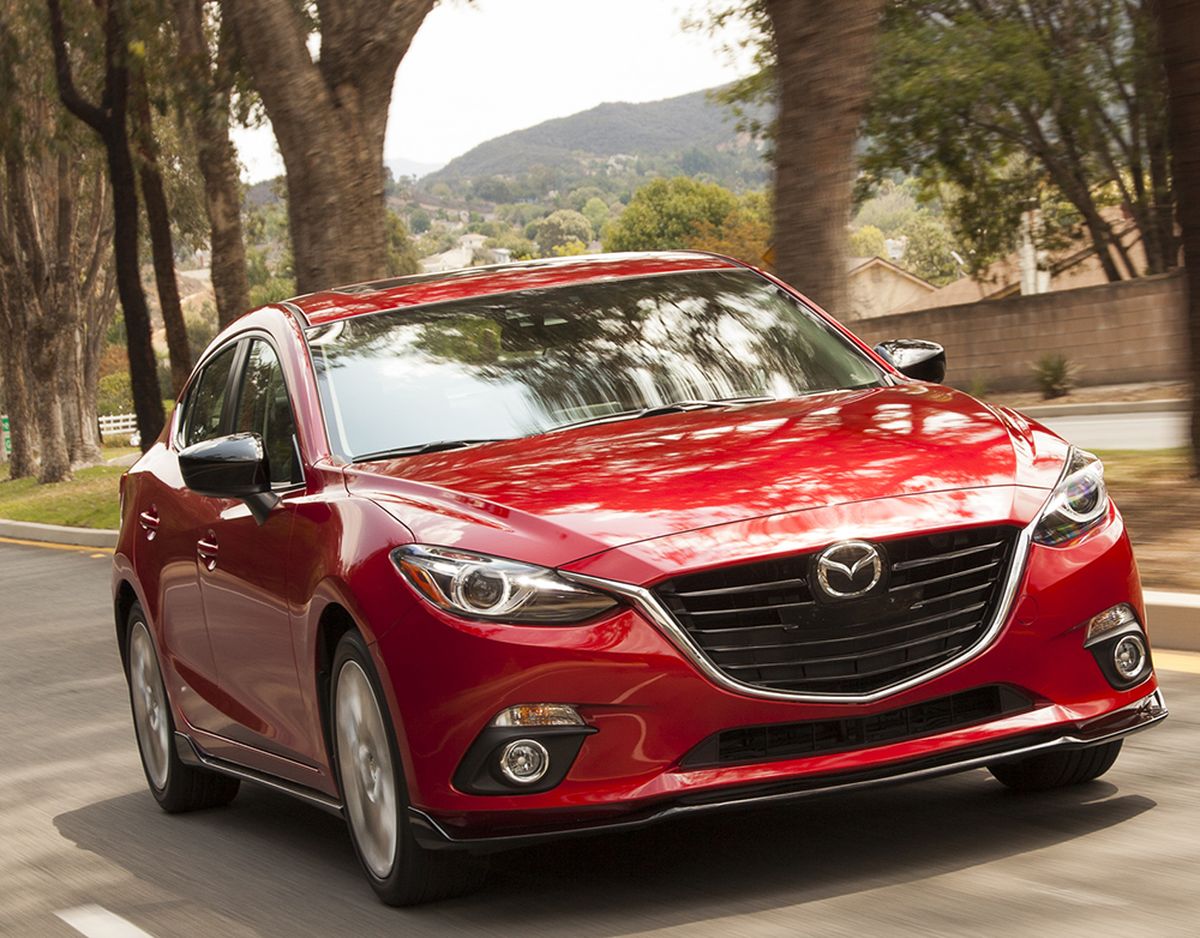 Few brands do DNA better than Mazda does DNA.
A strong familial thread links the smallest Mazda with the largest. Across the board, exterior design is fluid and dramatic. Cabins share a breezy, high-touch/high-tech aesthetic. Suspensions are tuned to allow precise responses. Every model — even the three-row CX-9 crossover — rewards driver engagement.
That spirit is best expressed in the MX-5 Miata. Miata may not be Mazda's flagship, but the little two-seater is its compass. Everything else falls into place on the heels of Miata.
That connection is no more evident than in the compact Mazda3. Like the Miata, the Mazda3 is quick and well balanced, its responses precise and go-kart quick. Because it's a front-driver, its dynamics can't match the rear-drive Miata's, but the trade-offs are worthy; you can't make much of a Costco run in a Miata.
The 3 is available as a sedan or hatchback. It's thrifty at the pump, roomy enough to accommodate four adults and, in hatchback form, abundantly utilitarian.
Two models, 3i and 3s, are keyed to engine size. A 155-horsepower, 2.0-liter four-cylinder engine powers 3i trims, and a 184-hp, 2.5-liter four powers the 3s's. Either engine can be paired with a six-speed manual transmission or a six-speed automatic.
The stick shift isn't a loss-leader; it's the transmission the car deserves. It's one of the better front-drive gearboxes extant and its well-spaced and clearly defined gates minimize blown shifts. Clutch take-up is smooth, linear and precise.

Got to have the automatic? No matter; it's more frugal than the stick and makes good, quick shifts and rev-matched downshifts.
Like the Miata, the Mazda3 prioritizes balance over raw power. Both engines are happiest when being put through their paces. The 2.0-liter is a bit raspy under throttle but motivates the 3 from 0-60 in a quick-for-the-class 8 seconds, more or less.
The 2.5L is smoother and quieter and finds 60 mph in about 7.5 seconds.
Both engines are extremely frugal. The 2.0L returns about 33 mpg combined and the 2.5 about 30 mpg. 3i models return 40-plus highway mpg.
Suspension tuning rewards aggressive driving but doesn't punish occupants. It's taut but compliant; it doesn't make potholes disappear, but it does eliminate their sting.
The front seats are supportive and moderately contoured. Rear seats are roomy enough for a pair of average-size adults. Materials quality throughout exceeds what's expected of the segment.
The base 3i Sport is equipped with halogen headlights, push-button ignition and remote keyless entry. The standard Mazda Connect infotainment system includes a 7-inch tablet-style touchscreen and a knob-and-button-based control paradigm that puts many more-expensive systems to shame.
In a growing trend, small cars everywhere are incorporating luxury-car notes. For Mazda3 buyers, that means the availability of such upscale amenities as a small, transparent heads-up screen that places vehicle speed and navigation information in the driver's line of sight; rain-sensing wipers; adaptive headlights and intelligent cruise control.
Tie up all that in a dynamic and fun-to-drive little package, and let the Mazda DNA shine through bright and clear.
Contact Don at don@dadair.com or visit www.dadair.com.
2016 Mazda Mazda3 S 5-door Grand Touring
Vehicle base price: $18,945
Trim level base price: $25,445
As tested: $26,580
Options: The 5-door Grand Touring is a fully equipped trim. Our tester's only option was its Soul Red metallic paint.
EPA rating: 29 combined/26 city/35 highway
Regular unleaded fuel specified
---
---