Don Adair: Audi Q7 transcends the sum of its parts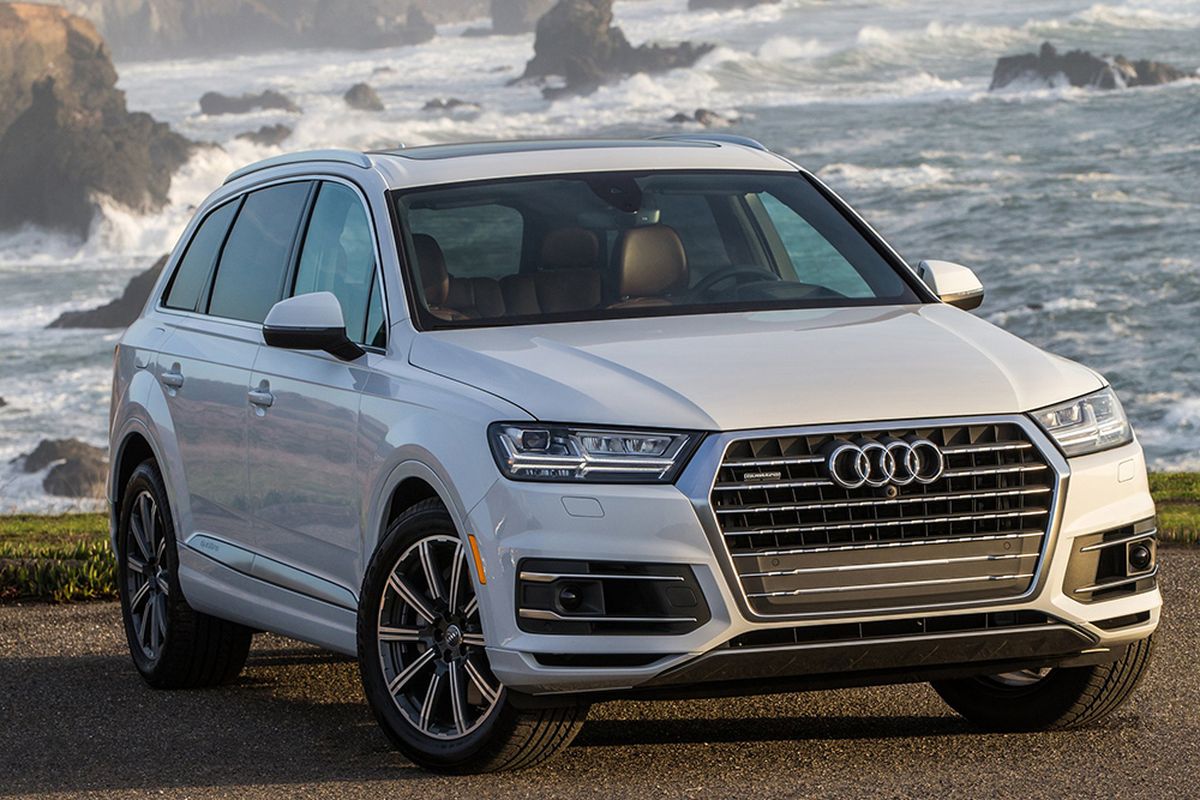 A whiff of alchemy attends the creation of every great car, a bit of magic that allows it to transcend the sum of its parts.
The 2017 Audi Q7 is such a car. Fresh off a year-long hiatus, the large crossover returns to the fray lighter, more engaging and better equipped than before. A dramatic new grille keys exterior updates and the redesigned cabin coddles as many as seven in sumptuous and tech-rich comfort.
Materials quality is first-rate and controls are logically, attractively and ergonomically arrayed. Exterior dimensions are largely unchanged, but crafty packaging produces big gains in headroom, legroom and shoulder room in the second- and third-row seating areas.
Underneath, a new platform employs big doses of aluminum and high-strength steel, helping cut vehicle weight by up to 700 pounds. A redesigned suspension also includes gobs of aluminum, reducing so-called "unsprung" weight to boost handling and ride quality.
Power is by a turbocharged, 333-horsepower six-cylinder engine that urges the Q7 from zero-to-60 in a seemingly effortless 5.5 seconds and can tow up to 7,700 pounds.
This week, Audi announced the availability of a new engine, a turbocharged, 2.0-liter four that makes 252 hp and is tow-rated to 4,400 pounds. It drops the Q7 base price (including destination) from $55,750 to $49,950.
Both engines are mated to an eight-speed automatic transmission that, paired with the six in our tester, was quick and certain in its selection the proper gear.
The Q7 is available with Audi's programmable "virtual cockpit," which integrates Google Earth into the high-resolution map display, turning the cockpit into a rolling theater of the immediate environment (especially impressive out in the channeled scablands). Upon ignition, the tablet-size, high-resolution display lifts out of the dash top.
The Multi-Media Interface (MMI) stitches switches, buttons, a rotary knob and, optionally, a finger-tip handwriting pad into one of the more intuitive systems extant. A suite of safety and driver-assist systems — including lane-keeping assist, adaptive cruise control and forward-looking cameras — portend the driverless future.
The adaptive cruise control system is tightly integrated with the navigation system and Google Maps. Left to its own devices, it can brake for an upcoming corner and accelerate out of it. Simultaneously, the lane-keeping system keeps the big Audi between the lines.
An available Active Chassis package ($4,000) adds an adaptive air suspension that frosts the ride-quality cake and virtually eliminates body lean during aggressive cornering. The package includes rear-wheel steering, which boosts the immediacy, precision and stability of the Q7's handling package.
All 2017 Q7s include Audi pre sense city, an emergency braking system that brings the Q7 to a stop from speeds of up to 52.8 mph when it detects a pedestrian or stopped vehicle ahead.
Good luck isolating the source(s) of the magic in a vehicle this complex. The lion's share of the credit goes to the new chassis and suspension, which make all else possible. Elaborate electronics add nuance to the mechanicals and extend their capabilities. Beautiful cabin design elevates the experience.
It may not be real magic, but it's close enough for me.
Contact Don at don@dadair.com, or visit www.dadair.com.
2017 Audi Q7 3.0T Premium Plus
Vehicle base price: $54,800
Trim level base price: $58,800
As tested: $68,925
Key options included adaptive cruise control; active lane-assist; automatic high beams; traffic-sign recognition; Audi virtual cockpit; LED headlights; 360-degree top-view camera system; four-zone automatic climate control; ventilated front seats with power lumbar; Bose 3D Surround Sound audio; heated steering wheel; heated rear seats; 20-inch 10-spoke bi-color wheels.
Tow rating: 7,700 pounds
EPA ratings: 21 combined/19 city/25 highway
Premium unleaded fuel required
---
---