Don Adair: Genesis G90: Hyundai premium brand targets luxury classes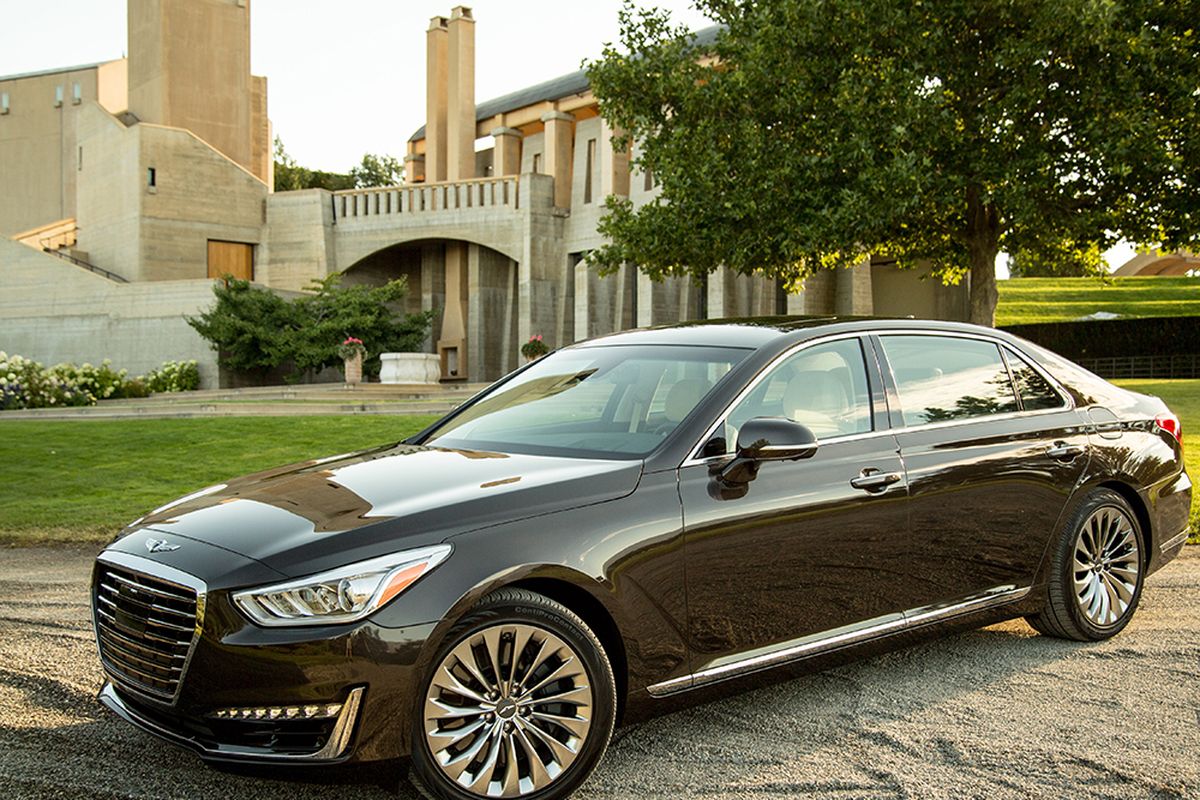 Last fall, Hyundai launched an assault on the luxury classes with the debut of a premium sub-brand it calls Genesis.
Having morphed from comedic fodder to mainstream mainstay, Hyundai now had the Germans in its sights.
We've recently driven the two sedans that comprise Genesis's first strike, the flagship G90 and its smaller G80 counterpart. Both are exemplary and both raise the old question of value.
How much does a fancy nameplate matter, anyway?
We raise that question today in terms of the G90. In a few weeks, we'll do a deeper dive into the G80.
The G90 is a large luxury sedan. It has a restrained, yet muscular, presence and a confident, buttoned-down ride. Its spacious cabin is finished in supple leather and genuine wood and metallic trim.
Standard gear includes scores of features and functions that are optional on the competition. By some calculations, you'd spend $100,000 to acquire a European sedan equipped like a $70,000 G90.
So fully equipped is the G90 that buyers choose only between a pair of interior color schemes, rear- and all-wheel-drive and six- and eight-cylinder powerplants. The base engine is a turbocharged, 365-horsepower V-6; a 420-hp V-8 is optional.
An abbreviated list of standard features includes adaptive automatic xenon headlights, tri-zone automatic climate control, soft-close doors, adaptive suspension, keyless entry and ignition and a hands-free power trunk lid. Standard driver-assist systems include adaptive cruise, forward-collision warning and mitigation with pedestrian detection, lane-keeping assist, blind-spot monitoring with rear cross-traffic alert and a drowsy-driver monitor.
The G90's standard infotainment system brings a 12.3-inch touchscreen and a 17-speaker Lexicon stereo with Clarify digital processing. The knob-based infotainment system is based on user-friendly menus. A head-up display projects vehicle speed and other key information on the windshield ahead of the driver.
Eight-cylinder trims add ventilated and power-adjustable rear seats, with memory, and LED headlights.
Our V-6-powered RWD tester was a pleasant, if only slightly engaging, companion on an early spring outing along the lower Snake River. The 3.3-liter six moves the 4,630-pound sedan down the road in good order, and with minimal low-end turbo lag.
Ride-and-handling leans toward comfort. The G90 doesn't wallow in the corners like an old-school American sedan, but it lacks the crisp precision of the European brands.
Steering is nicely weighted but provides little feedback. An on-center vagueness allows the G90 to meander in its lane absent minute driver inputs.
Seats are broad and flat, with minimal bolstering, but are comfortable and supportive. They slide on their tracks with an eerie smoothness.
Rearward vision is limited by thick C pillars and an elevated decklid, but not dangerously so
A few too many plastics, along with a handful of switchgear scavenged from the Hyundai parts bin, lightly lessen the G90's cachet. Also, its performance envelope is less compelling those that of its better established rivals.
Still, luxury-oriented buyers for whom big savings outweigh a prestige nameplate could find themselves right at home in the new Korean flagship.
Contact Don at don@dadair.com or visit www.dadair.com.
2017 Genesis G90 RWD 3.3T Premium
Vehicle base price: $68,100
Trim level base price: $68,100
As tested: $69,050 Options: The G90 is available in a single, fully equipped trim level; there are no available options.
EPA ratings: 20 combined/17 city/24 highway
Regular unleaded fuel specified
---
---