Don Adair: Honda's new Civic hatch blends comfort, performance and affordability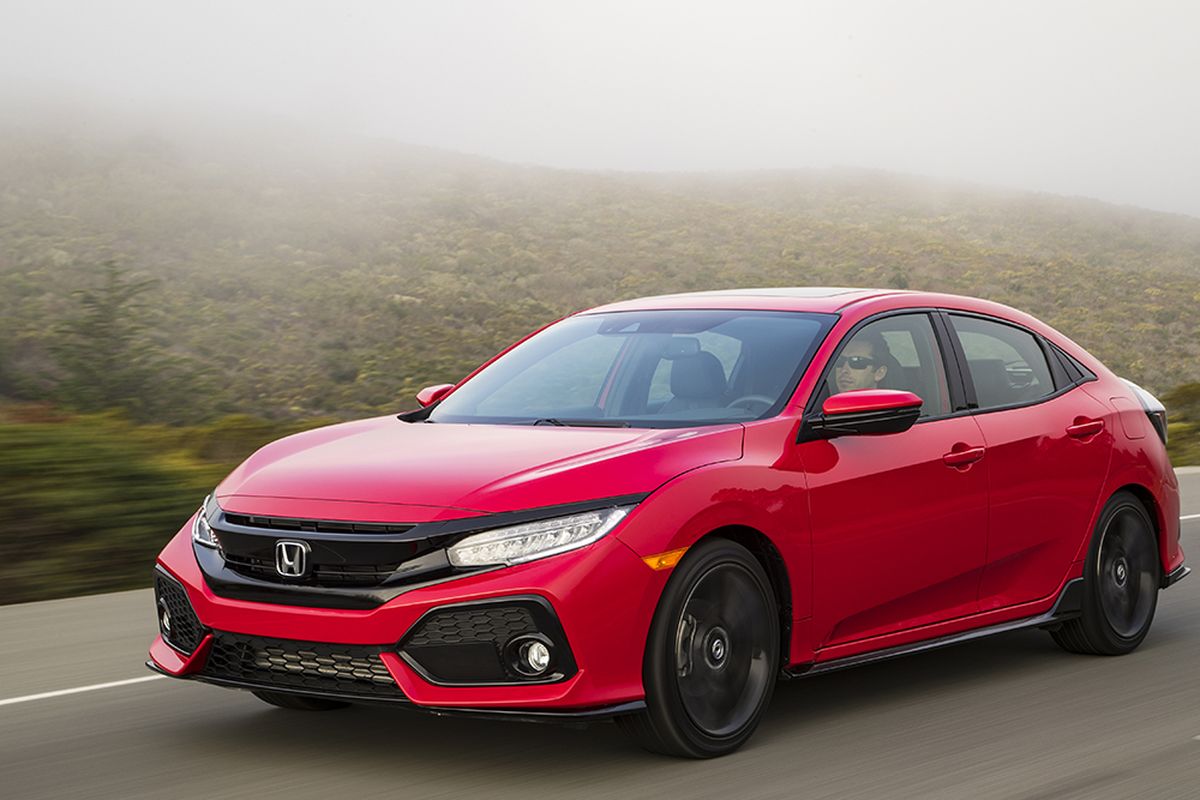 Our recent test of Audi's A4 sport sedan reminded us that the right car makes driving fun.
The A4 and its ilk are designed to be engaging. They respond, without hesitation, to driver input. They provide feedback — from the chassis, the drive train, the road surface — that informs the many decisions the driver makes.
The good news is that cars don't have to be pricy to qualify. Witness the 2017 Honda Civic Hatchback Sport.
Last year, Honda redesigned the compact Civic from the ground up, rolling it out in sedan and coupe body styles. This year, it resurrects the four-door hatchback, a format missing from its lineup since 2005.
Five Hatchback trims range from the base, but hardly spare, LX ($20,525) to the leather-trimmed and electronics-rich Sport Touring ($29,175).
The Hatch is a lively blend of comfort, utility and performance. Its four-door configuration simplifies life for owners who wrestle with car seats and its flat-floored cargo area is station-wagon capacious.
Its cabin is roomy and hushed — Honda has made great strides lately in taming cabin noise — and is finished in high-quality materials and with Honda-grade fit-and-finish.
Fluid-filled shock bushings quell chassis vibration and isolate the cabin from noise, vibration and harshness.
A turbocharged, 1.5-liter four powers the Civic Hatch. It makes either 174 hp or 180 hp, depending on trim. The primary transmission offering is a CVT, with a six-speed stick available on LX and Sport ($22,135) trims.
We tested a Sport equipped with the manual gearbox. It's a barebones proposition, available only with cloth bucket seats and rugged fabric trim. Such niceties as keyless ignition, navigation and satellite radio don't even make the options list.
Its four-speaker audio system includes an AM/FM radio that struggles to find a signal. Its saving grace is its ability to stream Bluetooth audio from a smartphone.
Forget the dearth of amenities, though; the Hatchback Sport is a driver's car. An easy car to drive near its limits, the Sport rewards not with overwhelming power, but with balance and responsiveness.
It and the Sport Touring feature a center-mounted dual exhaust system, a setup that contributes to their 180-hp output.
All Civics use a variable-ratio power steering system, with two pinion gears (rather than the more-common solo gear) and a torque sensor that reads the driver's steering effort and adjusts input from the electric motor to suit.
The system is lively, responsive and unusually natural in feel.
The manual transmission has well-defined gates, with short throws and fluid action. Clutch take-up is smooth and precise. The gas and brake pedals are well aligned for the heel-and-toe maneuver experienced drivers use to balance the chassis when diving into fast corners.
Sadly, Honda offers neither navigation nor the Honda Sensing driver-assist suite on cars equipped with the manual transmission. Both are available with the CVT, though. Happily, it's one of the best of the breed and matches nicely with the 1.5-liter's torque curve.
Originally conceived for European buyers, the Civic Hatchback embodies those traditional European virtues — economy, efficiency in packaging and engaged, exuberant driving.
Mostly, it will remind you that driving should be fun.
Contact Don at don@dadair.com, or visit www.dadair.com.
2017 Honda Civic Hatchback Sport
Vehicle base price: $19,700
Trim level base price: $21,300
As tested: $22,135
Options: No options are available for the Hatchback Sport trim.
EPA ratings: 33 combined/30 city/39 highway
Premium unleaded fuel specified
---
---