Don Adair: A5/S5 Sportback brings new utility to Audi lineup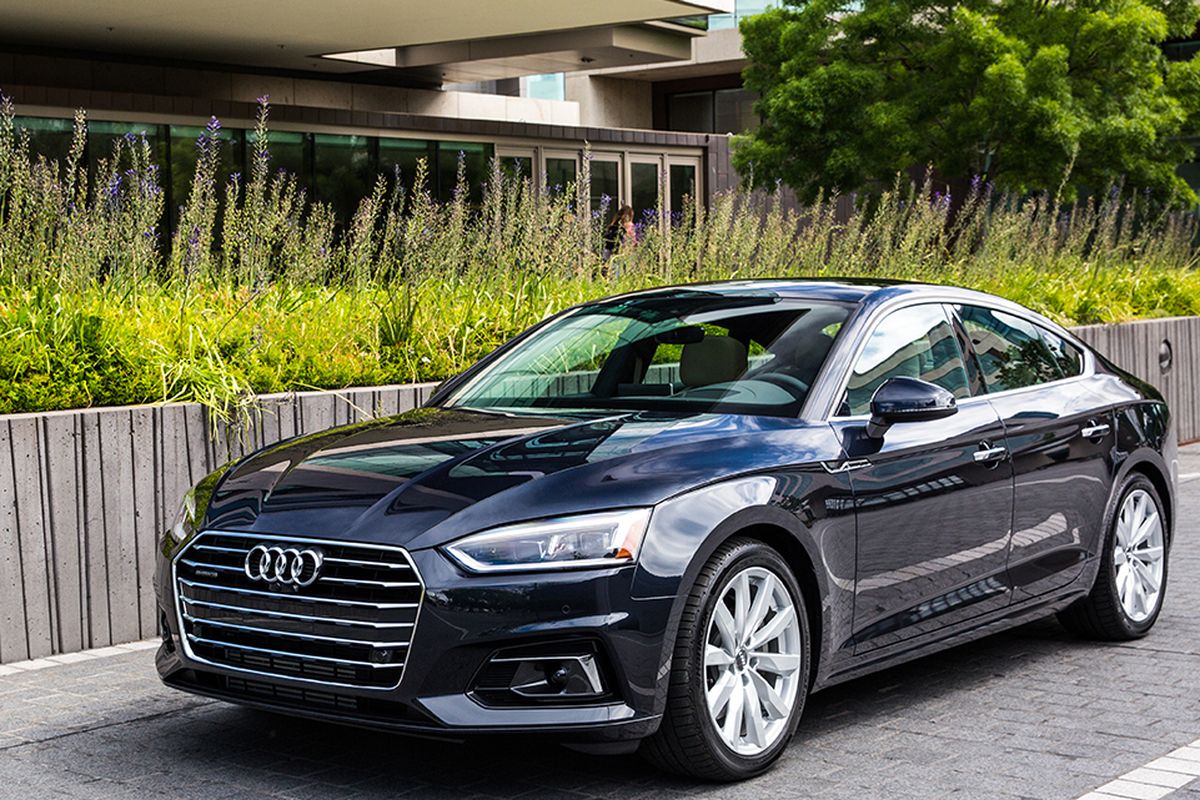 It was sunny in Seattle the day we arrived to test Audi's newest product, a four-door hatchback called Sportback.
It was one of those days that unsettle the locals. They'd rather we didn't falling in love with their city and move in to jam already-crowded streets and jack home prices.
So the city breathed a sigh of relief when drive day dawned damp and cool. And, because nothing says Seattle like a soggy cruise into Twin Peaks territory, Audi sent us out of the city and into the mountains.
Never mind that the 2018 Sportback is as lustrous and unconflicted as David Lynch's vision is dark and twisted.
The 2018 S4/S5 Sportback twins (from $42,600) are new to Audi's compact A4 lineup, which now includes sedans (from $37,300), two-door coupes ($42,800), convertibles ($49,600) and a lifted AWD wagon ($44,000).
Longer, lower, wider
Audi introduced the four-door hatchback format to the US, with the 2012 launch of the midsize A7. Now, the new Sportback brings the hatchback's utility to the compact segment.
The four-cylinder A5 and six-cylinder S5 are longer, lower and wider than their coupe siblings and ride on a wheelbase that grows 2.4 inches and boosts rear-seat legroom by the same amount.
The Sportback's flowing roofline incorporates a power glass hatch that presides over a cargo hold nearly doubles the size of the coupe's. There are 17 cubic feet of space behind the rear seats. Drop the seats and that grows to a generous 46 cf.
Familiar A4 cabin
The Allroad wagon tops all the A4 derivatives with its 58 cf capacity.
The Sportbacks inherit the familiar A4 cabin, which is elegant in its simplicity. Audi's optional Virtual Cockpit sets its maps within a crisply rendered Google Earth display. Its MMI knob-based infotainment controller is among the industry's best and can be ordered with handwriting-recognition.
The A4 family loses about 100 pounds this year and its engine choices are about 20 percent more powerful. The turbocharged 2.0-liter four that powers the A5 makes 252 horsepower. The S5 gets a turbocharged 3.0-liter V-6 rated at 354 hp.
quattro AWD standard
The A5's four is mated with Audi's DSG seven-speed dual-clutch transmission. Because that gearbox can't handle the V-6's low-end torque, the S5 gets a conventional eight-gearbox automatic.
Both transmissions can be manually operated via shift paddles but, left to their own devices on our test route, both were as quick as they needed to be. The S5's automatic shifts less quickly than the DSG, but both gearboxes consistently shifted into the heart of the engine's power band.
Audi claims a 5.7-second 0-60 sprint for the A5, while the growly S6 runs it in just 4.5 seconds.
Audi's quattro AWD system is standard on both trims. Audi's Drive Select system allows the drivers to adjust steering, throttle and shift parameters.
An available Driver Assist package adds adaptive cruise control with Traffic Jam Assist; active lane assist; high-beam assist; and traffic sign recognition.
Quick, eager and engaging
Our public-roads test route didn't allow a serious exploration of the Sportback's limits. We can say that both trims are quick, eager and engaging. As Audi has cut engine weight over the years, the A-series platform has grown more balanced, nimble and precise.
The Sportback's electrically assisted steering system communicates a fair amount of road-surface information. It's quick and precise and has a natural feel and a good on-center groove.
With its sport-tuned suspension, thick power band and snarly (though artificial) engine note, the S5 is the enthusiast choice. It reaches its full 369 pound-feet of torque at just 1,350 rpm and turbo-lag is nearly non-existent.

This may be a gilding of the lily, though. Both cars are Grand Touring machines, not sports cars. And though the A5 lacks the S5's visceral six-cylinder grunt, its calmer persona better suits the everyday commute.
Europeans have long recognized the benefits of the hatchback body style; now, Audi's making its charms available to US buyers. Those shopping the compact luxury segment owe themselves a good look at the new Sportback.
2018 Audi A5/S5 Sportback

Vehicle base price: $42,600

Trim level base price: $42,600

As tested: $49,775

Options: 8-way power front seats with driver memory; alarm system with motion sensors; keyless entry and ignition; heated, auto-dimming exterior mirrors; MMI navigation with MMI touch and 8.3-inch center screen; Audi Virtual Cockpit; adaptive cruise control with Traffic Jam Assist; active-lane assist; high-beam assist; traffic sign recognition.

EPA rating: 27 combined/24 city/33 highway
Premium fuel specified
---
---