Don Adair: Mazda CX-5 remains engaging, grows more refined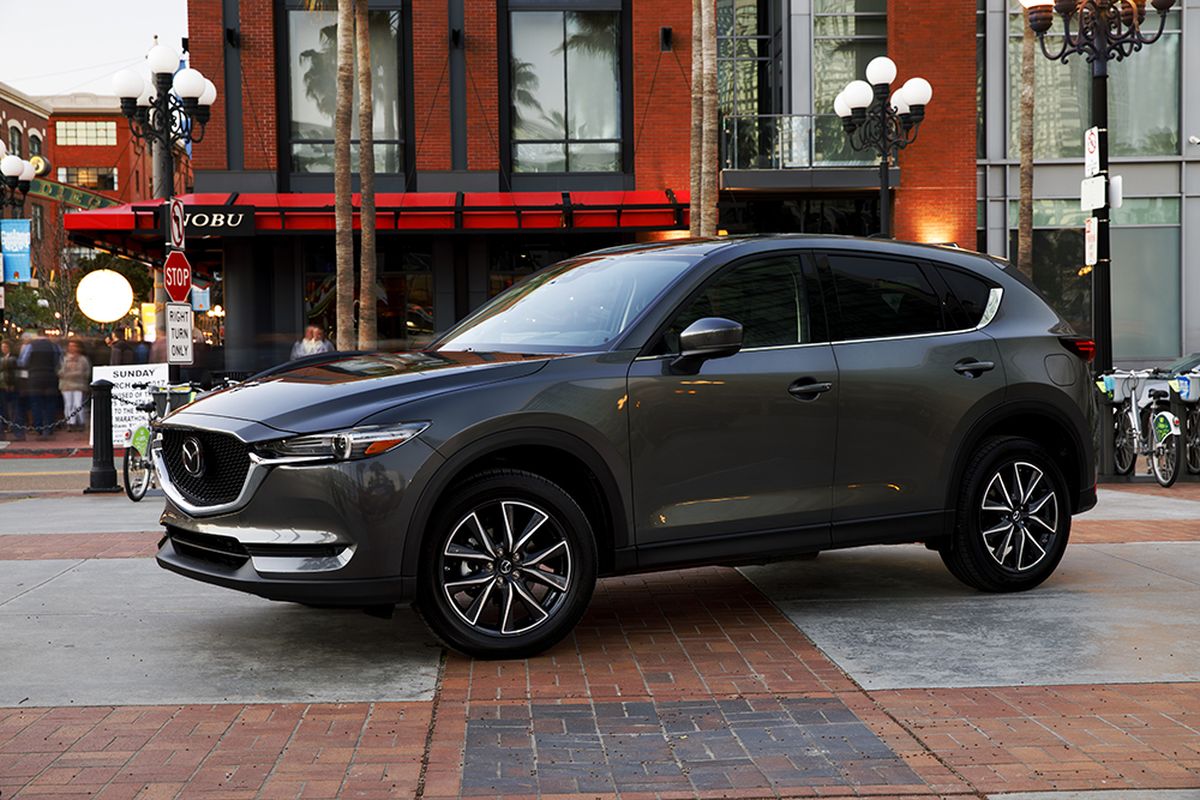 Of all the reasons for owning a Mazda CX-5 — and they are numerous — the crossover's performance cred heads the list.
The CX-5 ($24,045) is a resolute outsider in the compact crossover segment, where utility normally drives the action. Its rigid and lightweight platform, well-tuned suspension and responsive steering form the basis for a rig built to be engaging.
If its ride is firmer than the competitions' — and it is — so be it. Mazda says it would rather sell fewer vehicles than compromise its Driving Matters mantra.
More power to Mazda
More power to Mazda, I say.
All this does not suggest that Mazda has overlooked comfort. With every iteration, the CX-5 grows more agreeable.
This year, its cabin is quieter and more luxurious, its ride smoother and its standard features list longer.
With its standard Smart City Braking System, the CX-5 qualifies for the Insurance Institute for Highway Safety's Top Safety Pick+ designation.
Above-class cabin materials
Improved cabin materials impart an above-class feel and soft-touch materials cover nearly every interior surface. Upper trims go whole hog with padded and French-stitched armrests and dashboard accents.
Subtle exterior updates include slimmer headlights and a grille that takes a dynamic forward tilt. Re-sculpted rear fenders enhance shoulder-line definition.
Underneath, the unibody has grown more rigid, allowing suspension tweaks that yield a more supple ride. The CX-5 now glides over railroad tracks and broken road surfaces with less jolt and better-controlled body motions.
Enhanced steering, quieter cabin
Mazda's G-Vectoring Control technology enhances steering by minutely reducing engine torque when entering a corner. This transfers load to the front axles, reducing suspension compliance and allowing precise driver inputs.
The electrically assisted steering system provides a fair amount of driver feedback.
New stem-to-stern sound-deadening measures reduce cabin noise. At 70 mph, interior noise drops from 69 to 65 decibels. That doesn't sound like a lot, but 65 dBs cuts close to luxury terrain.
The cargo area is now finished in carpeting that cuts the reverberating thud of highway-speed tangles with rough road surfaces.
Abundant cabin storage
Bolstered front seats keep occupants in place during spirited driving and all but the tallest drivers will find a comfortable driving position. Aside from the small rear side windows, overall visibility is very good.
Abundant cabin storage includes a deep covered bin between the front seats and another, smaller shelf ahead of the shift lever. Every door includes an oversized storage pocket with a water-bottle cutout.
Doors now open a bit wide, simplifying such tasks as installing child seats.
The rear seating area is smaller than the class norm, but the seatbacks now recline in two stages. For then first time, the 60/40 split folding seatbacks fold fully forward to create a flat cargo floor.
The cargo area is smaller than the competitors'. However, the 2017 CX-5 adds a power liftgate.
Industry-leading infotainment setup
Mazda's Mazda Connect infotainment setup is one of the industry's best. Its knob-based control system can be operated largely by feel, reducing the time the driver must look away from the road. A standard 7-inch display is mounted at the top of the dashboard and is more easily scanned than others that are fixed lower in the dash.
Given its road-handling prowess, the CX-5 is oddly underpowered. Its 2.5-liter four-cylinder is naturally aspirated — i.e., no turbocharger — makes 187 horsepower and 185 lb-ft of torque. The CX-5 is quick to leave an intersection but runs out of steam in short order. Front-wheel-drive trims run the 0-60 mph sprint in a leisurely 7.3 seconds. Heavier AWD trims are somewhat slower.
At 24 mpg city, 31 highway and 27 combined, efficiency is good but not class-leading.
All CX-5s are equipped with Mazda's Smart City Brake Support which, in the absent of driver intervention, automatically deploys to prevent — or reduce the impact of — low-speed frontal collisions. Mazda is moving to full implementation of its i-Activesense safety and driver-assist suite but it is now available only as standard on the top-level Grand Touring.
If you enjoy driving, appreciate comfort and can live with less-than-maximal cargo space, the 2017 CX-5 should top your shopping list.
Contact Don at don@dadair.com, or visit dadair.com.
2017 Mazda CX-5 Grand Touring AWD
Vehicle base price: $24,045
Trim level base price: $30,695 (including destination)
As tested: $34,085
Options included heads-up active driver display; heated steering wheel; heated rear seats; power front passenger seat; cargo mat; Machine Gray paint; retractable cargo cover; driver-seat memory.
EPA ratings: 26 combined/23 city/29 highway
Regular unleaded fuel specified
---
---