Don Adair: Toyota Yaris an uncommonly competent — and engaging — subcompact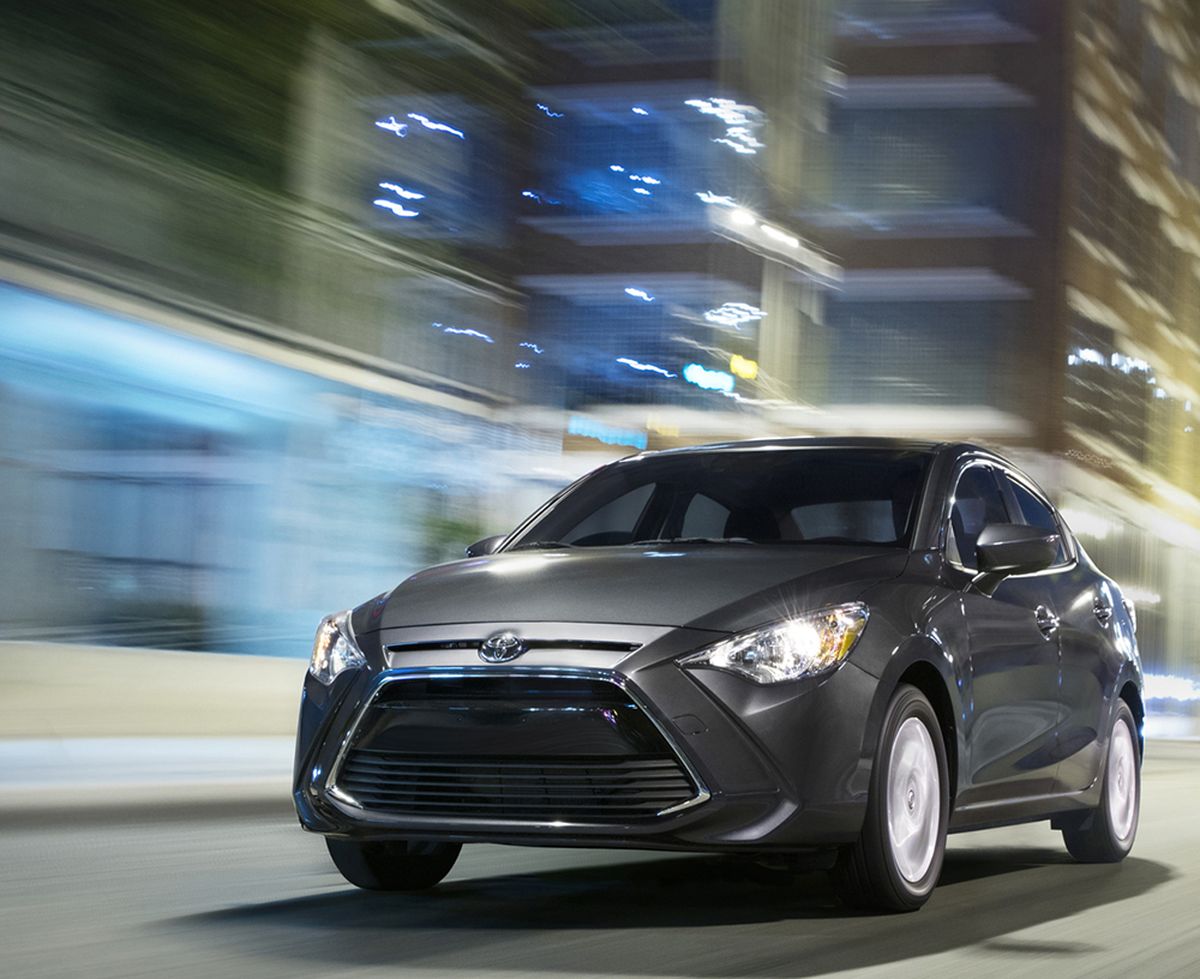 Not long ago, the subcompact segment was the final refuge of vinyl seats, hand-cranked windows and manual door locks.
Good luck to shoppers who hoped to find anything like the latest and greatest. Who craved a quiet, comfortable ride or an engaging driving experience. Who valued materials quality or sturdy switchgear.
But, as a week in Toyota's Yaris iA sedan proved, the segment has come a fair distance. The impact of trickle-down economics may be open for discussion, but in the automotive world its benefits are an open-and-shut case.
Before we plumb the iA's depths, let's do some housekeeping.
Unorthodox family tree
The $16,000 Yaris iA is a subcompact sedan. It's easily confused with the Yaris hatchback, also a subcompact.
But they are brothers born of different mothers.
The iA is the car formerly known as the Scion iA. It's the product of a Toyota/Mazda partnership that also produced the Scion FR-S sport coupe. When Toyota shuttered Scion last year, it brought both cars into the shelter of its big tent.
The hatchback is born and bred a Toyota; the iA is a near-twin to Mazda's Mazda2, which is not sold here. Its platform and powertrain were developed by Mazda and it inherits Mazda's sterling head-up cabin display and infotainment systems.
Reading between the lines, you might guess it also bears hints of Mazda's driver-friendly deportment. And you'd be right.
The iA is available in a single trim, with loads of standard gear and few options.
A features fest
Every iA gets keyless ignition and entry, cruise, air conditioning, powered and heated outside mirrors and a tilt-and-telescoping steering wheel with redundant audio controls.
dIntuitive menus reduce driver distraction and the console-mounted control knob operates with a heft and fluidity common to more expensive cars.
The system can also be activated by voice.
All iAs are equipped with Bluetooth phone and audio connectivity. The six-speaker audio system includes a phone-based streaming radio (Pandora, Aha and Stitcher), two USB ports and an auxiliary input.
A rearview camera is standard and navigation is available as a dealer-installed option.
Safety systems include the expected — stability control, traction control, anti-lock brakes with electronic brake-force distribution — and the surprising; a low-speed forward-collision warning with automatic braking.
The system scans the road for potential impediments and alerts the driver if one is detected one. Should the driver fail to respond, the system is able to apply the brakes automatically.
Class-leading cabin
Interior materials quality and fit and finish far exceed class standards. The well-padded front seats are comfortable and supportive and headroom is plentiful. Tall drivers may wish for greater extension from the tilt-and-telescoping steering wheel, though, and there's scant rear-seat legroom.
The 60/40-split seatbacks fold to expand cargo capacity.
The absence of a center armrest may concern some owners; however, an armrest is included on the options list.
The iA isn't quick. It's 105-horsepower 1.5-liter four-cylinder engine powers the iA to a leisurely 8.7-second time in the 0-60 "sprint."
My tester was equipped with the six-speed manual gearbox, allowing me to keep the little mill on the boil when merging with freeway traffic. The available six-speed automatic ($1,100) includes a Sport mode that more or less accomplishes the same task.
Either way, getting to speed requires an active throttle foot.
Affordable engagement
The iA isn't the only subcompact sedan to offer engaging dynamics. But there isn't another that does it sans pricey options. Steering is well weighted, with good on-center feel. The suspension (MacPherson-strut front, torsion-bar rear) checks body roll in corners without blowing up ride quality.
The iA is not immune to road-surface irregularities, but the chassis absorbs their worst effects before they reach the passenger compartment.
At speed, the iA is steady and composed. Thanks to a tall sixth gear, the engine is relaxed at freeway speeds so owners can say goodbye to the annoying drone of a little engine in flog mode.
Not all subcompacts are created equally, but the Yaris iA is proof the segment offers substance as well as affordability.
Contact Don at don@dadair.com
2017 Toyota Yaris iA
Vehicle base price: $15,950
Trim level base price: $15,950
As tested: $16,815 (including transportation)
Options: The Yaris iA included no options.
EPA ratings: 34 combined/30 city/39 highway
Regular unleaded fuel specified
---
---