Don Adair: Infiniti's QX30 crossover has Mercedes-Benz roots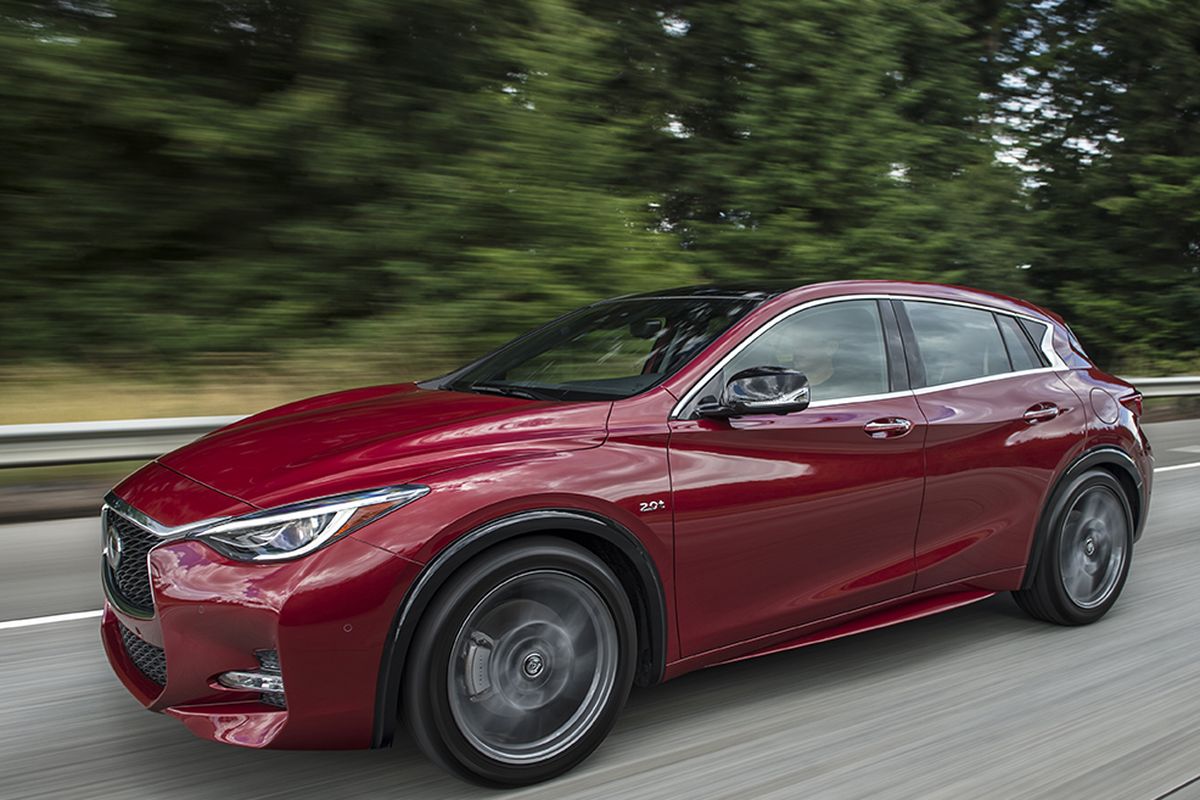 Automakers play in a complicated world. They must serve global markets with products responsive to the shifting sands of consumer demand and government regulation.
Even the best can find themselves lacking a viable product in a key market. Increasingly, they are addressing their vulnerabilities by forming strategic alliances.
Last week, we wrote about the Toyota/Mazda partnership that produced Toyota's Yaris iA.
This week, it's Infiniti's turn.
Having struggled to establish itself in Europe, Nissan's luxury brand has thrown in with Mercedes-Benz to create a crossover with an EU bent.
The subcompact QX30 is planted on an architecture developed by M-B for its GLA-Class subcompact. Its powertrain is of Mercedes provenance, as is most of its cabin hardware.
Multiple personalities
From those basics, Infiniti has fashioned a rig with three personalities. A pair of front-wheel-drive trims — base ($29,950) and Sport ($38,500) — flank two all-wheel-drive trims (from $34,400)
The distinctions .are key. The AWD trims have 8.0 inches of ground clearance and are suitable for light-duty off-roading. The base QX30 has 6.8 inches of clearance and the Sport comes all the way down to 6.0 inches.
The base QX30 is decently equipped, keyless entry and ignition, eight-way manual front seats with four-way power lumbar, dual-zone climate control, LED running lights, auto-dimming mirrors, and premium vinyl upholstery. Tech highlights include a rearview camera, Infiniti InTouch infotainment system, Bluetooth connectivity, voice controls, and a six-speaker sound system with HD and satellite radio, two USB ports and an auxiliary audio jack. All-season run-flat tires are mounted to 18-inch alloy wheels.
The QX30 is not significantly smaller than such competitors as the Mazda CX3 or Buick Encore, but the stylish roofline and no-cost optional moonroof set a low lid. Rear-seat passengers make do with scant headroom and ramrod-upright seatbacks.
Step-in height is lower than that of other crossovers, but the low roof requires that passengers stoop to enter. This is not necessarily a bad thing, but it runs counter to crossover convention.
Close quarters, decent storage
The close-quartered cabin includes a fair amount of casual storage. Most controls are within easy reach — though the 7-inch touchscreen is a stretch — and Infiniti's infotainment menus are easily grasped. The console-mounted rotary controller minimizes driver distraction.
Infiniti doesn't play in the Apple CarPlay/Android Auto sandbox, so Bluetooth connectivity is the only smartphone play.
Most drivers will easily find a comfortable driving position, but the QX30s' heavy pillars, slim rear window and tall shoulders limit visibility.
All trims are powered by a 208-horsepower turbocharged 2.0-liter inline-four. The FWD trims run the 0-60 sprint in 6.2 seconds, about a half-second quicker than their heavier AWD counterparts.
Crossover or hatchback?
Infiniti pitches the QX30 as a "premium active crossover" but its low stance, raked roofline and sport-tuned suspension gave our Sport tester the feel of a Euro-style hatchback.
The Sport receives a handful of trim-specific cosmetic upgrades. The package also includes sport seats, a flat-bottom steering wheel, an automated parking system, parking sensors and a 360-degree camera system.
It runs 19-inch alloys and run-flat summer tires,
Ride quality is generally good, if firm. At highway speeds, the Sport is settled and calm but on our winding two-lanes, where the surfaces are imperfect, it could feel harsh and high-strung.
Steering responses are direct and linear but the system doesn't communicate much road-surface information.
The Sport is prone to understeer on entering a corner. And, despite registering an impressive 0.90 g on the skidpad, doesn't relish being pushed. It handles confidently but isn't overtly engaging.
The transmission has three modes — E (Economy), S (Sport) and M (Manual). E shifts sluggishly, while S and M are crisp and a bit high-strung. By the end of my test week, I found myself using S in most circumstances — especially upon freeway entry — and relying on E when cruising.
Despite the global marketplace, few rigs come with more than one personality. Just be sure to pick the one that's right for you.
Contact Don at don@dadair.com.
2018 Infiniti QX30 Sport
Vehicle base price: $29,950
Trim level base price: $38,500
As tested: $43,660 (includes destination)
Options included blind-spot warning; lane-departure warning; intelligent cruise control; automated emergency braking; high-beam assist; LED headlights; adaptive front lighting systems; Nappa leather sport seats; heated front seats; illuminated kickplates.
EPA rating: 27 combined/24 city/33 highway
Premium unleaded fuel required
---
---