Don Adair: Subaru Outback: The original pre-crossover crossover grows better with time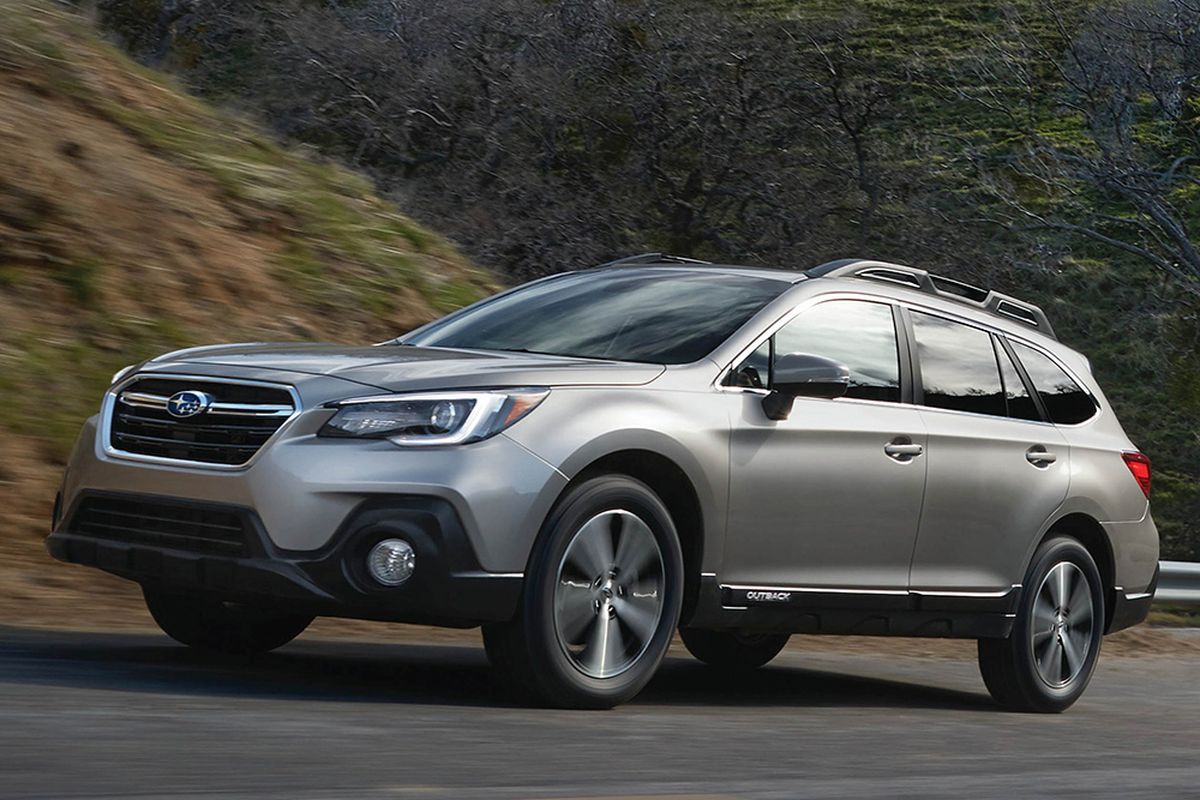 Hours after taking delivery of my 2018 Subaru Outback tester, I pulled up behind — loomed over, really — a first-generation Outback.
Sitting at that stoplight on North Division, I marveled at how small and boxy that first, mid-'90s Outback had been. And at what an unlikely candidate it had been for fomenting the crossover revolution.
The Outback debuted in 1994 as an all-wheel-drive variant of the Legacy station wagon. It was outfitted with ding-resistant lower-body cladding and rode on a suspension modified to elevate its ground clearance.
The Outback scoffed at snow. It went places other cars couldn't. It was an economical alternative to the truck-based SUVs that prevailed in those pre-crossover times.
Still scrappy
Today, the sixth-generation, 2018 Outback is no less capable — or scrappy — than the original. And it's better in every conceivable way.
Over the years, Subaru has left the Outback formula essentially intact. Fuel-efficient continuously variable transmissions (CVTs) have replace the original manual and automatic gearboxes, but power is still by way of a pair of horizontally opposed "boxer" engines. All-wheel-drive continues to be standard.
Subaru has missed few opportunity to improve its bread-and-butter vehicle. Today's Outback is roomier (by a wide margin), more comfortable and safer than any before it.
The quality of cabin materials has improved dramatically. Soft-touch surfaces have replaced hard plastics. Large and supportive seats and a quiet cabin make Outback a capable and comfortable long-haul cruiser.
Advanced driver-assist
In 2014, Subaru brought its EyeSight technology to the U.S., enabling a full suite of safety and driver-assist features. Today, all but the base Outback can be equipped with blind-spot detection, with rear cross-traffic alert; adaptive cruise control; pre-collision braking; lane-departure warning; lane-keep assist; and automatic high-beam headlights.
This year's updates hone in on cabin noise and infotainment options, with a smattering of cosmetic enhancements.
Outside, front and rear fascias are redesigned for a more aggressive look. New headlights feature LED daytime running lights. Adaptive headlights are newly optional.
Updated infotainment
A new infotainment system features larger touchscreens and, for the first time, supports Android Auto and Apple CarPlay. There's an available 12-speaker Harman Kardon audio system, with subwoofer. The optional navigation system features crisp, clean graphics and pinch-zoom functionality.
Subaru's Starlink Multimedia system enables voice activation of such smartphone-based apps as Pandora and iHeartRadio and allows voice-to-text messaging.
The center console and steering wheel are redesigned and upper trims receive contrast stitching on the doors, seats and dash.
Controls are sturdily built and easy to decipher and negotiate, though I often found myself longing for a larger clock and outside-temp readout.
A quieter Outback
Subaru fights cabin noise with new sound-insulating glass for the front side windows. Thicker rear wheel-well aprons cut rear-seat noise levels. Redesigned exterior mirrors tame wind noise.
Five adults can get comfortable in the Outback, with good headroom and legroom all around.
Cargo capacity is on par with Outbacks crossover-class competitors (and its 8.7 inches of ground clearance betters them all). Roof rails with retractable crossbars are standard and step-shaped doorsills provide stable footing when loading and unloading rooftop cargo.
Engine choices include a 2.5-liter flat-four that makes 175 horsepower and a 3.5-liter flat-six good for 256 hp.
Four-cylinder Outbacks are rated to tow 2,700 pounds; six-cylinder models can tow 3,000.
Deliberate responses
The Outback is not especially quick or responsive. The steering system is retuned this year for a more direct feel; even so the Subie reacts deliberately to driver inputs.
My 3.5-liter tester was easily quick enough for safe and anxiety-free freeway merging. The four is less forgiving.
Suspension dampers are retuned this year for a smoother ride. Its long suspension travel enables the Outback to better negotiate uneven terrain but also contributes to body lean in corners.
The all-wheel-drive system is supplemented by hill-hold and hill-descent control. Both features make Outback more surefooted off-road and in snowy conditions.
Success has not ruined the Outback. In fact, the original pre-crossover crossover has only grown better with age.
Contact Don at don@dadair.com.
2018 Subaru Outback 3.6R Touring
Vehicle base price: $25,895
Trim level base price: $36,490
As tested: $37,405 (including destination)
Options: The 3.6R Touring is a fully equipped trim; our tester included no optional equipment.
Tow rating: 2,700 lb/3,000 lb EPA ratings: 22 combined/20 city/27 highway
Regular unleaded fuel specified
---
---