Don Adair: With the Fiat 500, the conversation begins and ends with cute.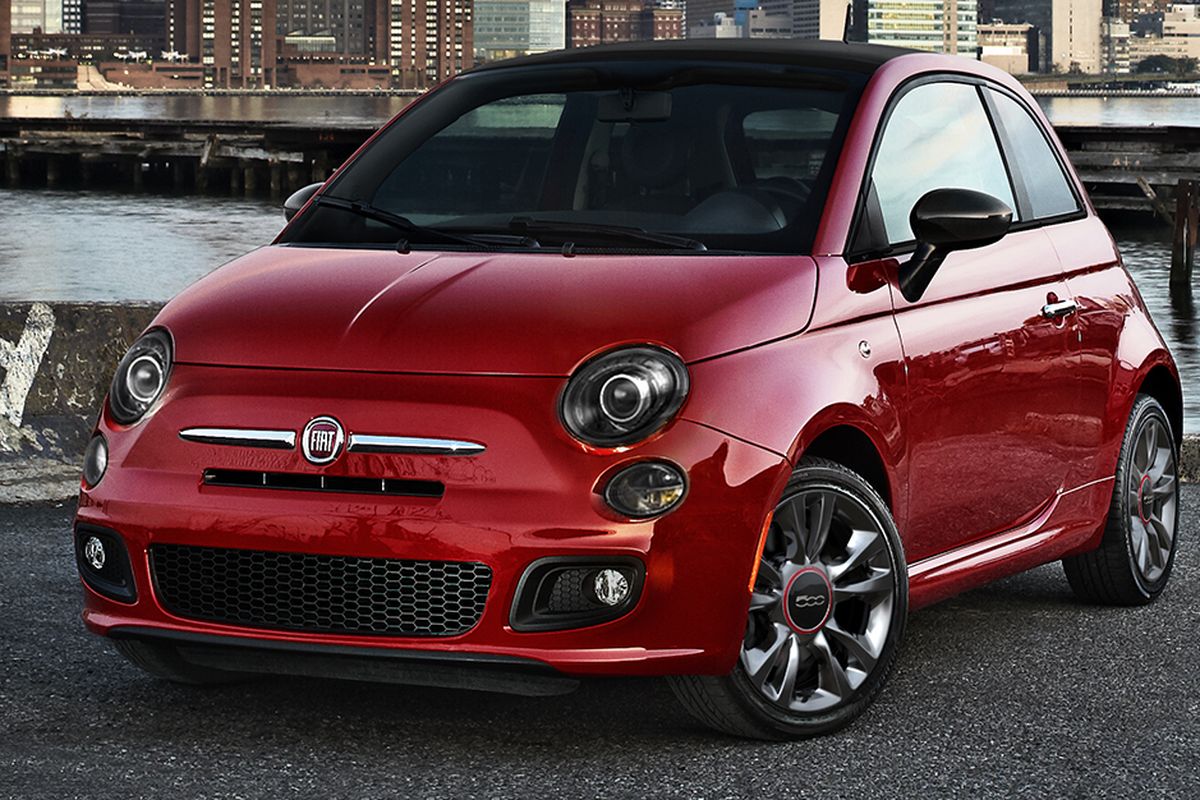 Now and again we encounter a car that thumbs its noses at convention. A car so unique it relegates traditional virtues like comfort, utility and performance to the back seat.
Usually, it's a truck powerful enough to tow a rolling mansion. Or a muscle car so potent its gas pedal is a thinly disguised invitation to an early grave.
Today's car is exactly like that. But different.
With the Fiat 500, cute is where the conversation starts and ends.
Tiny footprint, cute mug
Its tiny footprint — in the U.S., its 139.6 inches of overall length bests only the Smart ForTwo's 106.1 inches — forces one to redefine comfort and utility. And its upright (i.e., tippy) stance and overworked engine rule out a meaningful conversation about performance .
Which leaves us with cute.
Without question, the 500 is cute. Its googly-eyed mug and pumpkin profile give it the charm of a puppy with an Italian accent. Inside, bright colors and simple, jelly-bean shapes cast a lighthearted spell.

An array of available color palettes — Billet Argento, Laser Blu Azzurro, Giallo Moderna Perla, etc. — go deep into an Italian charm offensive.
And just speaking the 500's name in the native tongue — Cinquecento — is a silly little fun thing to do.
No wonder some folks want to wrap their arms around the 500, murmur sweet Latin nothings in its ear and take it home.
Dramatic 2017 price cuts
Lucky them. For 2017, Fiat makes buying a 500 easier than ever with substantial price cuts and a streamlined lineup.
Previously, the 500 was offered in seven trims and with a choice of three powertrains. Now, there are three trims and two engines.
A 101-horsepower, 1.4-liter four-cylinder engine powers the base Pop ($14,495) and mid-level Lounge ($18,495) (even the names are cute). A turbocharged 160-hp version of the same engine motivates the top-level Abarth ($19,995).
Those prices reflect cuts of $1,000, $2,00 and $2,580, respectively.
For an additional $1,495, all trims can be had as convertibles. Or, as Fiat would have it, as Cabrios (shorthand for cabriolet).
Nicely equipped
Considering its bargain-basement price tag, the 500 comes well equipped, with full power accessories, a/c, cruise, keyless entry, heated mirrors and a 7-inch color driver-information display.
Also standard is a slimmed-down version of Fiat Chrysler's intuitive Uconnect infotainment system, which can be accessed via a 5-inch touchscreen or voice controls. Uconnect includes Bluetooth phone and audio connectivity, a six-speaker Alpine audio system with an auxiliary audio input and a pair of USB ports, one dedicated to connectivity, the other to charging.
Options that were once grouped as collections can now be ordered a la carte. All trims are available with a six-speed automatic transmission (a six-speed manual is standard), a BeatsAudio sound system, navigation and a sunroof.
Three new-for-'17 appearance packages add available ground effects, fog lamps, body-side stripes, spoilers and two-tone color schemes. Interior upgrades include silver-stitched cloth sport seats, a front-passenger armrest and a bezeled instrument panel.
Visually engaging
None of these make the 500 quicker (it's not) or handle better (it doesn't).
The 500 trades in visual engagement — it's hard to look at and not smile — but driving engagement is another matter.
The family's quickest number is the Abarth, which manages the 0-60 sprint in 7.1 seconds (our Pop tester needed 10.4 seconds). Its sport-tuned suspension, performance exhaust and upgraded brakes notwithstanding, the Abarth is less racetrack hound, more boulevard sharpie.
Inside, simple elliptical shapes and vivid colors make for a grin-inducing experience. Unorthodox controls — round is the theme even here — keep things fresh and interesting. Circular headrests top the seats like a set of jumbo over-the-ear headphones.
Materials quality falls short of class standards and fit-and-finish is just so-so.
The 500's upright stance affords plenty of front-seat headroom, even for tall drivers, though the sunroof is something of a space hog. The steering wheel tilts but doesn't telescope.
If your idea of great transportation lends itself more to a puppy's charm and less to its bite, here's a little Italian that's eager to please.
Contact Don at don@dadair.com.
2017 Fiat 500 Pop
Vehicle base price: $14,995
Trim level base price: $14,995
As tested: $19,120 (includes destination)
Options included automatic transmission, navigation, automatic climate control, satellite radio, Ivory seats, Beats premium audio, autodimming rearview mirror.
EPA ratings: 29 combined/27 city/33 highway
Regular unleaded fuel specified
---
---