Don Adair: Lexus debuts the uber-sexy LC 500 Grand Tourer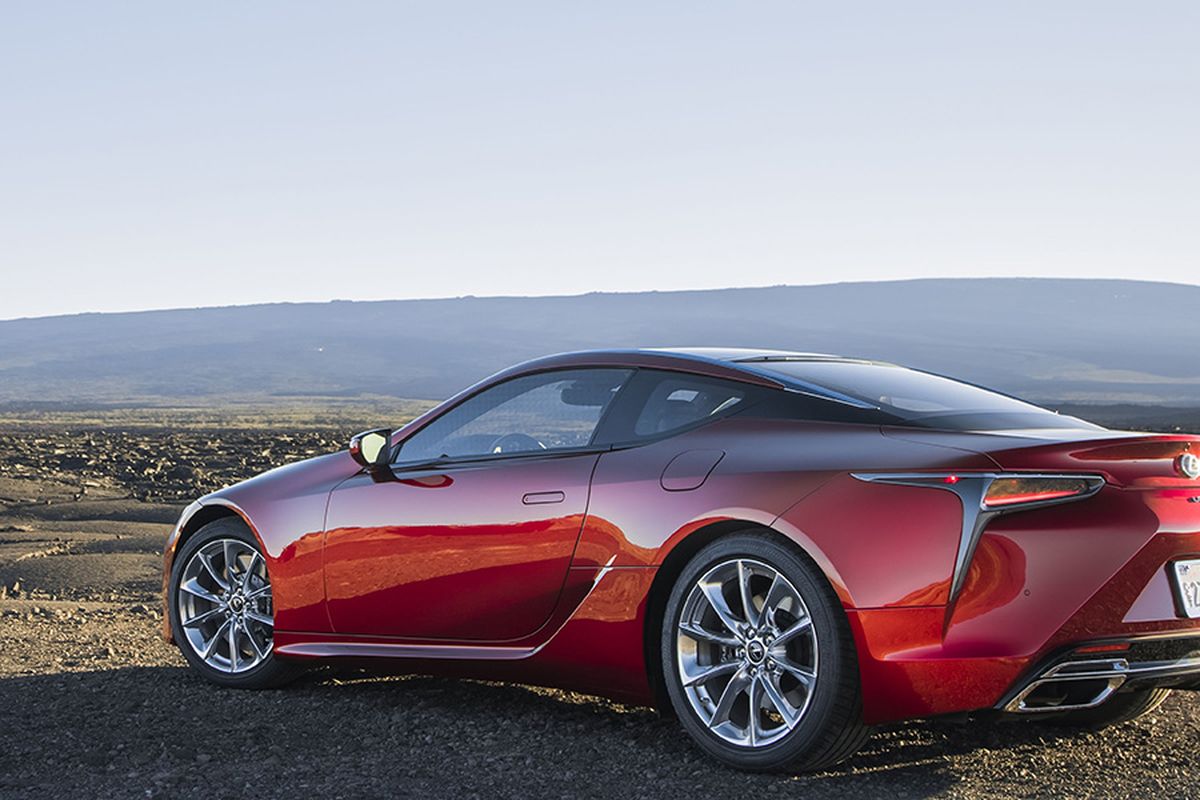 Because catching eyes is what it does, Lexus's LC 500 got Hutch's attention right out of the gate. Hutch is our UPS guy so he gets an early look at our Coming Attractions.
"Tell me when you write about this one," he said: "I want to know what it's like to drive a $105,000 sports car."
Well, Hutch, aside from the vague feeling that one is living as an imposter, a week in the LC (from $92,000) is almost enough to make an auto writer wish he'd become a stock broker.
Enough to give the central nervous system a good jolt. Enough to recalibrate one's expectations of Lexus.
Who knew Lexus could build a car this sexy?
A Grand Tourer from Lexus
The LC is a Grand Tourer (GT). It belongs to a class of cars capable of carting occupants over long distances, at great speeds and in sumptuous surroundings.
The powerplant is the undeniable heart of any GT machine— in this case, it's a 5.0-liter V-8 that makes 471 horsepower and 398 pound-feet of torque — but the segment also demands glamour and a healthy dose of creature comforts.
The LC delivers. Its narrow-waisted design marries video-game futurism (check out the mirrored taillights) with the flatly aggressive surfaces of Italian design.
Surrounded by deep creases, powerful character lines and muscular shoulders, Lexus's controversial "spindle" grill finds its true home here.
Inside, high-grade leather and elegant suede door panels dress up surfaces as flat and broad as a North Dakota wheat field.
The lower dash juts into the cabin, placing the control interface front and center. A leather-wrapped grab handle sweeps up from the center console to join the dash.
Awkward infotainment interface
Those controls include Lexus's misbegotten touchpad interface. It's awkward under the best of circumstances; underway, it's nearly unusable. Toyota's smartphone-integration strategy excludes ApplePlay and Android Auto and its homegrown substitute is less elegant than either.
Other real-life concerns include the near-complete absence of casual storage opportunities. The rear seats exist in name only and the trunk is, um, smallish.
Our tester's optional, 915-watt 13-speaker Mark Levinson audio system helped us overcome our hardships.
Sitting low and easy
Lexus built a new platform for the LC. It locates the engine low in the chassis and aft of the front axle. The former lowers the center of gravity; the latter produces a near-ideal front-to-rear weight balance.
The superstructure is fabricated of lightweight, high-strength steels and the LC's hood, front fenders and door skins are aluminum (only those gorgeous rear fenders are steel). Still, the LC 500 weighs in at a hefty 4,378 pounds.
One sits low in the cockpit-style cabin and views the world over a long, low hood. The shift lever falls easily to hand, though most shifting is done via a pair of steering-wheel-mounted magnesium paddles.
Our tester was equipped with a Sport Package that brought deeply bolstered and deeply comfortable sport seats trimmed in grippy faux suede. The package includes a carbon-fibre roof that reduces overall weight and helps bring down the center of gravity.
Power builds in linear surge
Six drive modes (Eco, Comfort, Normal, Custom, Sport, and Sport+) allow surprising latitude in the selection of performance and comfort levels. The LC is quite capable of loafing along, quietly and gently in Eco and Comfort modes but flip the dash-mounted rotary dialer to Sport+ and the engine barks to life in a V-8-powered <em>basso</em>. Simultaneously, the adaptive suspension stiffens and shifts lock in with a solid mechanical heft.
Power builds in a strong, linear surge. Max horsepower arrives at 7,100 rpm and peak torque peak occurs between 4,800 and 5,600 rpm.
Zero-to-60 comes up in just under 4.5 seconds.
Steering is precise, predictable and quick, but less communicative than it ought to be. The LC enters corners with light understeer whose transition to oversteer was subtly aided in our tester by a limited-slip differential.
The LC is also available in a hybrid version ($96,350) that runs a new-generation Multi Stage Hybrid powertrain. Lexus is said also to be preparing a 600-hp twin-turbo LC.
I'll have to let Hutch know when that one finally makes its way into our driveway.
Contact Don at don@dadair.com.
2018 Lexus LC 500 Coupe
Vehicle base price: $92,000
Trim level base price: $92,000
As tested: $103,150 (includes destination and handling)
Options included heated steering wheel; windshield de-icer; park assist; blind-spot monitor with rear cross-traffic alert; 21-inch forged wheels; Mark Levinson premium surround-sound audio; premium paint; 8-way power sport seats; carbon-fibre roof; key glove; cargo trunk mat and cargo net.
EPA ratings: 19 combined/16 city/26 highway
---
---