Don Adair: 50th Anniversary Corolla enjoys understated appeal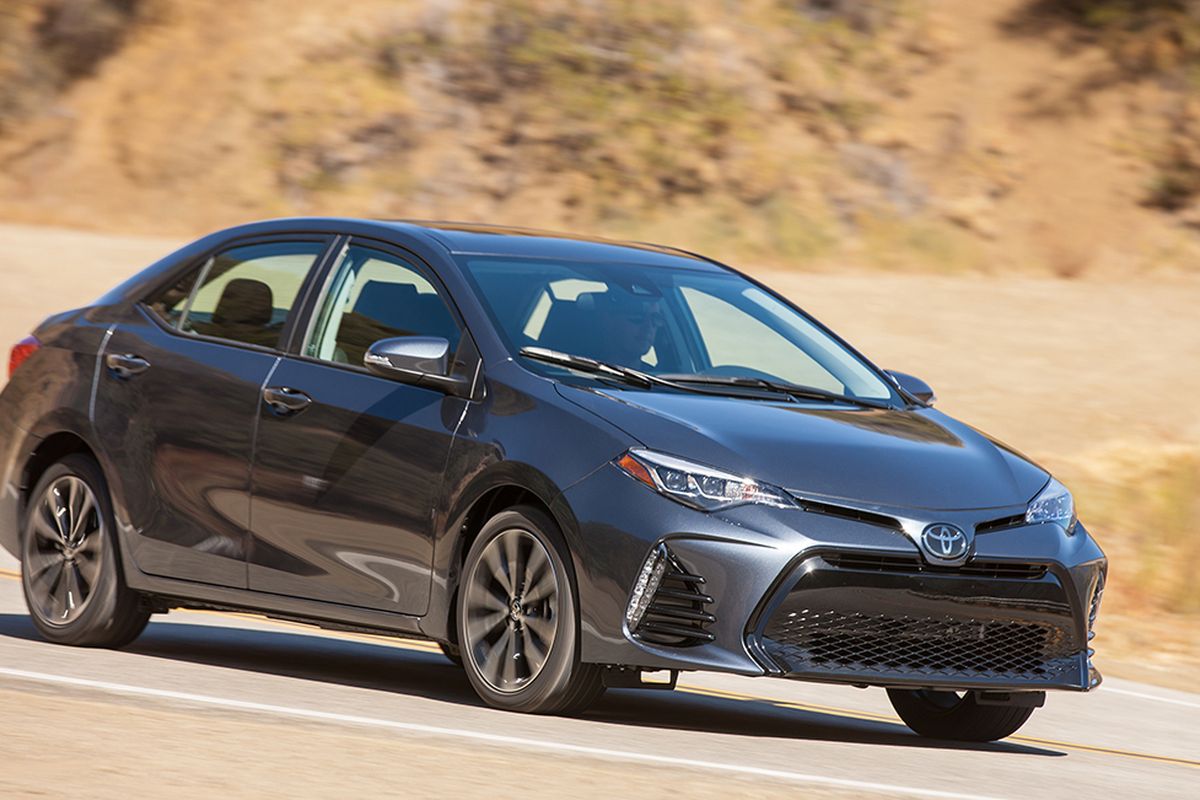 Last week, we reviewed one of the rowdier players in the compact segment, Honda's Civic Si.
Today, let's check in on one of the segment's better-behaved nameplates, the 2017 Toyota Corolla ($18,500).
The Corolla family hosts no corollary to the tautly suspended 162-horsepower Si. The Si is an ocelot, the Corolla is your sweet-tempered household mouser.
With the exception of one outlier — the 140-hp Eco — all Corollas run a naturally aspirated,138-horsepower four-cylinder engine mated to a continuously variable transmission (CVT).
For those who'd rather roll their own, the mid-level SE can be ordered with a six-speed manual gearbox ($21,655).
Comfort, safety its raison d'être
No matter the trim, comfort is Corolla's raison d'être. Don't look here for fancy shock damping, stiffened sway bars or high-grip, low-profile tires.
Corolla doesn't ask — or even really like — to be pushed hard into corners. And its 9.5-second stroll from 0-60 means it won't win many stoplight Grand Prix. Instead, Corolla offers a low price of entry, a roomy and well-equipped cabin and a ton of Toyota reliability.
2017 is Corolla's 50th anniversary and Toyota marks it with assorted upgrades, a mild facelift and cabin and infotainment system upgrades. Most critically, the Toyota Safety Sense-P (TSS-P) suite of safety and driver-assist features is now standard on every Corolla.
TSS-P includes forward-collision warning with pedestrian detection; lane-departure warning with steering assist and adaptive cruise control. Automatic high-beams are standard, as is a rearview camera.
Inexplicably, a blind-spot warning system is not available.
New grille, headlamps
The facelift includes a new grille and redesigned headlamps. Lower trims get Bi-LED lamps; upper trims add complex-LED lamps.
Two new trims, SE ($20,445) and SXE ($22,680), collectively replace last year's S trim, and add such bodywork flourishes as ornamental lower air intakes and vertical stacks of daytime running lights.
A limited-production 50th Anniversary edition ($21,900) builds on the SE, adding unique color schemes inside and out and assorted one-off add-ons.
Corolla's cabin gets a new dashboard and redesigned automatic climate controls. The layout incorporates a simplified touchscreen infotainment interface and a revised gauge cluster.
All trims but the base L, whose HVAC system is manually operated, have single-zone automatic climate control.
All Corollas are outfitted with standard Bluetooth and Toyota's Entune Audio system. The base L trim gets a six-speaker version of Entune, a 6.1-inch touchscreen, voice controls, a USB port and auxiliary audio jack. iPhone owners can access the Siri Eyes Free voice control system.
Higher trims run more comprehensive versions of Entune based on a 7.1-inch touchscreen. Toyota doesn't offer a native navigation system; Entune relies instead on smartphone mapping and GPS apps.
Roomy cabin, iffy dynamics
Corolla is known for its class-leading rear-seat legroom. With its near-flat floor, the rear seating area can accommodate three narrow-gauge adults.
Got five in your car pool? Corolla can handle it.
Regarding driving dynamics, where the Si excels, Corolla comes up short. Handling is lackluster and the steering system is numb and offers scant road-surface information.
With its sporty body add-ons, our XSE tester looked the part of a racy sport sedan, but its looks overpromise.
In an unlikely twist, the quickest Corolla is also the most efficient. The Eco ($23,200) receives engine tweaks that boost horsepower to 140. Suspension tuning, low rolling resistance tires and assorted aerodynamic come together to boost EPA-estimated mileage to 34 mpg combined (30 city/40 highway) with 15-inch wheels and 33/29/38 with optional 16-inchers.
As a point of comparison, the XSE trim rings up 31/28/35.
Corolla's CVT is one of the better examples of the belt-and-pulley brigade. It's programmed with shift points that mimic the action of a conventional automatic, it conveys a convincing sense of engagement.
Toyota has sold 43 million Corollas in its first 50 years of existence, making it the best-selling nameplate in automotive history. Corolla may lack the verve of the Si, but its fundamental soundness will keep dealers rolling in the high hay.
Contact Don at don@dadair.com, or visit www.dadair.com.
2017 Toyota Corolla XSE
Vehicle base price: $18,500
Trim level base price: $22,680 (including destination)
As tested: $23,545
Options: The XSE is a fully equipped trim; our tester included no options.
EPA ratings: 31 combined/28 city/35 highway
Regular unleaded gasoline specified
---
---