Don Adair: Genesis G80 Sport: Newest Genesis does battle on a big stage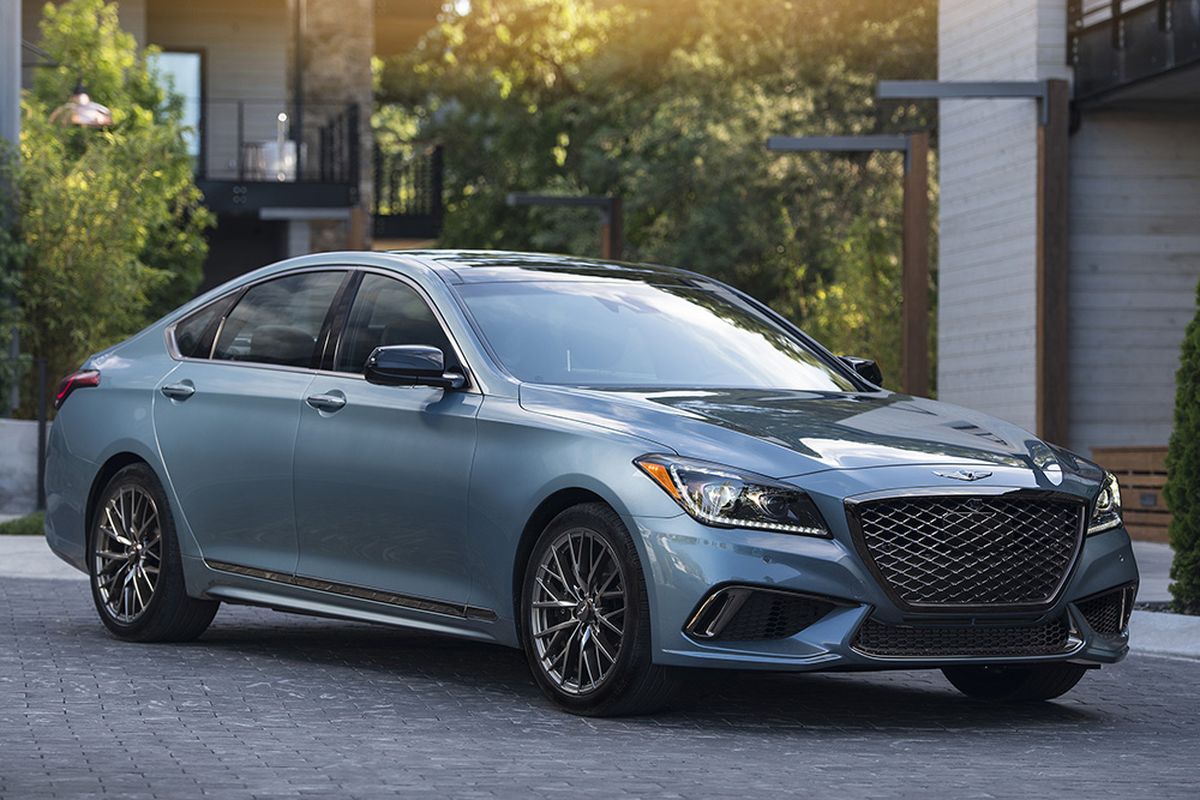 Rooting for the underdog is as American as free fireworks. We can't get enough of the against-all-odds success story.
And so it follows that every red-blooded American ought to be cheering on the latest from Hyundai's premium brand Genesis.
The 2018 Genesis G80 Sport defines underdog. Its origins are humble and its mission is huge; it's charged with planting the Korean flag on the sport-sedan battlefield, terrain long dominated by the Germans.
A recent week in the G80 Sport ($56,225 ) convinced me of two things: 1) the Sport will establish the beachhead, and 2) BMW can relax and enjoy Oktoberfest.
Acceleration quick and sure
It may someday be the equal of the Germans. For now it must simply establish itself as an affordable alternative.
The Sport is available in front- and all-wheel-drive configurations. It slots into the G80 lineup between the six-cylinder 3.8 ($41,750) and the V-8-powered Ultimate ($57,000). It's a one-spec (i.e., loaded) trim and it's priced thousands below the competition.
Its six-cylinder powerplant produces class-appropriate — read quick — acceleration and its adaptive suspension checks unwanted body motions without trashing ride quality.
Though cabin design falls shy of the sumptuousness of the class leaders, materials quality and fit-and-finish are beyond reproach.
Genesis could have signaled the Sport's high-end aspirations with over-the-top styling, but instead its sheet metal is crisply tailored and unassuming. Its long hood and short overhangs lend it proper sport-sedan proportions.
Understated cabin design
Cabin styling is also understated, though carbon-fiber inserts invigorate the Sport's subdued dashboard design. Copper-toned contrast stitching dresses up its premium-leather seating surfaces and leather-wrapped steering wheel.
Unique to the Sport, contoured front sport seats anchor occupants during spirited driving. Alloy racing-style pedals, black suede headliner and carbon-fiber dashboard trim provide the requisite sporting flair.
A head-up display, a 9.2-inch touchscreen and a multi-view rearview/parking camera are standard. Infotainment controls are a user-friendly blend of knobs, buttons and touchscreen inputs.
Audio is provided by a tech-forward, 17-speaker surround-sound system from Lexicon, a Grammy-winning digital-audio firm. Qi wireless device charging is standard.
Full driver-assist suite
Every G80 Sport is equipped with a full suite of safety and driver-assist features (adaptive cruise control, automatic emergency braking, automatic high-beams, etc.). Dynamic bending LED headlights offered sharp illumination on the winding and increasingly dark two-lanes that separate us from civilization.
The G80 Sport takes its power from a 365-horsepower 3.3-liter turbocharged V-6. An eight-speed automatic transmission makes quick, smooth shifts as it exploits the engine's deep and broad power band. The direct injected engine makes a stout 376 pound-feet of torque, which is available from just 1,300 pm.
Acceleration is quick, sure and seamless. Zero-to-60 rolls up, lickety-split, in a rapid 5.0 seconds.
The Sport's adaptive suspension firms up damper settings during hard driving with minimal impact on ride comfort.
Weight dulls responses
Even so, its ride-and-handling package defaults in the direction of comfort. Staggered (smaller in front, larger out back) all-season radials can only muster a lackluster 0.84 g on the skidpad.
The Sport's electrically assisted power steering system tracks straight and true with little need for driver-supplied course-corrections. However, it's numb and incommunicative.
Excessive weight contributes to the sedan's indifferent dynamics. AWD trims check in at a beefy 4,700 pounds, more than 600 pounds heavier than the segment's top performers. That bulk dulls its responses.
On the upside, the G80's long-for-the-segment wheelbase produces a roomy cabin, with legroom aplenty for both front- and rear-seat occupants. The slippery roofline takes a nibble out of backseat headroom.
Changes are coming to Genesis. There's talk of moving the brand out from under Hyundai, with a freestanding dealer network. Five new vehicles are promised by 2020, including at least one crossover and, in early 2018, the promising G70 sport sedan.
Meanwhile, the G80 Sport proves Genesis dares to do battle on a big stage. Hard to argue with a small player trying to do big things.
Contact Don at don@dadair.com or visit www.dadair.com
2017 Genesis G80 Sport AWD
Vehicle base price: $41,750
Trim level base price: $56,225
As tested: $58,725 (including destination)
Options: the G80 Sport is a mono-spec trim, with few available options. Our tester included the optional all-wheel-drive system.
EPA rating: 20 combined/17 city/24 highway
Premium unleaded fuel is specified
---
---