Is this Land Rover crossover the world's most beautiful car?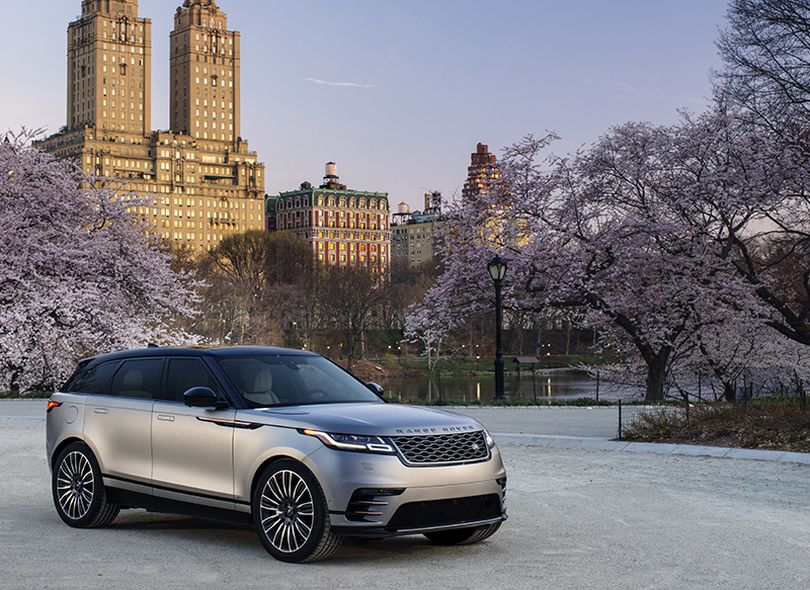 In a world of beautiful cars, is it possible to judge one more beautiful than the rest?
The 82 members of World Car Awards jury think so. Last month they conferred World Car Design of the Year honors on Land Rover's new Range Rover Velar.
An all-new midsize luxury crossover, the Velar is a handsome piece indeed. Its tautly drawn lines, elegant proportions and spare ornamentation lend it an air of inevitability. Like the Jaguar E-Type or Audi's TT coupe, it seems to have arrived fully formed, as if it had to be.
The whiff of exclusivity
Because it's beautiful and because it's a Land Rover — and is thus blessed with overtones of royalty — Velar bears more than a whiff of exclusivity. Even so, as luxury crossovers go, its $49,900 base price is quite reasonable.
One needn't check many boxes to send that number soaring, of course. Our Velar R-Dynamic HSE rang the bell at $86,115, less destination and handling, and could have gone higher.
Velar is well outfitted — though, here, too, design carries the day, as the cabin is exquisitely detailed. A sense of clubby refinement prevails, underscored in our tester by uniquely patterned Windsor leather upholstery. Materials quality and fit and finish are irreproachable. A pair of glossy 10-inch touchscreens dominate the dash, clearing it of all non-essential buttons and knobs.
Standard AWD, adaptive shock dampers
All-wheel-drive is standard, as is an adaptive suspension that adjusts to road conditions in real time. Six-cylinder trims add an air suspension.
There's a panoramic sunroof, automatic wipers and LED headlights.
Off-roading goodies include a mechanical locking rear differential and low-speed cruise control.
Firm ride, confusing controls
Velar is a car like any other, of course, with its own set of strengths and weaknesses. None of its three powertrains break new ground, its ride is a touch firm for the luxury class and its elaborate twin-screen control system is confusing at first and sometimes balky.
The system lacks the feedback provided by haptic touch and demands more eye-time than it ought. We also discovered that the redundant steering-wheel controls are too easily activated. That's not always a bad thing; more than once I found myself being treated to an unexpected back massage.
More concerning, our tester suffered a condensation problem that so severely fogged the windows that the A/C system couldn't clear them. Land Rover assures me a technical service bulletin has resolved the issue.
Three powertrain choices
Powertrain choices include a 274-horsepower turbocharged four-cylinder gasoline engine, a frugal 180-hp (317 pound-feet of torque) four-cylinder turbodiesel and a 380-hp supercharged V-6.
An eight-speed ZF automatic manages the gear-change duties. A properly equipped Velar is tow-rated to 5500 pounds. A nifty Advanced Tow Assist function automates the process of backing a trailer or boat.
The base Velar is available with only the four-cylinder gasoline engine. The S trim ($54,700) can be ordered with any of the engines and also adds a hands-free liftgate; auto-dimming side mirrors; leather upholstery; power-reclining rear seats; an 11-speaker Meridian sound system; navigation; smartphone app integration (Apple CarPlay and Android Auto are not yet available).
The R-Dynamic SE ($56,494) and the R-Dynamic HSE ($64,954) are more elaborately finished and wear larger wheels.
Driver-adjustable settings
Standard driver-assist systems include a rearview camera, rear parking sensors, lane-departure warning, hill start assist, automatic emergency braking, and driver-adjustable drive settings (mud, sand and rocks) for assorted surfaces.
Unfortunately, our test week with the Velar was conducted on the gridded backroads of southern Wisconsin, with nary a bend to negotiate or mountain to climb. Aside from my occasional mismanagement of the Touch Pro Duo infotainment system (my performance improved as the week wore on), our R-Dynamic HSE tester performed admirably.
Under full throttle, its six-cylinder engine was something less than silken-smooth, but the ZF gearbox was flawless and, with 0-60 coming up in the mid-5-second range, I had no complaints about acceleration.
All other considerations aside, the Velar succeeds purely as a visual exercise. Fortunately, Land Rover's latest is much more than just an other pretty face.
Contact Don at don@dadair.com.
2018 Land Rover Range Rover Velar R-Dynamic HSE
Vehicle base price: $49,900
Trim level base price: $77,100
As tested: $87,110
Options highlights: Off Road terrain-response package with configurable dynamics; 4-zone climate control with cabin-air ionization; lockable cooled glovebox; R-Dynamic Black exterior trim package; Bryon Blue paint; 20-way adjustable front seats with passenger memory and driver massage; heated rear seats; perforated Windsor leather seats; active locking rear differential; heated windshield; configurable ambient interior lighting; more.
Tow rating: 5500 pounds
EPA rating: 20 combined/18 city/24 highway
Premium unleaded fuel required
---
---