Fourth-generation Toyota Prius still reigns supreme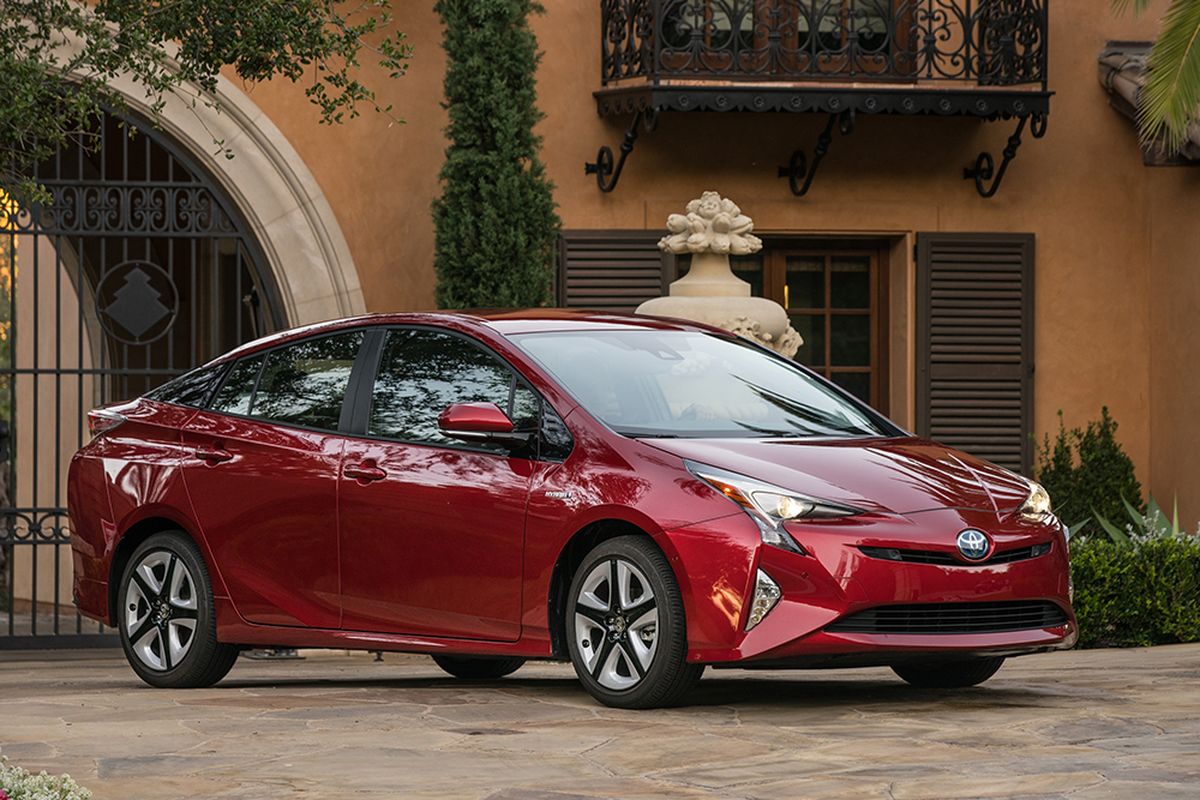 Gas-electric hybrids account for a tiny fraction of U.S. auto sales, but automakers aren't backing off.
Every year, it seems, some new hybrid debuts, and companies like Honda and Volvo have announced aggressive new electrification strategies.
Toyota was an early leader in the movement. It birthed the hybrid segment in 1997, with the debut of its game-changing Prius. The Prius has evolved over time — its powertrain has undergone constant improvement and the original sedan has given way to sleeker designs — but Prius remains the industry's best complete hybrid.
Prius is so pervasive it could be considered the Kleenex of hybrids. Like the facial tissue, you may have excellent reasons for choosing another brand, but there's no ignoring the original.
A three-member family
Toyota campaigns three models under the Prius banner, the flagship Prius compact fastback ($23,475), which we test today; a plug-in variant of the fastback called Prius Prime ($27,300); and the subcompact Prius C ( $20,630).
The Prius V wagon was discontinued at the end of the 2017 model year.
The original, essential Prius is now in its fourth generation. In 2016, a stem-to-stern makeover gave Prius a dramatic — some would say polarizing — look along with large gains in comfort, capacity and efficiency.
Based on a new platform, the fourth-gen Prius has a lower center of gravity and increased structural rigidity. Ride and handling are notably improved, the cabin and cargo areas grow roomier and the aerodynamics grow slipperier.
Two Eco trim is the mileage champ
We spent a recent week testing the most efficient of the new Prii. The Prius Two Eco ($25,165) employs a handful of tricks to boost mileage to 56 mpg combined/58 city/53 highway.
Its partners are rated at 52/54/50.
Despite this focus on economy, the Two Eco is a pleasant place to spend some commuting time. Its open and airy cabin accommodates four six-footers and its compliant suspension is passenger-friendly.
To hold down costs, Toyota bathes the forward cabin in plastics. I don't find the look disagreeable but your mileage may vary.
Questionable gauge pod placement
I find the location of the gauge-and-driver-info pod less likable, though. It perches on top of the dash, smack dab in the middle of the car, where it demands too much eye-time of the driver.
Casual cabin storage is adequate, thanks largely to Prius's unusual dash-mounted shift lever. A shallow tray in the center console includes an available Qi wireless charger.
Although there are no significant upgrades this year, Toyota does borrow the Prius Prime's 11.6-inch touchscreen infotainment display. It replaces the standard 6.1-inch touchscreen found in lower trims.
Toyota's Entune infotainment system is simple in operation but includes neither Android Auto nor Apple CarPlay. Smartphone integration requires the installation of Toyota's challenging and clumsy Entune app.
Safety, driver-assist features standard
Standard Prius features include automatic LED headlights, LED running lights and taillights, heated mirrors, keyless entry (driver's door only) and ignition, automatic climate control, a tilt-and-telescoping steering wheel, a height-adjustable driver seat and a 60/40-split folding rear seat.
Also standard are Bluetooth phone and audio connectivity, voice recognition with Siri Eyes Free and a six-speaker audio system with a USB port, an auxiliary audio jack and a CD player.
Standard safety and driver-assist features include adaptive cruise control, forward collision warning, forward-collision mitigation with automatic braking, and lane-departure warning and intervention.
Performance a secondary consideration
All Priuses are powered by a 1.8-liter four-cylinder engine mated to a pair of electric motors/generators. The system produces a combined 121 horsepower, which is dispatched to the front wheels via a continuously variable transmission (CVT).
Make no mistake: Performance is a secondary consideration. Prius accelerates deliberately, which is to say <ital>slowly<end ital>, and corners with caution.
The hybrid system is, for the most part, transparent, and transitions between power sources are seamless. The regenerative brake system can feel grabby and inconsistent but steering feel is nicely weighted, responsive and accurate. Little road-surface information makes its way to the driver and a numbness at top-dead-center requires the driver make ongoing little course corrections.
Even so, Prius remains the most complete and compelling of the pure hybrids. You might choose another high-mileage contender, but it wouldn't be wise to look past the original.
Questions or comments? Contact Don at don@dadair.com.
2018 Toyota Prius Eco Two
Vehicle base price: $23,475
Trim level base price: $25,165
As tested: $26,060 (includes destination and handling)
Options: Our Two Eco tester included no options.
EPA rating: 56 combined/58 city/53 highway
Regular unleaded fuel specified
---
---