2018 Honda Accord: Beautifying the humble family sedan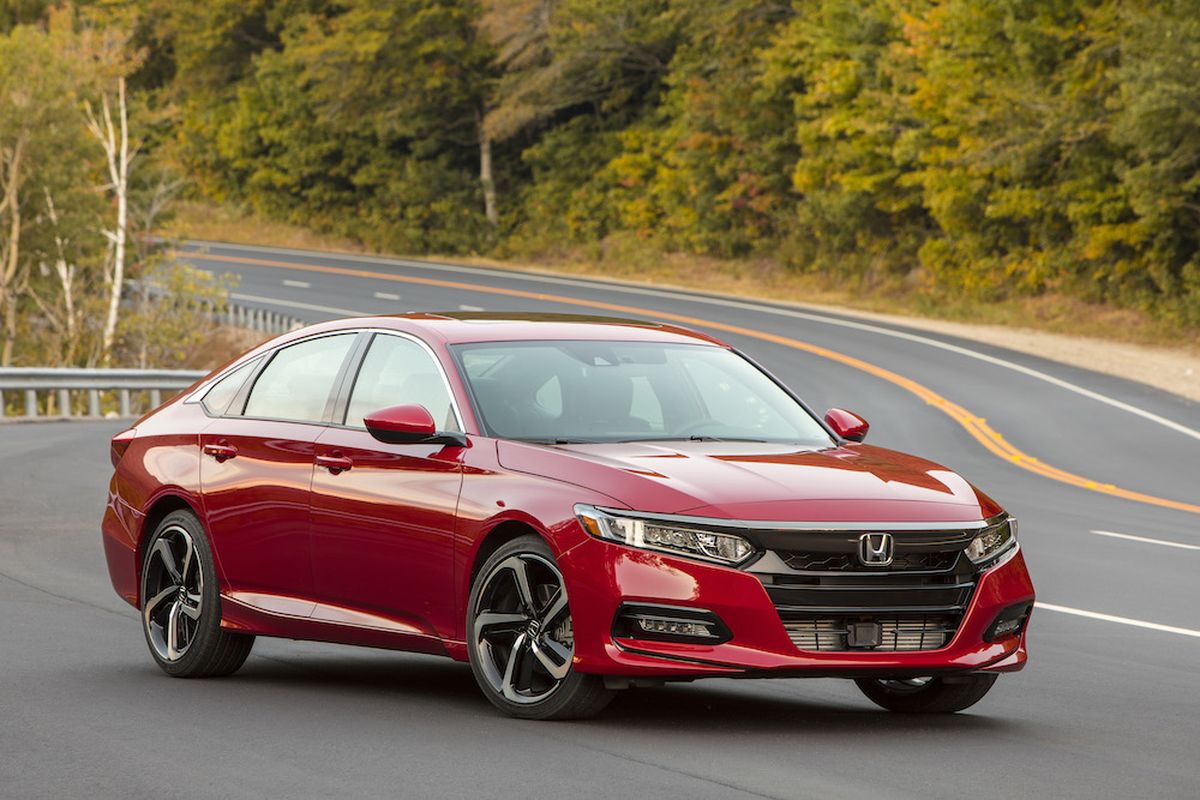 In its 42-year lifespan, the Honda Accord has exemplified the art of the family sedan. Year in and year out, it wins high marks for its mastery of things that matter. Basics like safety, creature comfort, reliability and a low cost of ownership.
Accord even gets kudos for driver engagement. It's not a sport sedan, but it's responsive and nimble. Handling and ride quality harmoniously co-exist.
Accord is roomy — it has the most generous back seating area in the midsize segment — and build quality and fit-and-finish are impeccable.
The bearing of a luxury sedan
For all its virtues, though, the Accord ($23,570) has never been a glamour-puss. It's attractive enough to have sold nearly 13 million copies, but, as with most Honda products, understatement has been its most consistent design strategy.
But that changes this year. For 2018, Accord is redrawn with a sweeping roofline that extends rearward to take in the rear decklid. Deep bodyside creases complement the new silhouette.
A wider and lower stance imparts a dynamic presence. European undertones lend Accord the bearing of a luxury sedan.
Honda calls the remake the most dramatic in Accord history. The stem-to-stern makeover finds Accord planted on a rigid and lightweight new platform. A new aluminum-intense suspension improves ride and handling and makes room for additional crash reinforcement, rear-seat legroom and trunk space.
Midsize footprint, full-size cabin
Despite Accord's midsize exterior dimensions, the EPA rates its cabin as full-size.
Rear-seat legroom leads the class (though the sloping roofline reduces headroom for taller rear-seat passengers), as does the voluminous trunk.
All Accords are equipped with LED headlights, taillights and running lights; automatic high-beam control; push-button ignition and dual-zone automatic climate control.
Standard driver-assist functions include adaptive cruise control, lane departure warning and intervention and forward collision warning with automatic emergency braking.
Tasteful, intelligent cabin design
Intelligent dashboard design, quality materials and first-rate fit-and-finish make the cabin a fine place to while away some time. The seats are broad and supportive and comfortable and a decent amount of casual storage helps reduce cabin chaos.
Honda updates its infotainment interface this year, with simpler, more user-friendly menus. Hard buttons and knobs manage audio and climate functions.
Every Accord is fitted with a touchscreen — either 7.0 or 8.0 inches, depending on trim — that's located high in the dash for easy visibility. Bluetooth and USB connectivity are available but only systems with the 8.0-inch screen include Apple CarPlay and Android Auto.
Honda has made great strides in reducing wind and road noise, though some road surfaces can still raise a racket.
Three powertrain choices
Honda eliminates last year's up-level six-cylinder engine. Now, the powertrain family comprises three choices; a pair of turbocharged four-cylinder engines, a 1.5-liter four that makes 192 horsepower or a new 252-hp 2.0-liter four. A 212-hp Accord Hybrid earns a 47-mpg combined rating from the EPA.
The 1.5-liter turbo is mated to a continuously variable automatic transmission (CVT) or, in Sport trim, to the CVT or a short-throw 6-speed manual transmission. The 2.0-liter four can be paired with the stick shift or a new 10-speed automatic.
Ungainly gear selector
The 2.0-liter four paired with the automatic to power our Touring trim ($33,800) tester. It's punchy and refined but not as quiet under acceleration as the six it replaces.
The Hybrid and the 2.0-liter bring a console-mounted push-button gear selector that can't be operated quickly. This can be a problem when one is trying to make a quick three-point turn or dislodge the Accord from snow by rocking it.
Sport trims ($25,780) have firmer spring and stabilizer tuning; the $33,800, top-dog Touring runs adaptable dampers that constantly monitor and respond to changing road conditions and driving style.
Steering is light and provides the driver with little information from the road surface. Despite a bit of vagueness on-center, the Accord tracks true. The Touring trim's Sport mode firms up feel and feedback.
For years, Accord has meant basic, high-quality transportation for millions. For 2018, that mission is both deepened and amended; our favorite midsize family sedan now is not only a great ride but a bona fide beauty to boot.
Questions or comments? Contact Don at don@dadair.com.
2018 Honda Accord 2.0T Touring
Vehicle base price: $23,570
Trim level base price: $35,800
As tested: $36,690 (includes destination and handling)
Options: The 2.0T Touring is a fully loaded trim; our tester included no options.
EPA rating: 26 combined/22 city/32 highway
Regular unleaded fuel specified
---
---