Don Adair: Subaru's Crosstrek hatchback promises fun, delivers functionality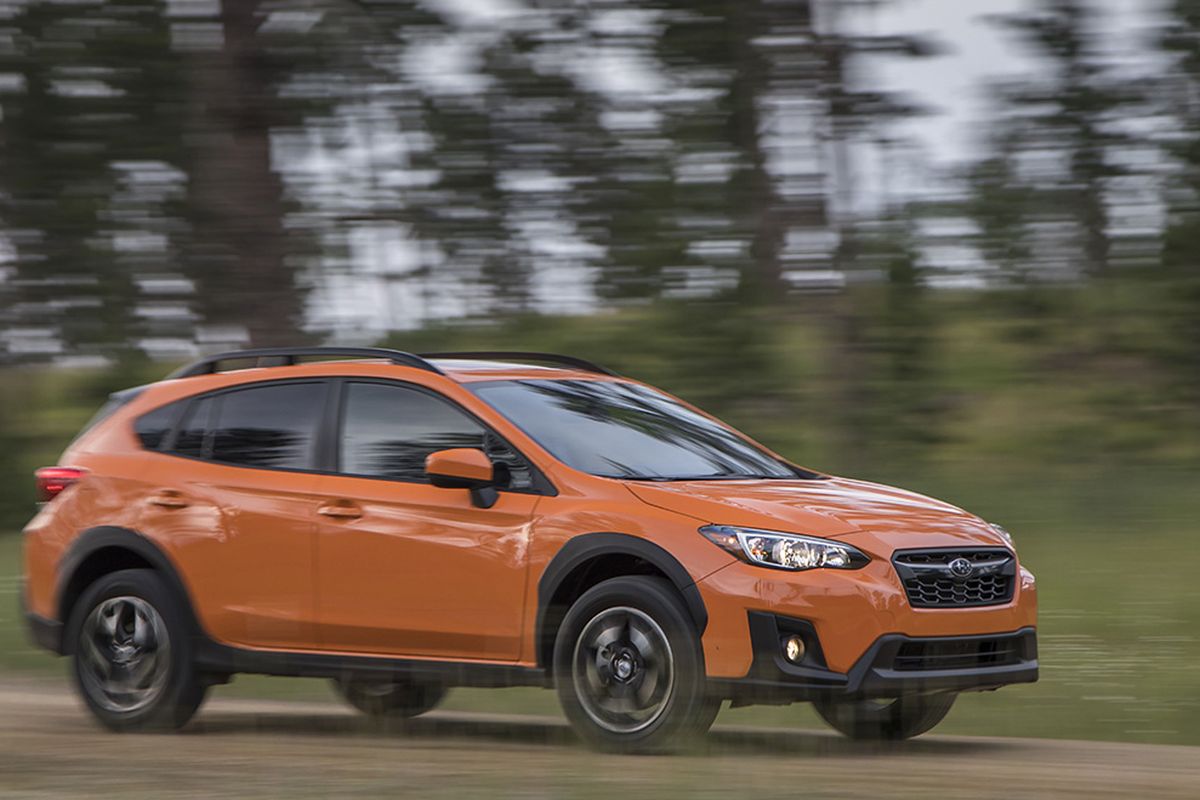 Bathed in a look-at-me color called Sunshine Orange and equipped with a six-speed manual transmission, Subaru's Crosstrek seemed to promise a week of fun.
I harbored hopes that the little all-wheel-drive hatchback would drive something like a lifted version of Subaru's sprightly WRX.
I should have known better; 8.7 inches of ground clearance do not a hot hatch make. Besides, the Crosstrek's 152 horsepower is no match for the WRX's 268 turbocharged output.
Turns out the Crosstrek ($21,975) is hewn from the same sturdy timber as its Outback and Forester siblings.
Third-best-selling Subaru
Which is why in its short lifespan it has become Subaru's third-best-selling car, trailing only those self-same crossovers.
Like the subcompact Impreza it's based on, the redesigned 2018 Crosstrek is planted on Subaru's new Global Platform. It gains a few pounds in the process but emerges a sturdier and more substantial car.
Its ride is more refined, its cabin quieter and it feels more planted at highway speeds
Its doors now close with a solid, satisfying thunk.
The new Crosstrek is roomier, too, thanks to its wider stance. Overall length and wheelbase grow by just a half-inch each, but Crosstrek grows wider by more than an inch. The front seats are spaced farther apart, boosting hip room and creating a sense of spaciousness missing from the first-gen car. Rear-seat legroom grows 1.1 inches.
Crosstrek's front seats are firmly padded and supportive. The additional legroom makes the split-folding second-row seats fully adult-worthy.
Cargo space grows by 3 cubic feet. The hatch opening is 4 inches wider and the rear wheelhouses are farther apart.
Standard features
Standard features of the base Crosstrek include an infotainment system with a 6.5-inch touchscreen, a user-friendly menu structure and the inclusion of Apple CarPlay and Android Auto.
Carpeted floor mats are standard, as are one-touch driver and front-passenger windows, a rearview camera and a driver information display. All Crosstreks get all-wheel-drive, the base wheels are 17-inchers.
High-end options include a premium audio system and Subaru's EyeSight driver-assist suite. EyeSight is available on CVT-equipped versions of the mid-level Premium ($22,595) and top-end Limited ($26,295) trims. It brings automatic emergency braking, lane-departure warning and adaptive cruise control.
Also available on upper trims are automatic high beams and reverse automatic braking (helps prevent banging into objects when backing up).
Down on power
All Crosstreks are powered by a 152-hp 2.0-liter flat-four engine and 145 lb-ft of torque. The engine accelerates smoothly but lacks gusto.
The '18 Crosstrek is more than a second slower from 0-60 than its predecessor, tripping the timer at a rather leisurely 9.2 seconds.
On the bright side, Subaru tweaks the throttle mapping to calm last year's on/off tip-in characteristics. It's much easier now to pull away smoothly from a stop.
The manual gearbox is restricted to the base 2.0i and Premium ($22,595) trims; the CVT is available on those trims and is the only choice on the Limited ($26,295).
The stick is a good gearbox, with crisp gates and smooth throws. Clutch take-up is smooth and linear.
CVT is best choice
The CVT is the better choice, though. Beside its substantial fuel-efficiency advantage (29 combined/27 city/33 highway vs. 25/23/29), its seven simulated ratios tend to keep the engine in the heart of its power band. With the manual, that task requires much shifting.
Moreover, the CVT is paired with an electronically controlled all-wheel-drive system that produces better traction — both on-road and off — than the less sophisticated, limited-slip system mated to the stick.
Crosstrek is tow-rated to 1500 pounds.
Underway, the Crosstrek shrugs off all but the nastiest potholes and broken road surfaces. Its long suspension travel enhances off-road performance but reduces cornering capacities. Steering is accurate but doesn't communicate what's happening down the contact patches.
The Crosstrek is a solid and comfortable performer but fun is not in its vernacular, manual gearboxes and paint jobs suggestive of Timothy Leary notwithstanding.
2018 Subaru Crosstrek 2.0i Premium
Vehicle base price: $21,975
Trim level base price: $22,595
As tested: $23,510 (including destination and handling)
Options: Our Premium tester came without options)
Tow rating: 1500 pounds
EPA rating: 25 combined/23 city/29 highway
Regular unleaded fuel specified
---
---