Mazda's CX-9 a driver-friendly three-row crossover any mother would love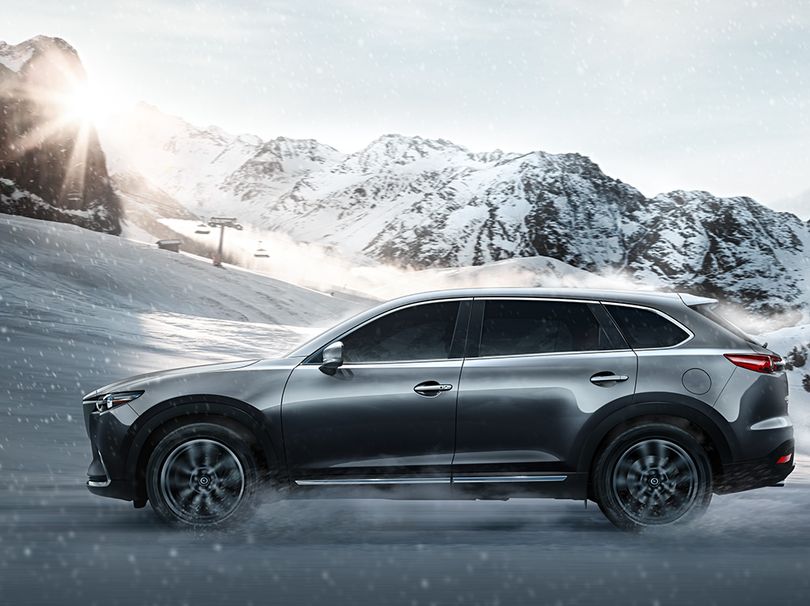 When she had a point to make, my mother often relied on adages.
If I wanted something spendy — a pair of Levi's, say, instead of the usual jeans from Sears — she'd say I had champagne tastes on a beer budget.
Fair enough. Even now, I'd rather drive a Jaguar than a Jeep, a Bimmer than a Buick.
Her other chestnut was this: you can't have your cake and eat it too. Took me a while to figure that one out but I eventually learned it was all about negotiating life's trade-offs.
I bring this up today because our test vehicle, Mazda's CX-9, is all about embracing compromise.
Lithe and engaging
The CX-9 isn't the quickest, the roomiest or the most powerful of the three-row crossovers. It doesn't tow the biggest load and its cargo hold pales in comparison to the class leaders.
If you love driving, though, the CX-9 ($32,130) is likely the only three-row rig you'll ever want to own.
The CX-9 is lithe, responsive and engaging. Quick, precise and communicative its well-weighted steering system progressively builds effort as the driver commits to a corner.
Among a handful of 2018 upgrades, a new standard feature called G-Vectoring control reads a stream of data — including throttle inputs and steering angle sensors — to subtly cut power to the front wheels on corner entry. This reduces understeer — a car's tendency to push when heading into a sharp corner — and boosts stability through the curve.
Despite its 5600-pound curb weight and lofty 8.8 inches of ground clearance, the CX-9 has never met a corner it didn't want to carve.
Easy driver

The CX-9's turbocharged four-cylinder engine makes 264 horsepower and 310 pound feet of torque. It's responsive across a broad power band, thanks largely to a unique turbocharger that alters exhaust pulsations according to engine speed to reduce lag.
The CX-9 is capable of a quick 7.3-second 0-60 sprint. With a light load, freeway merging and two-lane passing are stress-free. At highway speeds, it feels stable and planted, while the steering's well-defined on-center groove makes for straight and true in-line tracking.
But the CX-9's charms run deeper than performance.
Its EPA-estimated fuel-efficiency rating — 23 combined/20 city/26 highway for AWD models — bests even slower and less powerful gas-powered competitors.
Its suspension blends body control and compliance in what has become Mazda's signature balance of comfort and handling.
Less-is-more cabin
The CX-9 is arguably the best-looking three-row CUV and its cabin is among the segment's best. Its knob-based Connect infotainment system employs intuitive menus and eliminates the need for a distracting touchscreen. A tablet-style color display perches on top of the dash, where it's easily taken in at a glance.
HVAC controls are located just ahead of the console-mounted shifter, doing away with dashboard clutter and producing a pleasing less-is-more ambience. Above-class materials quality and fit-and-finish complete the picture.
The supportive front seats are well contoured and comfortable. The sliding and reclining second-row seats accommodate a pair of adults. The third row is a kid-friendly zone.
An appetite for flash
High-end buyers can opt for the Euro-influenced AWD-only Signature trim ($44,315), with its auburn Nappa leather and aluminum accents. Its genuine rosewood trim is sourced from a studio famed for crafting premium guitars.
Mazda's Smart City Brake Support system — at low speeds, it can apply the brakes in the event of an imminent collision — is now standard on all CX-9s, as are a blind-spot monitor and rear cross-traffic alert system.
The Touring ($34,960) adds automatic high beams, adaptive cruise, lane-departure warning and intervention, and enhanced automatic emergency braking. Full-speed automatic braking is standard on the Grand Touring ($40,470) and Signature trims.
Despite her maternal admonitions, Mom had a taste for flash that in her later, childfree years blossomed into a full-fledged personality trait. Seems a safe bet she would have been drawn to the CX-9's appealing blend of dash and practicality.
Turns out even she wanted to have her cake and eat it too.
Contact Don at don@dadair.com, or visit facebook.com/donadair.inc/.
2018 Mazda CX-9 Grand Touring AWD
Vehicle base price: $32,130
Trim level base price: $42,270
As tested: $43,905 (includes destination and handling)
Options: Cargo mat, Soul Red Metallic paint
Tow capacity: 3500 pounds
EPA rating: 23 combined/20 city/26 highway
Regular unleaded gasoline specified
---
---