Don Adair: Lexus's large luxury SUV excels off-road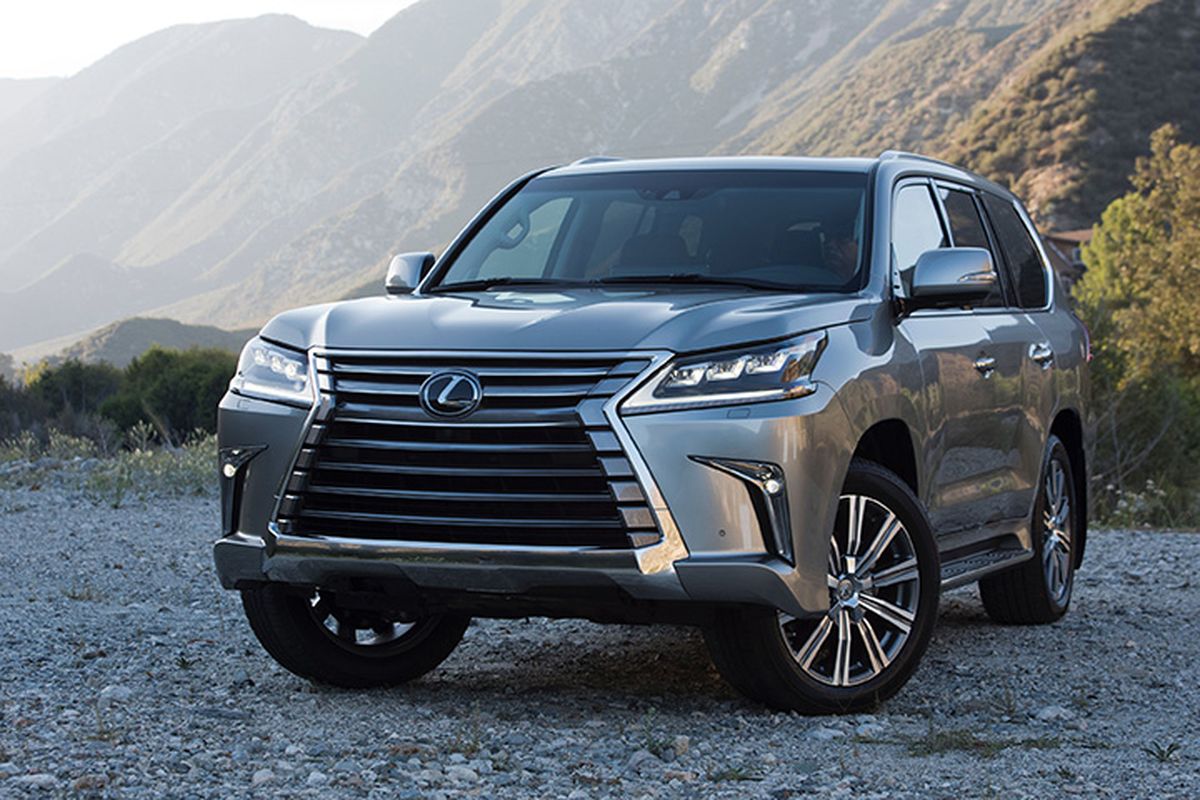 There's an image in my head of a herd of Lexus LX570s ambling along an off-road course set up at ski resort somewhere in the Northwest.
I don't remember the exact location, but the image of a string of three-ton brutes crawling down into a steep ravine and back out lingers.
Like a family of pachyderms out for an afternoon stroll on the mountainside.
And that's the charm of the LX family; in spite of its heft, the truck-based sport-ute goes where others fear to tread.
We didn't put our 2017 LX570 tester through its off-road paces during our recent test — I'm good with that, because few drivers ever will — but whenever I climb into its leather-and-wood-lined cabin that sight spools unbidden from my memory banks.
Sophisticated off-road electronics
The LX debuted in 1996 as a luxury version of Toyota's capable Land Cruiser. It is comfortable, roomy and well-appointed. Its 8.9 inches of ground clearance leads the class and sophisticated electronics boost its off-road performance.
However, after shelling out $90,000 for a 7-passenger, 6000-pound luxury ute, most owners are likely to decline any adventure more rigorous than the occasional Forest Service road.
All of which helps explain why Lexus sells just 4,000 copies of the LX570 to its well-heeled target market.
Piloting the LX — and it does seem like one pilots the big fellow — on our recent snow-crusted roads exposed both strengths and liabilities.
Shelter from the storm
For starters, I'm hard-pressed to recall a rig that better isolates occupants from real-word travails. Sitting tall in the saddle, heated maple steering wheel in hand, one is cocooned within a massive steel cage, surrounded by acres of cushioned surfaces and soothed by the absence of wind and road noise.
Call it shelter from the storm.
The LX is available in a single trim, with such standard features as leather; power-adjustable front seats, with driver-side memory; four-zone automatic climate control; a sunroof; a 40/20/40-split and heated second-row seat that folds, reclines and slides; and a 50/50-split third-row seat.
Infotainment features include Lexus's Remote Touch interface, which marries a 12.3-inch center display with an awkward mouse-like control device.
Heavy on driver-assist
Navigation, Bluetooth, the Lexus Enform smartphone app suite and a nine-speaker sound system are standard. I doubt most buyers think twice before handing over $2,350 for the available 460-watt, 19-speaker Mark Levinson surround sound system.
Driver-assist features include forward-collision warning, with pedestrian detection and automatic emergency braking; blind-spot monitoring and rear cross-traffic alert; lane-departure warning; adaptive cruise control; and a driver-inattention warning system.
The forward rows accommodates four adults and five in a pinch. The third row is roomy enough for another two, assuming they're limber enough to clamber back that far.
The third row doesn't fold flat, but snugs up in two sections against the cargo area's walls, limiting cargo space. A two-piece power liftgate-and-tailgate combo simplifies the loading of heavy objects but complicates their removal.
Big power, big thirst
With 383 horsepower and 403 pound-feet of torque coursing from its 5,7-liter V-8 and channeled through an eight-speed automatic transmission, the LX runs the 0-60 sprint in a respectable 7.2 seconds.
But, at 15 mpg combined (13 city/18 highway), it's very thirsty. And, like the elephant, it's a bit ungainly. With the aid of four drive modes, the self-leveling hydraulic suspension labors to control three tons of high-riding mass.
After whining for several highway miles about the LX's floaty and disconnected dynamics, I finally moved the mode selector from Comfort to Sport. The LX instantly settled down and I stopped fussing about unwanted body motion.
The LX's 7,000-pound tow rating trails the competition but its self-leveling suspension helps when adding tongue weight. The stability control system has trailer-sway control and the system is prewired for a trailer brake controller.
It's large, luxurious and extraordinarily capable. Buyers willing to shell out $90,000 find themselves in and exclusive class indeed.
Contact Don at don@dadair.com or find him on Facebook at facebook.com/donadair.inc.
2017 Lexus LX570 5-Door SUV
Vehicle base price: $89,380
Trim level base price: $89,350
As tested: $98,065 (includes destination and handling)
Options included wireless charger; cooler; 21-inch alloy wheels; semi-aniline leather with contrast stitching; heated/ventilated front seats; heated second-row seats; keyless entry and ignition; Mark Levinson audio system; dual-screen rear-seat entertainment system; heated dark wood steering wheel; cargo mat.
Tow rating: 7000 pounds
EPA rating: 15 combined/13 city/18 highway
Regular unleaded fuel specified
---
---