Don Adair: Chrysler Pacifica electrifies the minivan segment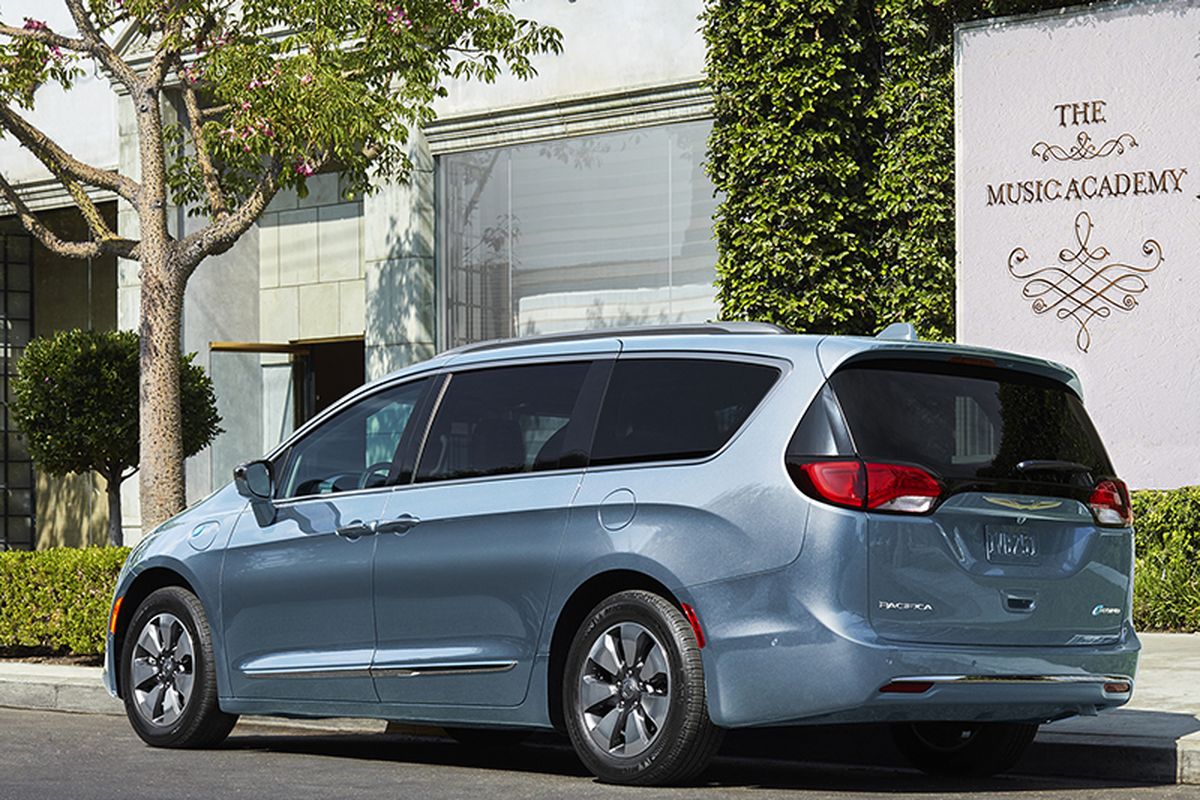 Since Chrysler invented the minivan, it's fitting that it would first to offer a gas-electric hybrid option.
For most manufacturers, the minivan is buried in the dead-letter box. Most exited the segment long ago.
But Chrysler believes in the minivan. Until late 2016, it offered a pair of them, the Dodge Grand Caravan and the Chrysler Town & Country. For 2017, it consolidated its two-van lineup into a single product, the Chrysler Pacifica.
Built on a lightweight new platform and redesigned inside and out, the Pacifica hit plenty of sweet spots. It accommodated seven in a large and airy cabin. It was comfortable and well equipped. An active noise-cancellation system silenced wind and road noise.
An engaging minivan
The Pacifica was also surprisingly engaging. Steering was quick, responsive and well weighted. To control body lean, Chrysler fine-tuned the suspension to produce a ride that was firm yet compliant.
The Pacifica also brought to the segment innovations like hands-free, power-operated sliding rear doors; self-drying brakes; and automated parallel <em>and</em> perpendicular parking systems.
But the most surprising innovation was the introduction of a gas-electric hybrid.
The Platinum hybrid is available in two upscale trims, Premium ($41,995) and Platinum ($44,995). Base price for the non-hybrid Pacifica is $28,995, with the top-level Limited running $42,895. With the $7,500 federal tax credit, the electrified Pacifica can be purchased for $34,495, or less than the donor vehicle.
Quick and efficient
Chrysler claims for the hybrid an electric-only range of 33 miles, enough to satisfy most drivers' needs most days. Total gas-electric range is estimated at 566 miles.
When the battery pack is depleted, the 3.6-liter V-6 and twin electric motors produce a combined 260 horsepower. An unloaded Pacifica runs the 0-60 sprint in a spry 7.8 seconds.
Credit the torque-punch provided by the electric motors. Under acceleration, both motors — even the one normally responsible for supplying energy to the generator — are called into action.
The continuously variable transmission (CVT) behaves itself for the most part, though under hard acceleration it lapses into the familiar CVT drone.
Running strictly in EV mode, the hybrid is EPA-rated at 84 MPGe. Overall, combined gas-electric mileage is rated at a class-leading 32 mpg.
Using a Level 2 (240-volt) charging station, a depleted battery pack can be recharged in about two hours. A regular household outlet will do the job in about 14 hours.
Heavier but agile nonetheless
Despite the addition of 568 pounds of batteries, motors and associated hardware, the hybrid felt nimbler and drove smaller than its 5000-pound curb weight would suggest. Time and again, I had to remind myself I was driving a three-row minivan.
And, even with its 18-inch wheels, our Platinum tester comfortably absorbed broken road surfaces.
The Premium comes standard with leather upholstery, heated front seats, self-parking and a 7-inch touchscreen infotainment display. The Platinum adds hands-free sliding doors and liftgate, navigation and a higher grade of leather.
A matter of space
Besides adding weight, batteries consume space. Here, they fill the shallow cavity into which Chrysler's second-row Stow n' Go captains chairs normally disappear. They are replaced by a pair of removable units that weigh in at a stout 66 pounds each.
The second-row seats don't slide or recline and long-legged passengers may feel crowded. The third row is more accommodating than most and far easier to access.
The touchscreen infotainment system features crisp and vivid graphics, but responds sluggishly. The absence of buttons or knobs forces the driver's attention away from the road when accessing even basic functions.
The hybrid system's regenerative braking system operates seamlessly, with little of the grabbiness that afflicts some systems. The intelligent cruise control system is less fluid; it waits too long to slow for traffic ahead, finally finishing the job with a fair bit of drama.
The industry has yet to devise a more efficient way to convey people and possessions than the humble minivan. With the Pacifica Hybrid, the segment grows more efficient yet.
2017 Chrysler Pacifica Hybrid Platinum
Vehicle base price: $28,995
Trim level base price: $44,995
As tested: $47,885 (includes destination and handling)
Options included front and rear park assist; blind-spot and cross-path detection; 360-degree surround-view camera system; parallel and perpendicular park assist; adaptive cruise control with stop & go; forward-collision warning; lane-departure warning; rain-sensing windshield wipers; automatic high-beam control; advanced brake assist; Alpine audio system; third-row USB charge port; rear-seat entertainment system; panoramic sunroof.
EPA rating: 84 MPGe/32 combined mpg
Regular unleaded fuel specified.


---
---