New Toyota RAV4 Adventure nods toward the outdoors and towing crowds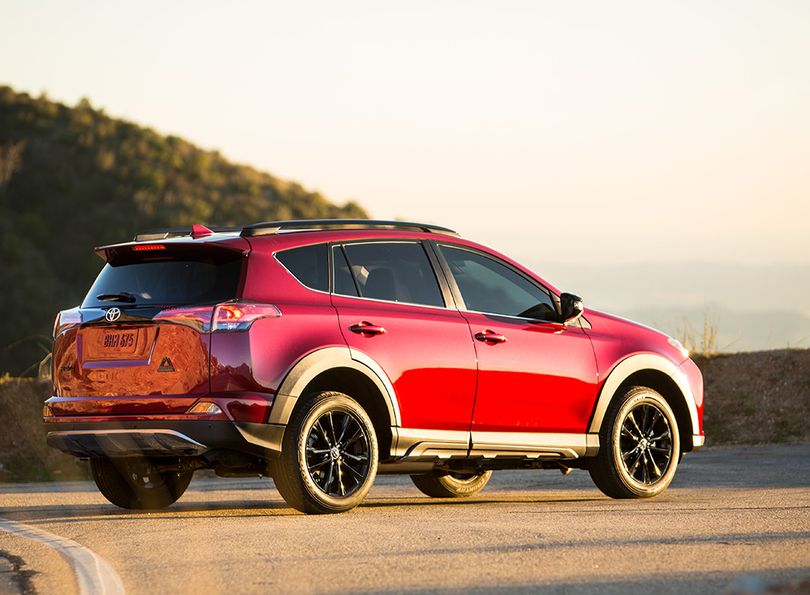 The day after Christmas, we left Portland on the heels of an ice storm. For the first 40 miles of our journey, our tires conducted delicate negotiations with the road surface.
We were driving a 2018 Toyota RAV4 Adventure, a new trim that, with its cosmetic upgrades, elevated ride height and tow-prep package, nods in the direction of the outdoors and towing crowds.
Its tires also made a serious bid for our affection that day. Its Bridgestone Ecopias are designed to enhance efficiency and reduce road noise — and are highly rated for their performance on snow and ice.
Sticky tires don't transform the RAV into a rival for Toyota's beyond-capable 4Runner SUV, but they helped ease our minds on the long drive home.
Record-breaking year
Last year, the RAV sold a record-breaking 407,600 units. It was the country's fourth best-selling vehicle, trailing only the Big Three's chart-topping pickups.
This gusher of love came despite the fact that all its major competitors have been redesigned since its last makeover in 2012. It's also one of the segment's least entertaining vehicles and its popularity signals little appetite for engagement among buyers of compact CUVs.
So, not wanting to mess with a good thing, Toyota leaves the fundamentals in place this year but tweaks the lineup. It adds the Adventure trim and elevates the sporty SE with the same 6.5 inches (versus the standard 6.1 inches) of ground clearance.
Ruggedized look
The Adventure has a ruggedized look, with 18-inch black alloys, gray lower-body cladding and fender flares, and black headlight bezels and fog-lamp surrounds. Inside, there are all-weather floor mats and a household-style 120-volt outlet in the cargo area.
The Adventure's steering wheel and shift knob are wrapped in leather and its front seats are more deeply bolstered than standard.
The Adventure is the only RAV4 to qualify for the Cold Weather package, which adds heated front seats, a power driver's seat, a heated steering wheel and a windshield-wiper deicer.
The Adventure is available in FWD with an automatic limited slip differential that equalizes torque distribution across the front transaxle. The optional AWD system automatically shifts power front-to-rear as needed.
At low speeds, AWD-lock fixes front-to-rear torque distribution at 50/50, optimizing grip in off-road or slippery conditions.
Not fast, but not slow, either
Most RAV4s are tow-rated to 1,500 pounds, but the Adventure runs an upgraded radiator and supplemental engine-oil and transmission-fluid coolers. FWD models will tow up to 2,900 pounds, AWD trims are good to 3,500 pounds.
Trailer sway control is standard on all RAVs equipped with the tow-prep package.
Toyota Safety Sense P is standard on all new RAVs. It includes a pre-collision system with automated braking and pedestrian detection; lane-departure alert with steering assist; automatic high beams; and adaptive cruise control.
A 176-horsepower four-cylinder engines powers all RAVs. The RAV is not particularly quick but I felt no angst merging with freeway traffic or passing slower cars on two-lane stretches.
The additional 0.4 inches of ground clearance seems to exist primarily for cosmetic purposes and doesn't significantly affect handling.
Age is apparent inside
Steering is well weighted and a solid on-center groove makes easy work of long-distance driving. In keeping with the RAV's disengaged nature, though, it's not at all communicative.
The RAVs' age is most apparent inside, which is ripe with hard plastics, though in the Adventure they're upgraded to resemble carbon-fiber. Materials quality lags behind the competition.
The smartphone-based Entune infotainment system is user friendly but its graphics are dated and the 7-inch screen washes out in direct sunlight. Entune includes neither Apple CarPlay nor Android Auto, using a downloadable app instead (the upcoming 2019 Toyota Avalon will include Apple's system, which likely will filter down into the rest of the lineup).
Sadly, the RAV's single USB port isn't sufficient in these device-heavy times.
Such short-comings aside, the RAV4 is exactly what buyers want. Perhaps in its next generation, it will satisfy every one of our wishes.
Contact Don at don@dadair.com.
2018 Toyota RAV4 Adventure
Vehicle base price: $24,410
Trim level base price: $28,400
As tested: $33,930 (including destination and handling)
Options included: Cold Weather Package; Ruby Flare Pearl paint; front and rear parking sensors; height-adjustable liftgate; keyless entry and ignition; blind-spot monitor with rear cross-traffic alert; Entune Premium audio with integrated navigation and app suite and more.
Tow rating: 3500 pounds
EPA rating: 25 combined/22 city/28 highway
Regular unleaded fuel specified
---
---