2019 Jeep Cherokee Trailhawk: Midsize crossover excels both off-road and on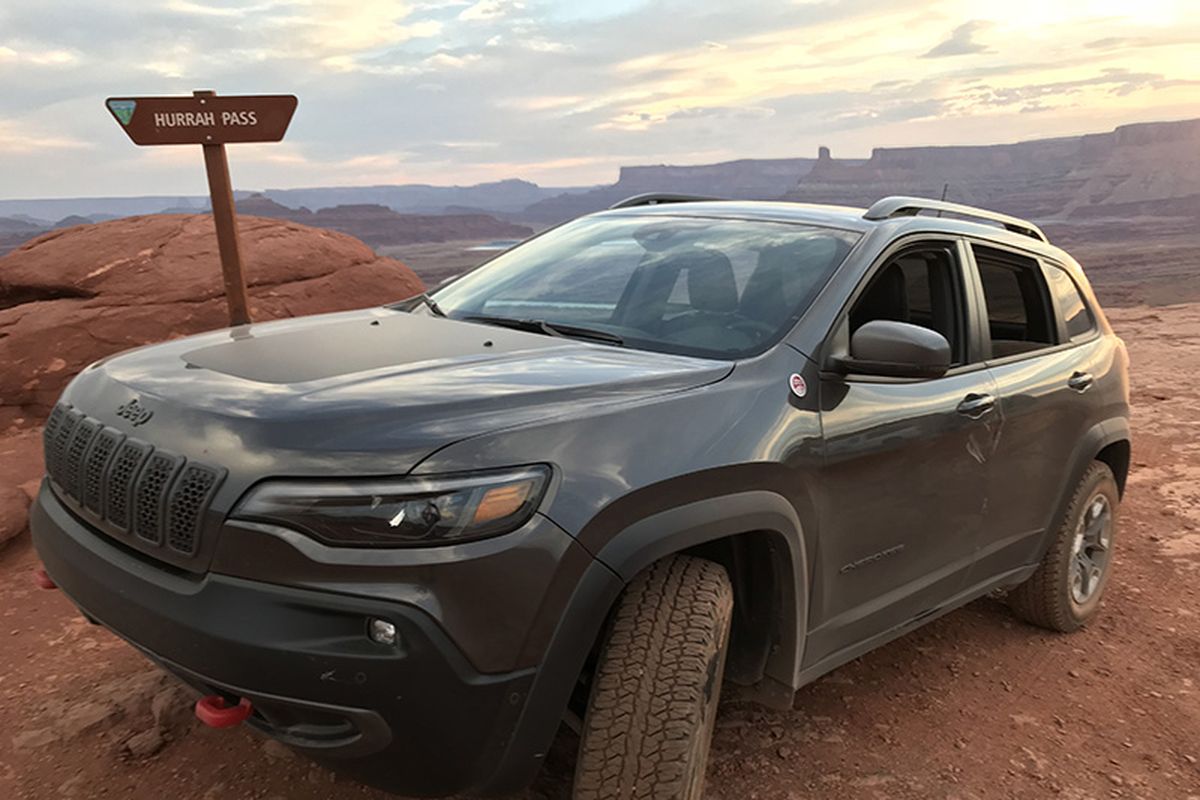 When Jeep's West Coast press rep heard we were seeking a vehicle to test in Moab, Utah, he sent us a 2019 Cherokee Trailhawk.
The Cherokee ($23,995) is Jeep's midsize crossover. By most measures, it is a conventional crossover; built on a sedan platform and available in front-wheel and all-wheel-drive configurations, it is more car than SUV.
However, Cherokee's five trims include the Trailhawk ($33,230), an off-road trim whose elevated ride height, elaborate all-wheel-drive system and off-road suspension make it a dirt-bound class of one.
If you're that buyer who expects SUV-like performance from a crossover, no other choice comes close. In Moab, I drove the Trailhawk in conditions that would have humbled another crossover.
2019 model-year updates
A 2019 model-year facelift brings Cherokee a redesigned front fascia, a new hood and new fog lamps. The standard LED headlamps are thicker and less squinty.
The cargo area grows three inches wider, boosting volume behind the rear seats by three cubic feet, to 28 cf. With the second row folded, cargo space remains unchanged, at 55 cf.
Both measures trail the class leaders.
The Cherokee's modestly updated cabin gets new casual storage space, including a handy cell-phone cubby.
Apple CarPlay and Android Auto are now standard, as is a 7-inch touchscreen (up from last year's 5-inch screen). Upper trims get a 8.4-inch unit. Jeep's Uconnect infotainment interface is one of the industry's best.
Turbocharged four joins three-engine lineup
A new engine debuts this year. The turbocharged 270-horsepower 2.0-liter four joins two existing choices — a 180-hp four-cylinder and a 271-hp V-6. All engines are mated to a nine-speed automatic transmission.
The base engine is rated to tow up to 2000 pounds, the turbocharged four to 4000 pounds and the six to 4500 pounds.
The Trailhawk runs Jeep's Active Drive II AWD system, which includes a two-speed Power Transfer Unit with torque management and simulated low-range gearing. The 4-Low mode locks the front and rear driveshafts for low-speed power or towing. A neutral state allows for flat-towing.
Uniquely off-road-ready, on-road capable
Unique to the Trailhawk, Jeep Active Drive Lock adds a locking rear differential to enhance low-speed traction in severe conditions.
Acute angles of approach and departure and a generous break-over point helps ease the Trailhawk over rocks and logs. A front skid-plate and other armor help protect vulnerable underbody components.
Moab is 960 miles distant, or about a 14-hour drive, and the bulk of our trip covered the usual mix of freeways and country two-lanes. All that seat-time left us with a key takeaway; the Trailhawk not only possesses unparalleled off-road chops, it's also a first-rate long-distance ride.
A bit larger and heavier than most competitors, the Cherokee feels stable and settled at speed. Despite the Trailhawk's 8.7 inches of ground clearance and extended suspension travel, body lean is well controlled.
Steering is nicely weighted and accurate. A good on-center groove minimizes the need for constant course corrections, a true blessing on a long drive.
Excellent ride quality; first-rate seats
Visibility is generally quite good, though a pair of thick A-pillars limits the driver's forward view, a liability when improvising a route through big boulders.
Ride quality is consistently good, as the suspension and chassis absorb the jolt of railroad crossings and broken pavement. Given its knobby 17-inch off-road tires, the Trailhawk cabin was less noisy at highway speeds than I'd expected.
Seat quality is exceptional. Neither my wife nor I experienced back pain or any of the other discomforts long hours in the saddle can cause.
The new engine is a mixed bag. Its power band is deep and broad but it grows buzzy under acceleration. Calibrated to maximize fuel efficiency, the gearbox makes deliberate (read: slow) downshifts, which can be problematic in low-speed off-road conditions when immediate throttle responses are required.
With all it has going for it, both on-road and off, perhaps the highest praise I can offer the Trailhawk is that, following nine days of non-stop driving, I didn't dread climbing back in the next morning.
Contact Don at don@dadair.com.
2019 Jeep Cherokee Trailhawk Elite 4x4
Vehicle base price: $23,995
Trim level base price: $33,320
As tested: $41,425 (includes destination and handling)
Key options included foot-activated power liftgate; heated and ventilated front seats; heated steering wheel; leather upholstery; rain-sensing windshield wipers with deicer; adaptive cruise control; automatic high-beams; full-speed collision warning with crash-mitigation; lane-departure warning; 2.0-liter four-cylinder engine; panoramic sunroof; 9 amplified speakers with subwoofer.
Tow rating: 4500 pounds maximum
EPA rating: 22 combined/20 city/26 highway
Unleaded regular fuel specified
---
---