2018 Ford Mustang GT: Even muscle cars can enjoy second lives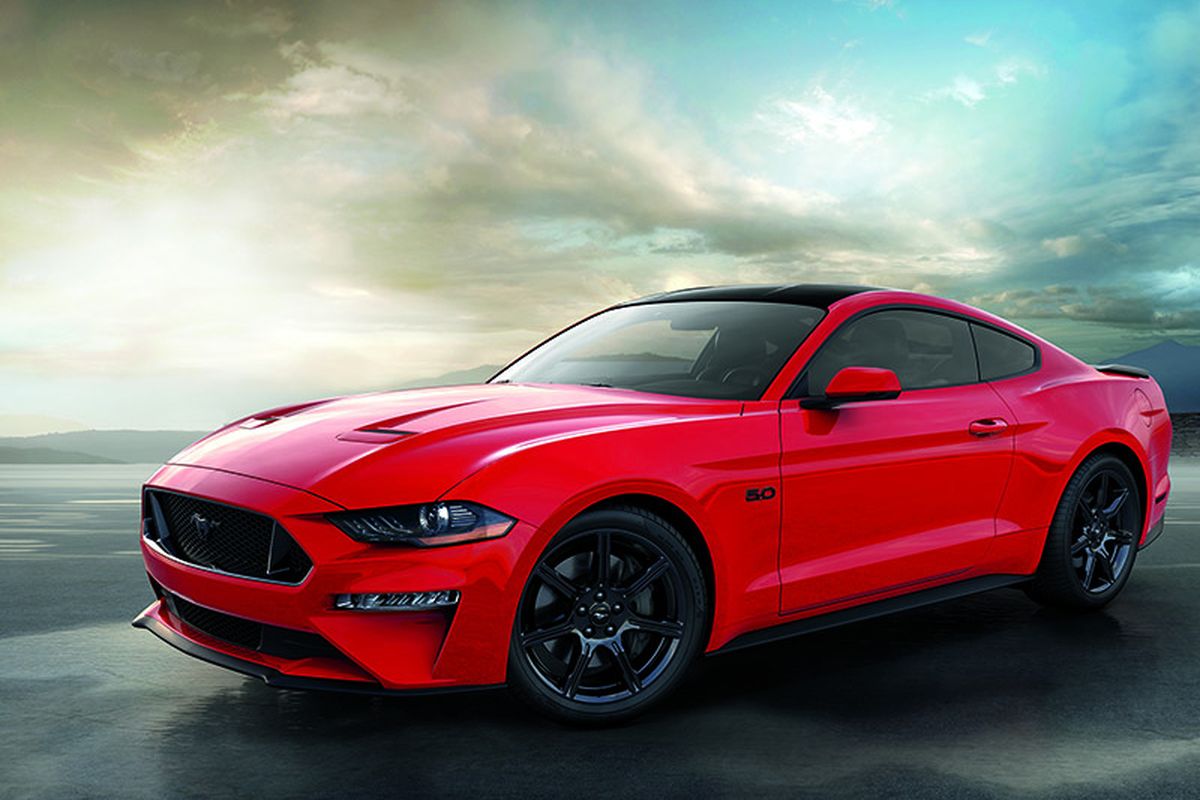 n 2015, Ford upended decades of Mustang tradition when it planted the pony car on a modern, all-independent suspension.
Shed of its solid rear axle, the Mustang grew more refined, comfortable and capable. Ride quality made major gains and, for the first time, the Mustang could be cornered with confidence.
The drag-strip crowd, which had resisted the change, found itself pleasantly surprised with the Mustang's straight-line performance.
Now, a 2018 mid-cycle refresh deepens those gains and broadens the Mustang's appeal.
New face, more power
A facelift updates styling front and rear and Mustang's driver-assistance suite grows. Cabin tweaks include a newly available heated steering wheel.
But the big news lies under the hood and even deeper.
For 2018, Ford deletes the previous V-6, reducing powertrain choices to a pair of heavily massaged carryovers.
The 2.3-liter four that powers the entry-level Ecoboost Coupe ($25,680) makes 310 horsepower and torque grows to 350 pound-feet. The venerable 5.0-liter V-8 that powers the GT ($35,190) receives a 40-hp bump to 460, while torque remains steady at 420 lb.-ft.
(Separately, Ford markets the Shelby GT350, a 526-hp track variant that starts at $56,000.)
Either engine can be mated with a six-speed manual transmission or a new 10-speed automatic.
Available adaptive suspension
A raft of suspension upgrades reduces body roll, boost lateral stiffness and sharpen responses to driver input.
Either model can be ordered with a $4000 Performance Pack that adds sticky summer tires on 19-inch wheels, a limited-slip differential, larger front brakes, suspension and chassis tweaks, a larger rear stabilizer bar and a bigger radiator.
The Performance Pack allows access to an adaptive suspension that reacts in real-time to changing conditions. Four driver-selectable settings alter ride stiffness and chassis responses.
An available active exhaust system gives the driver a choice of four volume levels, ranging from polite to in-your-face.
Relaxed, though lethal
We tested a Mustang GT Premium Coupe equipped with all new automatic and the available go-fast gear. The exercise provided a tantalizing glimpse into the 'Stang's capabilities but little opportunity to exploit them.
On public roads, the GT is a big, fast wad of unfulfilled potential. Its limits are too high to be sensibly explored anywhere but on the track.
With the suspension and exhaust systems set to their least aggressive modes, the GT feels relaxed though lethal, like a big cat that has recently feasted. The power is readily available, but it lies in weight.
Flip the suspension and exhaust into their track modes and a hungrier cat shows its face. The automatic drops into a lower range and engine revs jump. The suspension tightens and steering responses quicken. The V-8's tone grows louder, snarlier.
Ready to play
Now, the latency is actuated. With the engine running in a higher rev range, power lies closer at hand. Throttle responses are immediate and the chassis takes a sharper edge.
In that instant, the Mustang is ready to play. It runs the 0-60 sprint in under 4 seconds and trips the quarter-mile lights in the high-11-second range.
Historically, more than 50 percent of GT buyers pick the manual gearbox. But the new automatic makes a serious case for itself, with shifts that are sharp and sure and a canny ability to dial up the correct gear in every instance.
Steering effort is appropriately weighty. The system is responsive and hair trigger-accurate but not especially communicative.
Considering the Ecoboost
I haven't driven the Ecoboost Coupe, so can't offer a personal view. But because it's less pricey and more efficient than the GT, it's a better choice for many buyers. Even enthusiasts should take a look say the folks at Top Gear:
"With a couple of hundred pounds of engine weight lopped off the front — compared with the GT … it is by far the more playful, entertaining of the two cars on regular roads. Steering is lighter, you can get to the edge of its performance envelope, where the fun starts, more easily and at lower speeds. And you get out of it laughing at just how generally entertaining and playful the thing feels."
Whether GT or Ecoboost, Ford's fabulous Mustang proves even muscle cars can enjoy rich second lives.
Contact Don at don@dadair.com.
2018 Ford Mustang GT Coupe Premium
Vehicle base price: $25,680
Trim level base price: $39,095
As tested: $52,265 (includes destination and handling)
Options: Premium Plus Package; 10-speed automatic transmission; Safe & Smart Package; Advanced Security Package; Active Valve Performance Exhaust; GT Performance Package; MagneRide adaptive suspension.
EPA rating: 18 combined/15 city/24 highway
Regular unleaded fuel specified

---
---