Kia Niro Plug-in Hybrid: A small hatchback with a crossover's curb appeal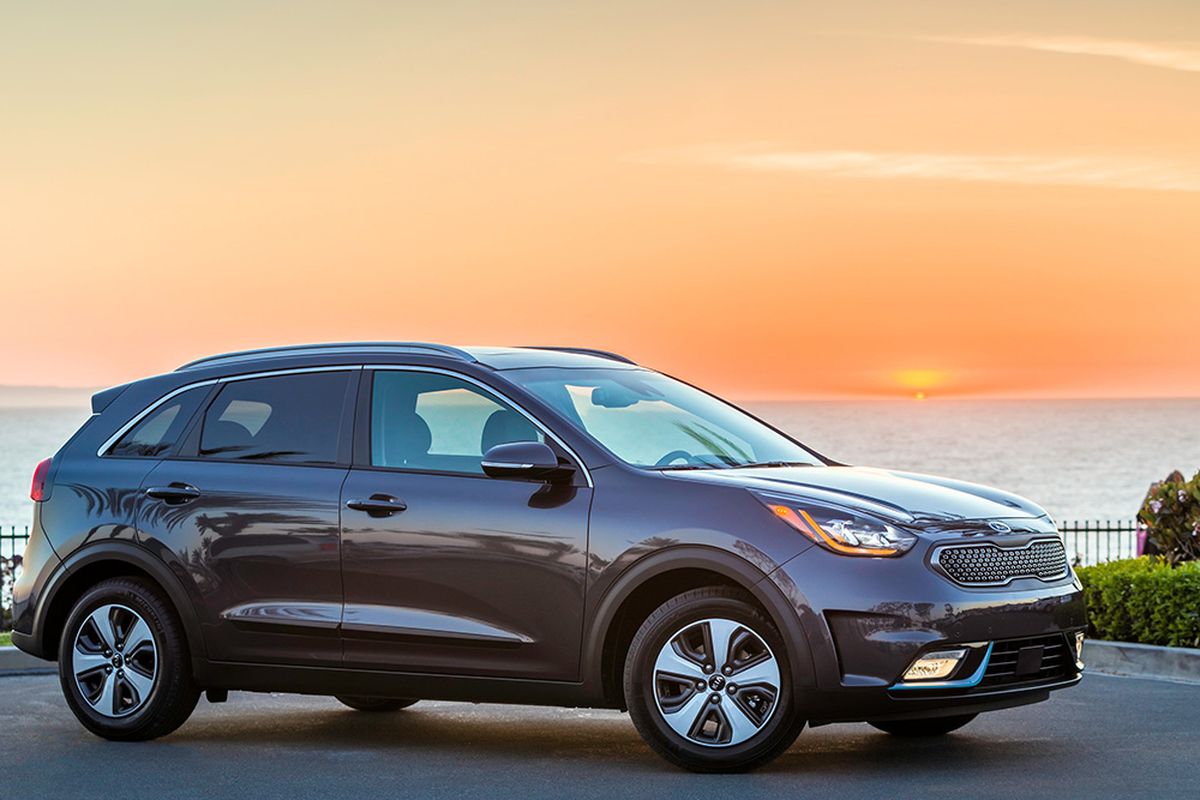 As oil prices rose last year, Kia debuted an all-new subcompact hybrid called Niro.
The little front-wheel-drive hatchback quickly established itself as the country's best-selling hybrid not named Prius.
This year, Kia doubles down with the 2018 Niro Plug-in Hybrid. With a full charge, the Niro PHEV ($27,900) is good for 26 electric-only miles. With its battery depleted, it earns 46 mpg in combined city and highway driving.
Crossover styling, hybrid efficiency
Niro's upright stance, sharply drawn wheel arches and lower body cladding, appeals to buyers uncomfortable with the futuristic stylings of hybrid convention.
Indeed, Kia pitches Niro as a crossover — and, at 6.3 inches, its ground clearance betters its immediate competitors — but its FWD-only configuration and hatchback-sized cargo space argue against the CUV push.
The EPA considers it a small wagon.
Considerably smaller than a compact crossover, Niro nonetheless boasts a five-passenger cabin. Its pint-size proportions limit formal cargo capacity to 19 cubic feet, but dropping the 60/40 spilt-folding rear seats produces a sizable, flat-floored cargo area.
The PHEV cabin features the same clean, ergonomic dashboard as the standard Hybrid, with easy-to-use infotainment controls and logically arranged buttons and knobs.
Three trims, one powertrain
Standard equipment includes dual-zone climate control, keyless entry and push-button start, a 7-inch infotainment display and Android Auto and Apple CarPlay smartphone functionality.
Standard safety and driver-assist functionality includes a rearview camera, front-collision warning and mitigation, with automatic emergency braking; lane-keeping assist and adaptive cruise control.
Kia's Uvo navigation system, available on upper trims, feels dated but gets the job done.
Niro PHEV is available in three trims, all powered by a 1.6-liter four-cylinder gas-electric hybrid powertrain that makes a combined 139 horsepower and 195 pound-feet of torque. That's the same output as the standard hybrid, though the PHEV deploys a larger, more powerful and rechargeable battery pack.
Efficiency lags in weather extremes
Thanks to a new-generation 1.56-kWh Lithium Ion Polymer battery, Kia's hybrid system employs a single electric motor, as opposed to the more common two-motor setup. The high-voltage battery is sufficiently powerful and energy-dense to power the hybrid system and eliminate the need for a 12-volt electrical system.
However, the system lacks an independent source of cabin heating and cooling and the gas engine is forced to run with the HVAC turned on. Owners say fuel mileage drops dramatically during the winter months and the same should be expected during the hotter parts of summer.
By employing a six-speed dual-clutch automated manual transmission, Kia sidesteps the annoying characteristics of the continuously variable transmissions (CVT) normally found in hybrids.
The six-speed is geared for efficiency at the expense of performance and shifts lazily, though a driver-selectable Sport mode tightens its responses.
The PHEV's larger battery pack adds 177 pounds to the Niro, which helps improve ride quality and lends the PHEV a more stable and planted feel at speed. The batteries' location deep in the chassis lower its center of gravity, reducing body roll in the corners and during quick transitions.
Compliant, easy-going ride
Don't expect sports-car handling, though; Niro's suspension produces a compliant, easy-going ride and its low-rolling-resistance tires provide marginal cornering power.
Neither Niro accelerates quickly but, with its larger electric motor, the PHEV is quicker from a standstill than the Hybrid. Acceleration perks up when Sport mode is selected, but efficiency suffers.
I obtained best results using Sport when merging onto the freeway, then slipping back into the default Eco mode for the bulk of my driving.
Brake-pedal feel is vague and non-linear and emergency-braking results are subpar. Noticeable drivetrain roughness occurs when the hybrid system switches from battery-only operation and integrates power from the gas engine.
Steering feel is direct and responsive but communicates little road-surface information. The absence of a solid on-center valley undermines straight-line tracking and requires constant driver input.
With its mini-crossover styling, the Niro speaks clearly to drivers who want a hybrid's efficiency without the sci-fi bodywork. For them, it's an idea whose time has come.
Contact Don at don@dadair.com.
2018 Kia Niro PHEV EX Premium
Vehicle base price: $27,900
Trim level base price: $34,500
As tested: $35,575 (includes handling and destination)
Options: The EX Premium is a fully equipped trim. Our tester included only optional carpeted floor mats.
EPA rating: 105 MPGe combined gas/electric
46 MPG combined gas only
Regular unleaded fuel specified
---
---