Kia's Stinger challenges better-known luxury-sport rivals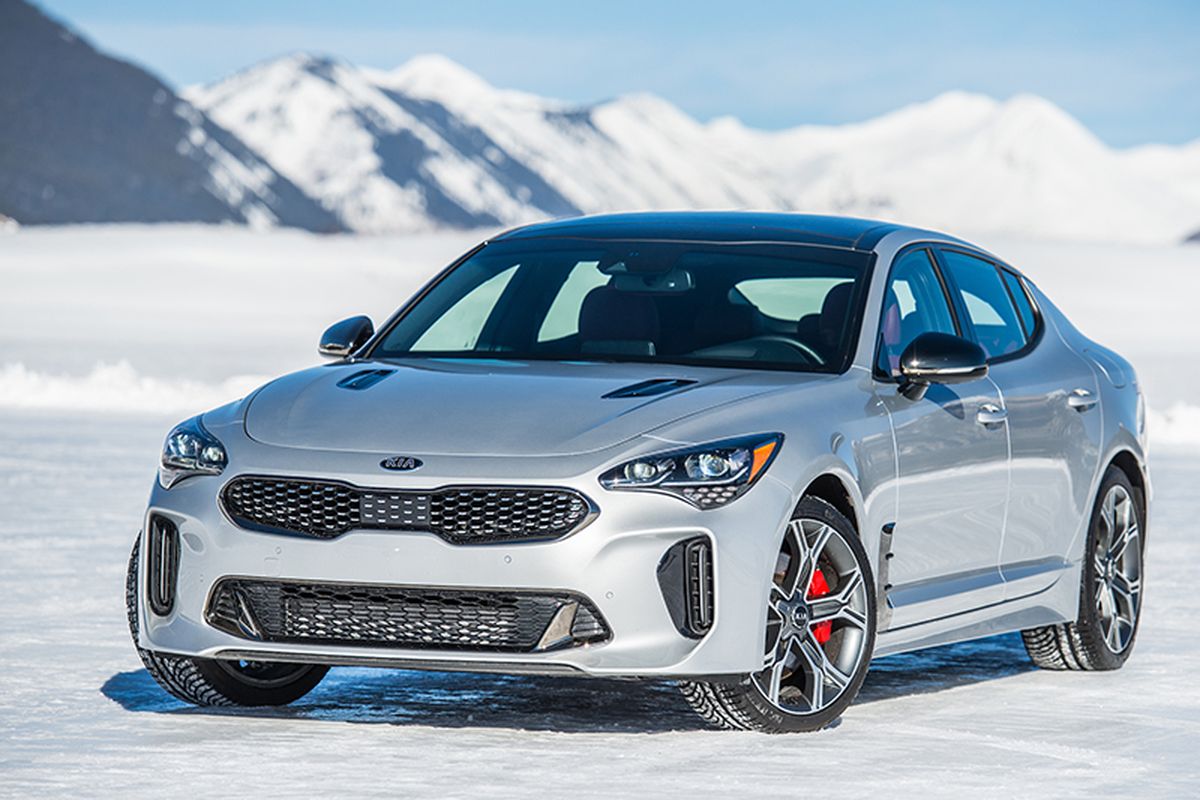 Kia may not bring Goliath to his knees, but it's not above aiming a swift kick at his shins.
Kia's newest model, the 2018 Stinger luxury-sport sedan, takes direct aim at a segment dominated by Germans.
Specifically, it's dominated by BMW's 3-series cars and is also populated by entries from Audi, Mercedes-Benz and Lexus. These are quick and comfortable cars that go long on luxury, performance and tech.
The Stinger is — and does — all of that. And, if it comes up a bit short at the track and just misses on interior execution, it's good enough to get Goliath's attention.
Heads up, performance buffs!
And certainly good enough to spur the interest of a performance-minded cohort — like the young parking-garage attendants who seemed to know everything about the car but pressed me for more — who dig its looks, drool over its available 365-horsepower V-6 and appreciate its budget-friendly price tag.
At $31,900, the Stinger is priced many thousands below its rivals.
The Stinger follows the standard lux/sport setup, with its engine in front and its drive wheels out back. All-wheel-drive is a $2,200 option on all trims.
The base engine is a turbocharged 2.0-liter four-cylinder that makes 255 hp. GT trims ($38,950) are powered by the twin-turbo 365-hp 3.3-liter V-6. An eight-speed automatic is standard.
With the four, the Stinger runs a 6-second 0-60 sprint. A RWD V-6 Stinger crushes it in 4.4 seconds.
Quicker than a base Porsche Panamera, Kia brags. And quick enough to establish neighborhood bragging rights.
V-6 responses deceptively relaxed
The Stinger is not frugal. The EPA rates four-cylinder models at 25 combined/22 city/29 highway, the sixes at 21/19/25. Both engines require premium.
Under full throttle, acceleration in our RWD GT2 tester ($49,200) was deceptively relaxed (watch those speed limits!), and the gearbox made quick, smooth and well-timed shifts.
The paddle shifters responded sluggishly to driver inputs, though. Better in this case to let the computers do the thinking.
Base and Premium ($37,100) trims run a fully independent suspension; GTs get an adaptive suspension that reacts in real-time to changing conditions.
Ride quality good, with limits
Under most conditions, our tester felt planted and stable. However, undulating road surfaces taken at normal highway speeds could cause it to feel floaty and detached. Ride quality is generally very good but our tester's low-profile 19-inch tires exaggerated the impact of potholes.
Steering is accurate and the Stinger shows good turn-in on corner entry and moderate body roll. Initial understeer calmly transitions to oversteer, as it should in a RWD sport sedan.
At its limits, the Stinger lacks the acuity and precision of its rivals.
Like BMW's Gran Sport and Audi's A5/S5 twins, the Stinger breaks from sedan tradition with a hatchback replacing the trunk. The hatch produces a generous cargo hold and creates a sweeping roofline that's key to Stinger's aggressively coupe-like silhouette.
Long wheelbase makes for generous cabin
Stinger's wheelbase is longer than most rivals', and rear-seat legroom is abundant. However, its low roofline may force tall folks to duck as they climb in and wide door sills complicate entry and exit.
Its slippery roofline eats into headroom, especially in the rear seats. The front seats are mounted flush to the floor, depriving rear-seat passengers of toe space.
There are no such worries up front. The cabin's roomy dimensions and form-fitting sport seats give Stinger the feel of a car that could be driven comfortably over long distances. Large drivers may find the seats too snug but they fit my frame well and held me firmly in place.
Infotainment controls comprise a touchscreen that's located high in the dash, but too far forward for an easy reach from the driver's seat. Fortunately, it's supplemented by redundant steering-wheel controls.
Apple CarPlay and Android Auto are standard. Navigation with real-time traffic and weather are optional but Wi-Fi is not.
The quality of cabin materials and construction fall short of class standards and the Stinger feels less substantial than its rivals.
For many drivers, though, its alluring shape, potent powerplants and budget-friendly price tag present an attractive alternative to Goliath's market-dominating presence.
Questions or comments? Contact Don at don@dadair.com.
2018 Kia Stinger GT2 RWD V-6
Vehicle base price: $31,900
Trim level base price: $49,200
As tested: $50,100 (includes destination and handling)
Options: The GT2 is a fully equipped trim. Our tester included no options.
EPA ratings: 21 combined/19 city/25 highway
Premium unleaded gasoline required
---
---