2019 Mazda MX-5 Miata: Mazda's spry little two-seater gets a power boost, more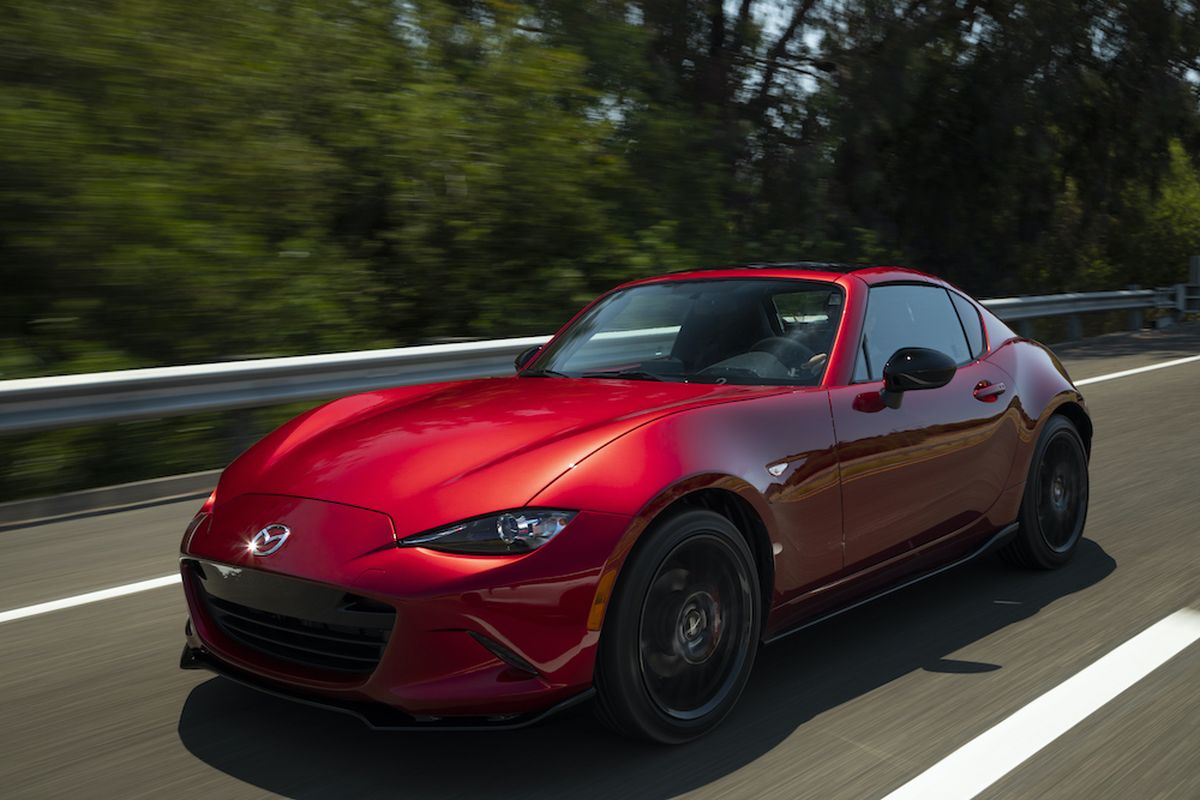 It has become nearly routine. Sometime in November, the Seattle-based vendor that brings us our test vehicles mounts a set of Bridgestone Blizzaks onto a Mazda MX-5 Miata and sends it over the mountains.
This means a) we get to test a lightweight rear-drive sports car fitted with good winter tires in foul weather and b) you get to read all about it during Christmas week.
By rights, of course, we should be covering an AWD land yacht. One with room for kids, pets, toys and leftovers from dinner at Grandma's.
The little two-seat Miata ($25,730) will handle the leftovers but not much more.
Inherent stability
It also handles the weather surprisingly well. Shod with sticky winter tires, Miata's inherent stability shines through. Its front-engine/rear-drive architecture balances its weight, front-to-rear, stabilizing the Miata and helping to reduce skids.
The Miata was last made-over for the 2016 model year. This year, a fresh round of updates includes a significant engine upgrade and a revised menu of driver-assist features. Previously, the steering column tilted but didn't telescope. Now, it does both, making it easy for drivers of all sizes to find a comfortable driving position.
The Miata is not a car for large people, though, or for more than two people of any size. There is not even a pretend back seat, just a bulkhead behind the bucket seats that boosts the unibody's structural rigidity.
That rigidity enables a ride-and-handling package that rewards aggressive driving without punishing occupants. The ride is firm and the Miata rides low to the ground. There's no avoiding the jolt of big potholes and railroad beds and the ride can get bouncy on rough roads.
First-rate dynamics
Nevertheless, the Miata clings tenaciously to the asphalt during hard cornering. Body lean is well controlled and the Miata's balanced RWD dynamics make for smooth transitions through the corner.
Throttle responses are immediate and brake and throttle pedals are ideally aligned for the heel-and-toe maneuver that helps balance the chassis during braking for corner entry.
The lightly weighted steering system is quick, accurate and communicative. The Miata goes where you point it, without hesitation and absent the twitchiness that can affect aggressively tuned sports cars.
The Miata is available in three trims — Sport, Club ($29,950) and Grand Touring ($30,780) — and two body styles; a conventional convertible with a manually operated canvas lid and a powered hardtop convertible called RF, for retractable fastback.
A quicker Miata
The RF is quieter and feels more substantial than the original soft-top version. It's also 100 pounds heavier and a bit pricier. It's available only in Club ($32,345) and Grand Touring ($32,345) trims.
All Miatas are powered by a 2.0-liter four-cylinder engine that makes adds 26 horsepower and 3 lb-ft of torque this year, for a total of 181 horsepower and 151 pound-feet of torque. It can be paired in all trims with either a six-speed stick shift or, for another $600, a six-speed automatic.
With its new powerplant, the Miata runs the 0-60 sprint in 6.7 seconds, several ticks quicker than before.
All Miatas are equipped with cruise control, LED headlights and taillights, keyless entry and ignition, a rearview camera, a 7-inch touchscreen infotainment interface with an auxiliary control knob, a height-adjustable driver's seat, a leather-wrapped tilt-and-telescoping steering wheel, Bluetooth, voice controls, and a six-speaker sound system with HD radio, two USB ports and an auxiliary audio jack.
Mazda's eyes-up strategy places the touchscreen and other key information up in the driver's line of site. Its knob-based infotainment system control system is one of the industry's best.
The only interior storage space is a small locking bin situated behind and between the seats. The Miata's small trunk gets called on a lot for casual storage. Even the cupholders feel like an afterthought.
Club models fitted with the stick shift get a sport-tuned suspension, a shock-tower brace, a limited-slip differential and an engine sound enhancer.
Sport and Club models are available with Mazda's i-Activsense driver-assist suite, which is standard on Grand Touring.
Questions or comments? Contact Don at don@dadair.com.
2019 Mazda MX-5 Miata RF Club
Vehicle base price: $25,730
Trim level base price: $32,345
As tested: $40,280 (includes destination and handling)
Options: iActivsense driver-assist suite; Brembo/BBS/Recaro package; side sill extensions; rear bumper skirt; interior lighting kit; door sill plates; Soul Red Crystal paint
EPA rating: 30 combined/26 city/36 highway
Premium unleaded fuel specified
---
---