2019 Toyota 86 TRD Special Edition elevates the sport coupe's performance limits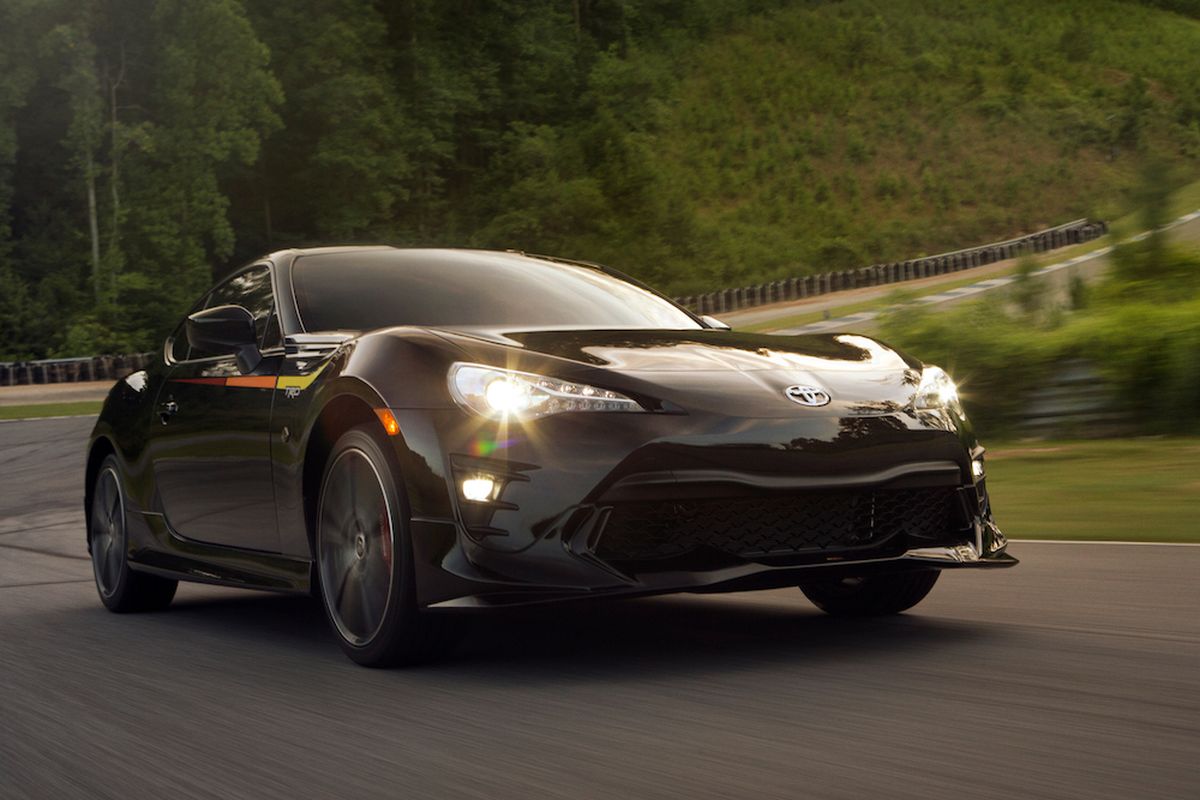 Toyota gives sports car buyers something new to consider this year.
For 2019, its little 86 (say, "8-6") sports coupe gets a new, performance-oriented trim, the 86 TRD Special Edition.
The 86 is an affordable ($26,255) rear-drive sport coupe now enjoying a second life. It had arrived in the States in 2012 as the Scion FR-S. When Toyota shuttered Scion in 2017, it renamed the FR-S and moved it into the main wing of the corporate garage.
Same powertrain, better handling
The new TRD Special Edition ($32,420) gathers up key features from the two lower trims — leather upholstery, push-button start, dual-zone automatic climate control, etc — and adds a batch of performance-boosting upgrades:
SACHS shock dampers sharpen the 86's steering responses and enhance stability at speed and in the corners.
Big Brembo disc brakes cut stopping distances and check heat-induced fade that can cripple track performance.
18-inch Michelin Pilot Sport 4 summer tires are grippier than the 86's stock rubber. They quicken steering system responses and sharpen communications between the road surface and steering wheel.
The 86 drivetrain is unchanged — a 205-horsepower four-cylinder engine is mated to a six-speed transmissions or a six-speed automatic. The upgrades don't make the 86 quicker but enhance its handling.
TRD demands higher-level skills
By clinging more tenaciously to the road surface during aggressive cornering, the Michelins raise the 86's handling limits and increase the amount of speed it can carry into a corner without the tires breaking loose.

The base 86 is the best setup for drivers hoping to learn handling dynamics; the TRD demands more skill.
The TRD Special Edition is available only in black and its cabin is done up in a splashy red and black palette. There's a faux-suede gauge-cluster cover, red seatbelts, push-button start and dual-zone automatic climate control. Exterior touches include unique front and rear bumpers and a performance exhaust system.
TRD models are only available with a six-speed manual transmission.
Crazy speed is not the point
The FR-S, which Toyota co-developed with Subaru, ran — and still does — a Subaru-supplied 205-horsepower four-cylinder engine. (Subaru fields a version of the car it calls the BRZ.)
That's enough oomph to propel the 2,800-pound car from 0-60 in a tick or two over 6 seconds; not supercar acceleration but fully acceptable for a value-priced sportster.
Moreover, Toyota argues, the FR-S/86 is all about the pleasure of driving a balanced and responsive sports car.

In 2012, Top Gear Magazine named the FR-S its Car of the Year and Coupe of the Year. The FR-S also won the magazine's <ital>Speed Week challenge</ital>, in which it bested entries from Porsche, McLaren and Lotus.
Clearly, it was not power, sophistication or pedigree that drove the FR-S to the win. Instead, testers evaluated the cars on their delivery of driving satisfaction. Motoring Editor Ollie Marriage wrote:
The Toyota is dainty and maximizes the benefits of its layout and low centre of gravity. It's a car that asks why you need to go round a corner at a zillion miles an hour. You don't. Even pottering around, it's different and interesting.
Sitting low in a firm grip
All 86s are equipped with automatic LED headlights, air conditioning, keyless entry, a height-adjustable driver's seat, a leather-wrapped tilt-and-telescoping steering wheel, cruise control and a rearview camera.
The 86 is notably lacking in tech features. The list includes Bluetooth connectivity, a 7-inch touchscreen, voice commands, and an eight-speaker sound system with HD radio, an auxiliary audio jack and a USB interface.
One sits low in the 86. Deeply bolstered front seats hold occupants in their firm grip.
Interior storage space is minimal and the vestigial rear seats exist in name only.
Of course, none of that matters one bit when you're out on the track letting the tail get loose or clipping apexes in a curvy stretch of two-lane blacktop.
In those moments, with the 86's quick and precise steering system relaying information directly to the driver's hands and its SACHS dampers holding the works steady, the 86 fulfills the promise of a great sports car.
Questions or comments? Contact Don at don@dadair.com.
2019 Toyota 86 TRD Special Edition
Vehicle base price: $26,255
Trim level base price: $32,420
As tested: $33,340 (includes destination and handling)
Options: Our TRD Special Edition tester included no options.
EPA rating: 24 combined/21 city/28 highway
Premium gasoline specified
---
---