2020 Hyundai Veloster N: Three-door hatch offers world-class handling, performance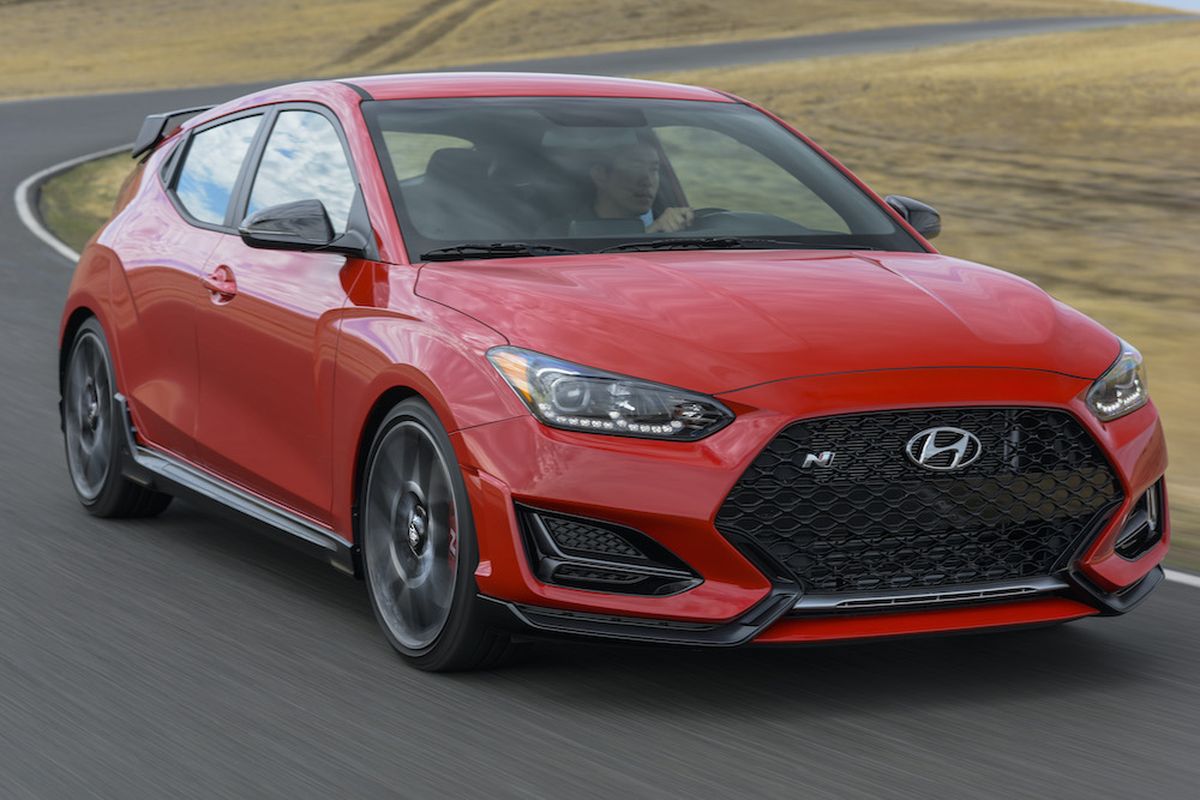 Hyundai seems determined to play in every category on the market.
Last week, we reviewed the Genesis G90, the flagship sedan of its luxury sub-brand Genesis.
Today, the 2020 Hyundai Veloster N takes its turn.
Veloster is a small three-door, front-wheel-drive hatchback. It's fun, funky and affordable — a youth-market car to its bones.
In the Hyundai fashion, Veloster boasts aggressive pricing <ital>and</ital> a rich standard-features set. Its unique, three-door body style (a rear door hides in plain sight on the passenger side) provides easy access to the rear seats.
Fun factor
Underlying all of it is a front-drive platform maximized for performance. The base Veloster ($18,800) is responsive and engaging and the fun factor deepens the higher one goes in the six-trim lineup.
It peaks with the unlikely, top-of-the-line Veloster N ($27,600).
The 2020 Veloster's six trims include the base 2.0 ($18,800), 2.0 Premium ($23,000), Turbo R-Spec ($23,350), Turbo ($25,650), Turbo Ultimate ($27,660) and Veloster N ($27,600).
Following Hyundai's more-for-your-buck philosophy, Veloster is loaded with comfort, convenience and safety features.
Standard tech includes the driver-selectable drive modes, a 7-inch infotainment touchscreen, Apple CarPlay and Android Auto smartphone integration, Bluetooth connectivity, automatic high beams, automatic emergency braking and lane-keeping assist.
The Veloster cabin is comfortable for two but its rear seats are too small for adults.
Three engine choices
It has the largest cargo hold of all the small hatches, and the rear seatbacks fold to make it even more generous.
Hard plastics dominate the cabin, which is thoughtfully laid out but whose design feels dark and uninspired. Hyundai's infotainment system remains its user-friendly interface and streamlined menu structure.
There are three engine options and three transmissions. None is a bad choice.
The two lower trims are powered by a 147-horsepower four-cylinder engine. A turbocharged, 201-hp four energizes the next three trims.
The N is the first Hyundai to emerge from the brand's N performance division. Soaked in attitude, it has the audacity to target such legendary hot hatches as Volkswagen's Golf R and the Honda Civic Type R.
It's less refined than either, but runs wheel-to-wheel with them and costs thousands less.
The N is powered by a turbocharged, 2.0-liter four-cylinder engine that makes 250 horsepower, with another 25 hp available via a $2,100 Performance Package. Torque (260 pound-feet) is routed to the front wheels via a six-speed manual transmission or an eight-speed double-clutch automated manual.
The N zips from 0-60 sprint in just 5.5 seconds.
Quick, precise steering
More important, its quick and precise steering system dishes up abundant feedback into the hands of the driver. That means less guesswork about what the front wheels are up to during hard cornering.
"The Hyundai has a more sorted front end and more cohesive feel than cars costing three times as much," said Road and Track magazine, when it named the N its 2020 Performance Car of the Year.
The competition pitted the N against 10 of the usual suspects from the likes of Porsche, Corvette and BMW. Even the $332,120 McClaren 600LT Spider found its way into the mix.
But those cars are too powerful to be much fun on public roads, <ital>R&T</ital> argued. The Veloster delivers more pure fun in real-world conditions than the high-test machinery it faced.
Other N-spec features include unique suspension tuning, adaptive shock dampers and bigger brakes. The cabin gets a pair of supportive and well-bolstered sport seats.
The Performance Package adds a limited-slip front differential that stabilizes the N during quick cornering. There are also Pirelli summer tires on 19-inch alloys, still larger brakes and the extra 25 hp.
A drive-mode selector offers Eco, Normal, Sport and N drive modes. An N Custom mode lets the driver customize throttle response, the adaptive dampers, the limited-slip differential, the stability control system, steering weight and exhaust flow.
Even the engine rev-matching feature can be turned off and on.
The Veloster N's sport-tuned suspension vanquishes unwanted body motions but contributes to a brittle and less-than-forgiving ride.
Seems like a small price to pay with world-class performance in the offing.
Questions or comments? Contact Don at don@dadair.com.
2020 Hyundai Veloster N
Vehicle base price: $18,800
Trim level base price: $27,600
As tested: $30,430 (includes destination and handling)
Options: 275 horsepower; 19-inch alloy wheels; Pirelli P Zero summer tires; limited-slip differential; variable exhaust valve system; performance brakes
EPA rating: 25 combined/22 city/29 highway
Regular gasoline specified
---
---