2012 Lexus IS300
: We test updated sport sedan on pocked and string-straight Wisconsin roads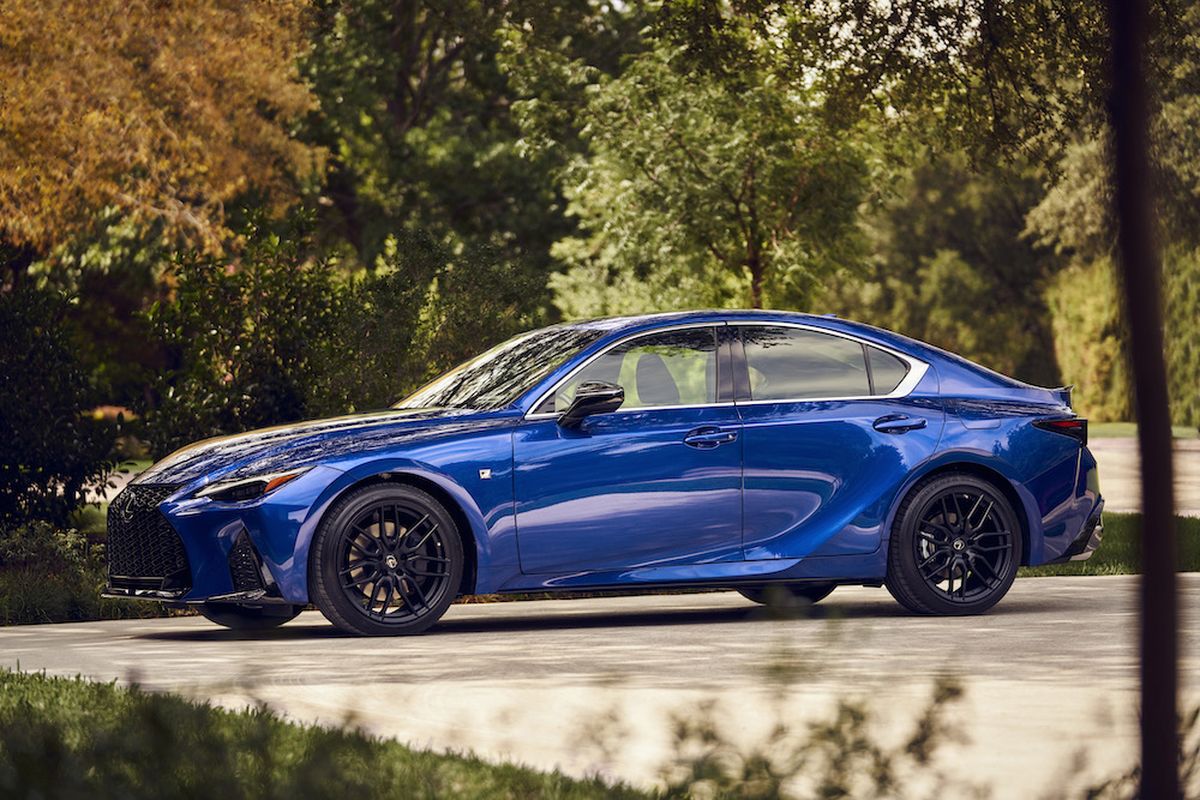 I've been driving the string-straight roads of southern Wisconsin for the past month. The longer I'm here, the more I miss the rambling roads of home.
It's no surprise there are so few sporty cars here; there's nowhere to drive them.
Which threw a wet blanket over my week in the new 2021 Lexus IS 300 AWD.
Then IS is Lexus's compact sport sedan, a close-quartered, four-door built on a front-engine/rear-drive platform.
Lexus aimed to challenge the Germans when it dropped the IS into the compact sedan segment in 2000. That's a stiff challenge and has produced an IS that has gotten better with each generation.
For 2021, the IS is heavily revised. Chassis updates result in a more compliant ride and sharper handling. Its redesigned rear end and updated "spindle grille" will delight some and annoy others.
Strengthened unibody is key
The cabin is updated with improved ergonomics and the infotainment interface gets a much-needed update.
Apple CarPlay, Android Audio and Amazon Alexa integration join the standard-features list.
Lexus's entry-level car, the IS is available in three trims; IS 300 RWD ($39,000), IS 300 AWD ($41,900) and IS 350 ($42,900). The IS 350 is available in FWD and AWD configurations.
The IS platform carries over from last year but hours of on-track development yields a stronger, more rigid unibody. The sturdy chassis enables precise suspension tuning and reduces noise, vibration and harshness.
Our week-long test on rattly Kenosha County roads reveal a more interesting, more engaging IS.
Solid and responsive
From behind the beefy steering wheel, the '21 IS feels tighter and more responsive. Steering feel is sharper, with just-right heft. Resistance builds progressively in corners.
When I set out to find the nearest twisty bit of asphalt, I found a freeway onramp. I can do better than that on the road at the bottom of our hill.
Still, my AWD IS was balanced and composed when I did find a patch of curvy road.
It doesn't display the zest and eager spirit its competitors have but it's willing enough when pushed.
The platform also produces a more compliant, less rigid ride. There's little to be done about the nasty pocks and fissures that litter many local streets, but the IS toned down their sharper edges.
Three powertrain options
The IS 300 RWD is powered by a 241-horsepower turbo-four. The IS 300 AWD gets a naturally aspirated 3.5-liter V-6 that makes 260-hp.
The IS 350, which is available in RWD and AWD formats, runs a 331-hp iteration of the six. It comes standard with an updated version of the performance-oriented F-Sport trim.
Transmissions are a mix of six- and eight-speed automatics.
The IS 350 RWD runs the 0-60 sprint in roughly 7 seconds. The 300 AWD needs 6 seconds and the FWD IS 350 does it in 5.6 seconds.
The F Sport package gets a flashy new red interior color and a choice between two 19-inch wheel designs. An available Dynamic Handling package adds adaptive dampers, a limited-slip differential and more.
The lower trims are not eligible for the F Sport setup.
Touchscreens change everything
Depending on your point of view, the IS cabin is either cramped or intimate.
I found the narrow and deeply bolstered seats comfortable and secure. Larger drivers might judge them too snug. Some folks will labor to get into — and out of — the low-slung cockpit.
All controls lie close at hand and hardware has a high-quality feel. There's precious little room for purses, phones and what-have-you.
This year, Lexus adds touchscreen functionality to its Remote Touch infotainment system. Drivers can use the console-mounted touchpad or a dash-top touchscreen instead.
The base screen measures 8.0 inches. A 10.3-inch unit is standard on cars with navigation. In either case, the dash-top screen moves 3 inches closer to the driver.
Blind-spot warning is newly standard and the pedestrian- and bicycle-detection functions have greater range and sensitivity. Driver-assistance systems are upgraded. Blind-spot monitoring is now standard. The adaptive cruise control system can adjust speeds in accord with posted limits. The automated emergency braking and pedestrian-recognition systems are more effective.
The 2021 IS doesn't gain a lot of ground against the Germans who set the standards here, but it does stay relevant in a tough segment.
2021 Lexus IS 300 AWD

Vehicle base price: $39,000

Trim level base price: $41,900

As tested: $47,975 (includes destination and handling)

Options: Triple-beam LED headlight with automatic high beams; navigation with Mark Levinson sound system; heated and leather-trimmed steering wheel; power tilt-and-slide moonroof; heated and ventilated front seats; Black Geometric interior trim

EPA rating: 22 combined/19 city/22 highway

Premium gas specified
---
---