2020 Honda CR-V Hybrid: Honda electrifies its most popular vehicle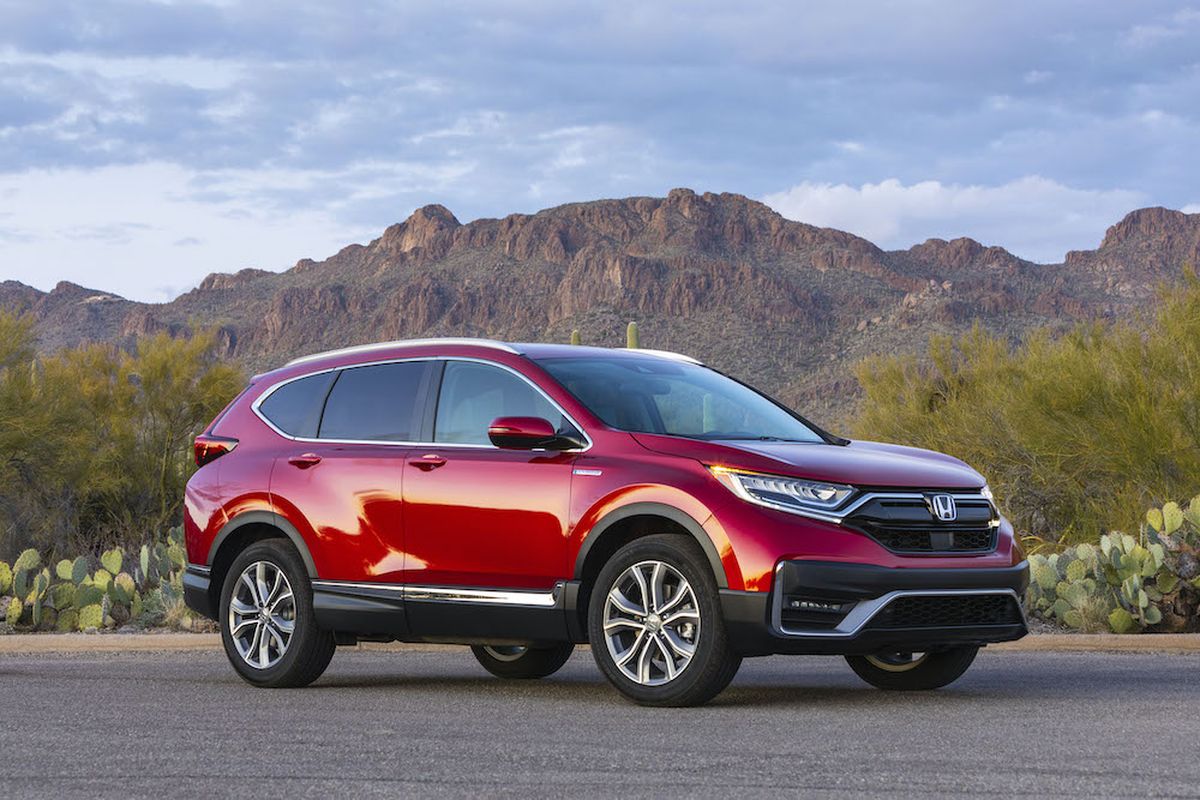 The last time we looked at Honda's CR-V, we promised to pass along our impressions of the all-new CR-V Hybrid when we'd driven one.
As everyone within shouting-distance knows, the compact crossover is one of the most popular vehicles in the country's hottest segment. Cumulatively, it has been the country's best-selling CUV over the past 23 years.
The CR-V is roomy and well-equipped. It's quiet, comfortable and flush with family friendly features.
It has a first-rate ride and exceptional dynamics. Nimble, agile and responsive, it's one of the most fun-to-drive rigs of all the small, affordable CUVs.
The new 2020 CR-V Hybrid ($27,750) is all that and then some.
A legacy of efficiency
It is stronger by 22 horsepower than its sibs and is more efficient by a wide margin.
The non-hybrid CR-V (from $25,050) delivers class-leading efficiency; AWD models deliver 29 mpg combined (27 city/32 highway).
The AWD-only Hybrid is rated at 38/40/35.
Non-hybrid models are rated to tow up to 1,500 pounds; the hybrid is not tow-rated.
Honda is the most fuel-efficient full-line automaker in the U.S. It boasts the highest fleet average fuel economy and lowest CO2 emissions of all the major full-line automakers.
Credit the company's six-cylinders-is-plenty philosophy. Its lineup includes none of the thirsty off-road rigs or big trucks that drag down other company's efficiency stats. Even the corporate supercar, the Acura NSX, is a hybrid.
Emissions-reduction is the primary aim of Honda's global electrification plan. By 2030, it aims to sell two electrified vehicles to every conventional vehicle it sells. Its best-selling model in its biggest market, the CR-V Hybrid is key to the plan's success.
Thoroughly equipped
The 2020 CR-V Hybrid is available in three trims: LX ($27,750); EX ($30,260); EX-L $32,750; and Touring ($35,950).
Like every CR-V, the base Hybrid is equipped with adaptive cruise control, automatic climate control, LED running lights, a rearview camera, Bluetooth, two USB ports and a four-speaker audio system with a 5-inch color display.
The EX trim and above have a 7-inch touchscreen Display Audio interface with Apple CarPlay and Android Auto integration.
Honda's hybrid system differs significantly from competitors. Like others, it pairs a 2.0-liter gas engine with two electric motors. One is a drive motor that sends power directly to the front wheels. The other is a generator that is available to power the rear wheels when needed. Peak total horsepower is 212 hp.
Instead of propelling the car, the gas engine is responsible mainly for shuttling power to the generator motor that, in turn, charges the 1.4-kWh battery pack.
Smooth and silent
The Hybrid accelerates from a standstill using electric power exclusively and can run in electric power for about a mile. At just over 45 mph, the gas engine seamlessly joins in.
If you're listening closely, you can hear the sound of the gas engine starting, but it's a smooth transition, with no telltale vibration or roughness.
Because the drive motor sends its power directly to the front axle, the system does not use a transmission, reducing weight and complexity. Acceleration is smooth and effortless. The 0-60 sprint takes just over 7 seconds.
The system runs out of steam in its upper ranges, though, so passing on a two-lane road requires care and a long, straight stretch of asphalt.
The Hybrid has a drive-mode selector that allows the driver to choose between Sport, EV and Econ modes.
EV mode can be used in low-speed situations to power the Hybrid on battery-power alone for up to a mile.
All hybrid systems use regenerative brakes that capture energy normally lost as heat and feed it back into the system. Honda's system allows the driver to adjust the degree of regeneration.
Honda's regenerative brakes work smoothly, without the grabby unevenness that afflicts some other systems.
Between 2018 and 2019, sales of Honda's electrified fleet grew by nearly 70 percent. By electrifying its most popular model bodes well for future growth. Call it a win-win for the company, the planet and buyers.
Questions or comments? Contact Don at don@dadair.com.
2020 Honda CR-V Hybrid Touring
Vehicle base price: $27,750
Trim level base price: $35,950
As tested: $37,070 (includes destination and handling)
Options: Our Touring trim tester included no options.
Tow rating: Not rated
EPA rating: 38 combined/40 city/35 highway
Regular unleaded gasoline specified

---
---