2020 Infiniti QX50: Midsize luxury crossover kicks off a quiet revolution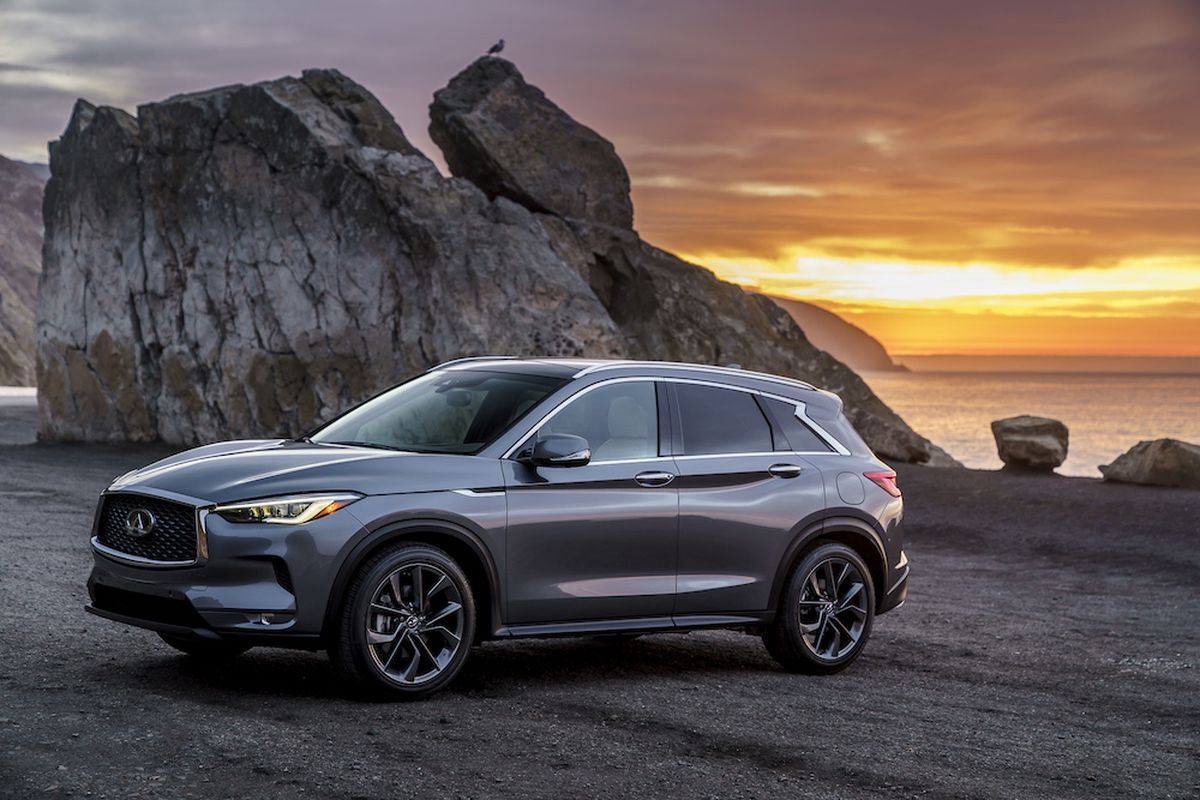 Sometimes, revolutions begin quietly.
Last year, Infiniti debuted the all-new four-cylinder VC-Turbo. Installed in the engine bay of the 2019 QX50 compact crossover, it's the industry's first production engine to feature variable compression ratios.
Variable compression has been a holy grail for automakers for years. In theory, VC combines the strengths of high-compression engines (greater efficiency, improved fuel consumption) with those of lower compression (power and torque).
Funnily enough, few buyers will pick the QX50 ($37,250) for its ground-breaking powerplant. Instead, they're likely to be drawn to its looks, its elegant new cabin and its comfortable ride.
The crossover conversion
In 2019, the QX50 made the crossover conversion, morphing from a truck-based rear-wheel-drive platform to a modern front-wheel-drive chassis. Comfort, ride quality and driving dynamics improved dramatically.

Front-wheel-drive is standard. All-wheel-drive is available on all models.
Visually, the QX50's fluid, uncluttered lines and muscular presence suggest a compelling driving experience.
It's a mixed message, though, as the cabin's soft-touch surfaces and gentle curves shout luxury. A sweeping dash organically flows into deeply padded door panels. Materials quality and fit and finish — check out the precisely aligned two-tone contrast stitching — satisfy class expectations.
The cabin houses four adults in stretch-your-legs comfort. The front seats are cushy and supportive. Their relative softness may not stand up to long days on the road.
The second-row bench reclines, slides fore and aft and folds flat to enhance the large — and nicely finished — cargo hold.
Two-screen infotainment confuses
Casual cabin storage includes a lidded tray just ahead of the shift lever and a larger bin concealed under a smartly damped lid.
This year, the QX50 gets a new two-screen InTouch infotainment system interface.The upper display handles map and navigation duties, the lower houses infotainment controls.
The system's architecture is confusing. It seems two screens is one more than is necessary.
Even the base QX50 is well equipped. LED headlights, keyless ignition and entry, a power liftgate, dual-zone automatic climate control, simulated leather upholstery and power-adjustable front seats are standard.
Underway, the QX50 reveals its true nature. Turns out Infiniti's drive for comfort is stronger than the promise of performance. Its compliant suspension produces a gentle ride and curbs excess body motion. It shrugs off most rough road surfaces, though the occasional jolt of a pothole can be felt.
At highway speeds, the QX50 feels settled and stable. Only minor wind and road noise finds its way inside.
Steering quick but numb
Its drive-by-wire steering system (there's no physical connection between the wheel and the steering rack) responds quickly to driver input but feels numb and disconnected. No feedback passes from the tires' contact patches to the driver's hands.
Body-roll is well managed but the QX50 has little enthusiasm for corner-carving.
The VC-Turbo is an engineering marvel (its secret sauce involves changing the distance the pistons travel) but neither its performance nor its efficiency is noteworthy.
In the QX50, the 2.0-liter four-cylinder makes 268 horsepower and 280 lb-ft of torque and is mated to a continuously variable transmission (CVT).
It powers the QX50 to a respectable 6.3 seconds in the 0-60 sprint. It's EPA rated at 26 mpg in combined driving, but in practice falls short of that. The QX50 is rated to tow up to 3000 pounds=.
The VC-Turbo requires premium gasoline.

In town, the VC-Turbo/CVT tandem struggles to produce the seamless, linear thrust expected of a luxury machine. In city-driving, a slight nudge of the throttle pedal can send engine revs soaring.
The CVT often holds engine revs high, producing the familiar elastic drone. Under acceleration, the VC-Turbo is noisier than seems right in a luxury car whose price can easily top $60,000.
Under normal conditions, things smooth out and the cabin turns tranquil.
Variable-compression tech is in its early stages of development and the VC-Turbo's metrics are bound to improve. I'm looking forward to seeing how it develops.
As it stands, the 2020 QX50 stands as a large, if largely silent, step forward in the evolution of the internal combustion engine.
Questions or comments? Contact Don at don@dadair.com.
2020 Infinity QX50 Sensory AWD
Vehicle base price: $37,250
Trim level base price: $50,900
As tested: $54,800 (includes destination and handling)
Options: tri-zone climate control; heated and ventilated front seats; rear-passenger sunshades; steering assist; adaptive cruise control with full-speed range and stop-and-hold; head-up display; Direct Adaptive Steering; traffic sign recognition; splash guards.
Tow rating: 3000 pounds
EPA rating: 25 combined/22 city/28 highway
Premium gasoline required

---
---