2021 Volkswagen Arteon: VW's near-luxury sedan goes long on comfort, tech and world-class engineering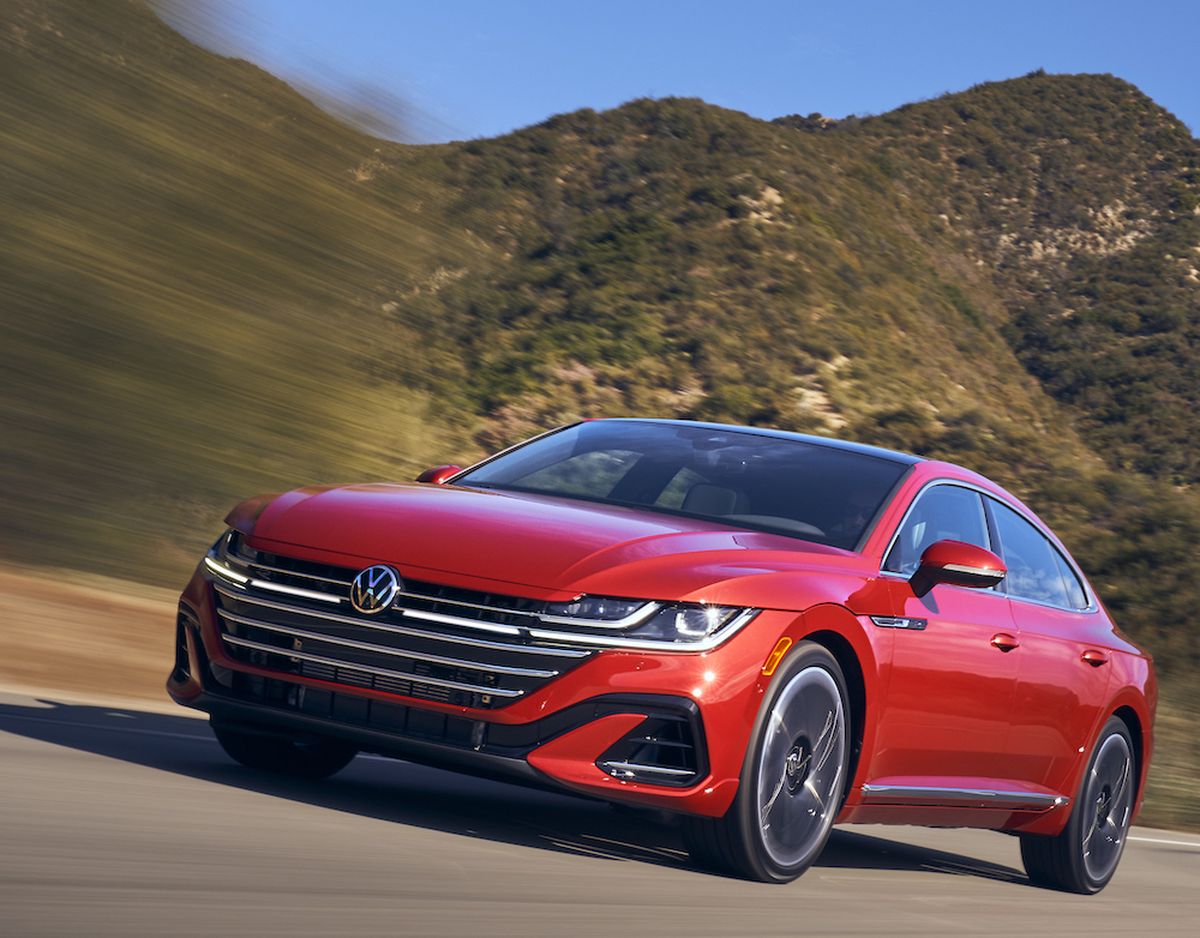 Not so long ago, we had a word for a car like Volkswagen's Arteon.
The midsize Arteon is Volkswagen's halo car, the designated exemplar of all things VW. That includes engineering, of course, and technology. But it's also an expression of Volkswagen design.
Outside, Arteon is drawn to convey the sporty and long-roofed insouciance of a coupe. Inside, it wraps occupants in a level of comfort and luxury learned from VW's Audi lineup.
Once, VW's press materials would have described Arteon as expressive. As in emotionally potent.
As in, "This may look like a sports car, but it's not."
Which actually serves as a fair description.
An underlying firmness
The Arteon is blessed with a handsome, assertive skin and a redesigned cabin that has moved decidedly upscale. It's built on VW's very good MQB (don't ask; it's a multi-syllabic German name with lots of consonants) modular architecture, which it shares with a score of VW Group vehicles.
The platform can be configured with either front-wheel-drive or with Volkswagen's torque-vectoring 4Motion all-wheel-drive system. All Arteons run adaptive suspension dampers, which generally serve to sharpen handling but here contribute more to ride quality.
Strong and rigid, MQB lends the Arteon an underlying firmness. Suspension magic softens it without sacrificing control of unwanted body motions. Body roll is subdued but, even so, Arteon is lukewarm about cornering and other high-performance antics.
Arteon's cabin is well insulated from road and wind noise. Materials quality and fit-and-finish nudge up against luxury-class standards. Seats are first-rate — contoured, supportive and well-bolstered — and even rear-seat passengers enjoy abundant legroom and good seats.
The sloping roofline may be problematic for taller passengers.
Visibility is very good in all directions.
Digital Cockpit a big plus
The highly configurable Volkswagen Digital Cockpit is standard for the first time; the 10-inch TFT display can be configured to display a host of key data. I usually kept the map open in that space, a terrific function that let me grasp in an instant the way forward.
The map is updated with fresh designs, advanced route management and more. Wireless Car-Net allows owners to remotely perform a variety of functions from their phones, including remote start.
The 8-inch central infotainment display is located in the center of the dash.
Arteon is sold in SE ($36,995), SEL R-Line ($41,995) and SEL Premium R-Line ($46,995) trims.
The SE is available only with FWD and the SEL Premium R-Line is exclusively AWD. Only the SEL can be had in either configuration, with an $1,800 premium for AWD.
Befitting its status as VW's halo, Arteon is well equipped. Standard features include the adaptive suspension dampers and digital instrument panel. Also on the list: wireless Apple CarPlay and Android Auto connectivity, LED headlights, tri-zone climate control, keyless entry and ignition, heated front seats and simulated leather upholstery.
Chattery under acceleration
The MIB3 infotainment system is managed via the 8-inch touchscreen. It's relatively user-friendly and has separate knobs and buttons for top-level management of the audio and HVAC systems.
Standard safety and driver-assist features include forward collision warning, with automatic emergency braking; blind-spot monitoring; and rear cross-traffic alert. The SEL R-Line adds adaptive cruise control and rear parking sensors.
All Arteons are powered by a turbocharged four-cylinder engine that makes 268-horsepower. It's paired with an eight-speed automatic transmission.
The engine is chattery under hard acceleration but is otherwise smooth and quiet. The transmission makes sure, smooth and deliberate shifts. Drivers who prefer quicker responses will appreciate the steering-wheel shift paddles.
The Arteon dashes from 0-60 in an acceptable 6.4 seconds. Our AWD tester earned an EPA-estimated 25 mpg in combined driving (22 city/32 highway).
VW's Driving Mode Selection feature allows the driver to adjust not just shift points but also the stiffness of the shock dampers. It offers a high degree of personalization but, like most users I suspect, I tended to stick with the Normal mode.
It's not a sports car and not quite a luxury car, but it is clearly expressive, if I'm still allowed to use that word. It's also comfy, safe and satisfying.
Questions or comments? Contact Don at don@dadair.com.
2021 Volkswagen Arteon 2.0T SE
Vehicle base price: $36,995
Trim level base price: $36,995
As tested: $38,190 (includes destination and handling)
Options: Our tester included no options
EPA rating: 25 combined/22 city/32 highway
Regular unleaded gas specified

---
---