2021 Genesis G80: Hyundai's luxury sub-brand faces down German rivals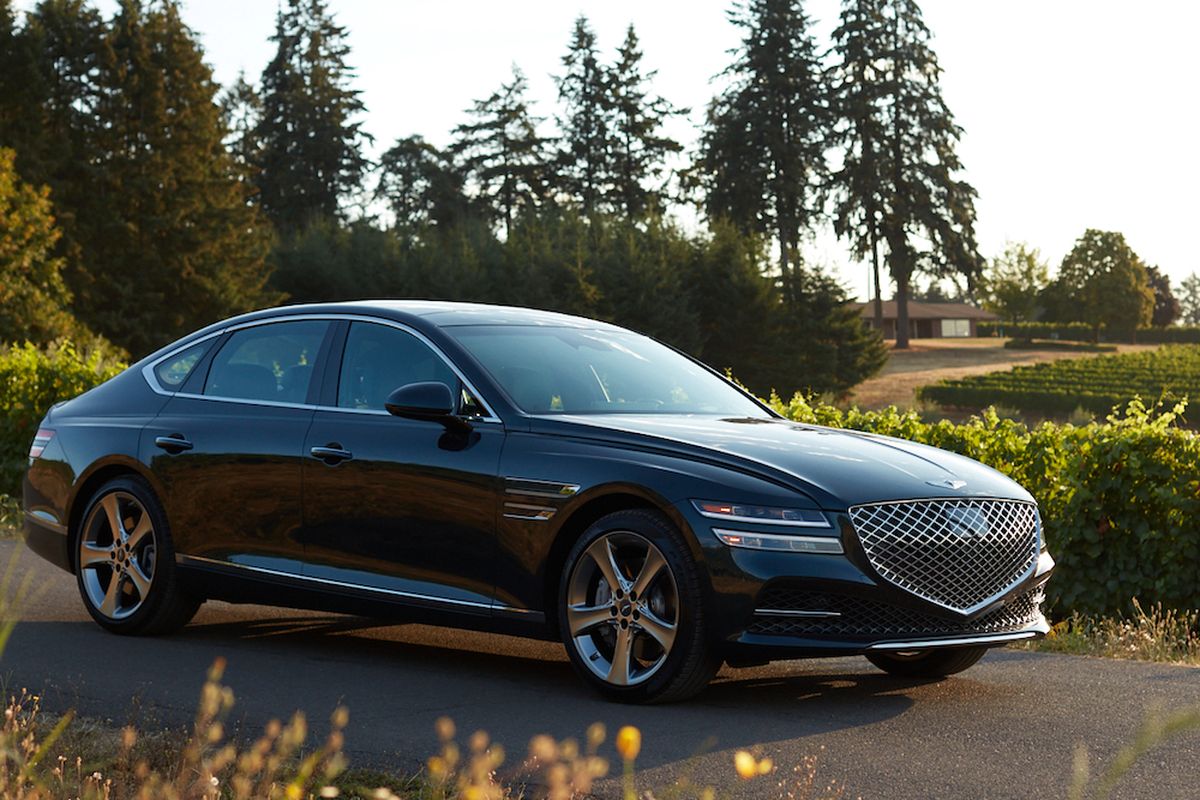 Last year, Genesis sharpened its assault on the luxury classes with two impressive new vehicles.
In January, the Korean newcomer revealed its first crossover, the midsize 2021 GV80. Shortly thereafter, it dropped the GV80's sedan sibling, the G80.
We recently drove the G80, a midsize luxury four-door. The G80 is the original Genesis, having debuted as Hyundai's top trim in 2008, then called Genesis. When Hyundai spun off Genesis as its luxury sub-brand in 2017, the Genesis became the G80.
As Hyundai's luxury brand, Genesis is to its parent corp as Lexus is to Toyota. And, like Lexus in its formative years, the brand aims high. The G80 ($47,700) targets the likes of BMW, Audi and Mercedes-Benz.
Driving a bargain
Taking a page from that early Lexus playbook, Genesis focuses on building a solid, reliable vehicle, loading it with high-end features and fittings and then pricing it thousands below the competition.
Theoretically, buyers enjoy luxury-class ownership without the expense. It's luxury-class ownership without the prestige of a luxury-class nameplate, though, and Genesis owners comfort themselves knowing they're driving a bargain.
It's also some small comfort that the G80 is as good-looking, inside and out, as any of its rivals. And that it is their technological equal, as well, with a rich roster of communications and driver-assist tech.
The G80 is available in three trims, with a pair of powertrain choices.
The base engine is a 2.5-liter turbocharged 2.4-liter inline-4 that makes 300 horsepower. The upscale option is a 375-hp 3.5-liter V-6.
Trims are based on engine specs. The four powers the 2.5T, 2.5T Advanced ($53,325) and 2.5T Prestige ($57,625). The 3.5T ($60,125) and 3.5T Prestige ($66,125) get the six.
Both engines are mated to an eight-speed automatic transmission. Rear-wheel drive is standard and all-wheel drive is optional.
Four is plenty
We tested the 2.5-liter four and wondered why anyone would want more. Paired with a responsive eight-speed automatic transmission, it bolted from 0-60 in 5.7 seconds in a smooth, linear rush.
The four is a bit chattery under acceleration, but engine noise drops away as the G80 gains speed. It's as hushed at highway speeds as its most exclusive competitor.
The twin-turbo six needs just 5 seconds for the 0-60 run and is smoother and quieter.
The new eight-speed gearbox performed flawlessly, shifting quickly and smoothly in both directions.
Genesis doesn't offer a hybrid but there's talk that its next vehicle will be an electric crossover.
Underway, the G80 impresses with its well-tuned suspension and responsive steering. Our 2.5T tester rode on optional 19-inch wheels, which tended to pass along the jolt of a pothole into the cabin. By all accounts, the standard 18-inchers contribute to a smoother ride.
The G80 is nimble and quick, but it's not an athlete. It's enjoyable to drive and can get down a country road in good order. Initial turn-in in corners is sharp but quickly transitions to understeer.
Its competitors feel more planted, more stable and more predictable at the margins.
Shortcuts verboten
There are no shortcuts when it comes to building a vehicle to compete with BMW, Audi or M-B. And we noticed few signs of compromise or cost-saving shortcuts. Even the lower door panels are covered in soft-touch materials.
The cabin is well-sorted and beautifully designed. The sweeping dashboard is unbroken, save for a narrow band between the stitched-leather top tier and the long strip of open-pore wood trim below it. The band houses a row of hidden HVAC vents.
A 14.5-inch infotainment touchscreen perches atop the low-profile dash. It's controlled via a knurled knob in the center console. The broad console also houses the nearly identical shift knob. The juxtaposition leads to some initial awkwardness.
The infotainment system is quick to respond and its menus are easily mastered.
The seats are terrific at all four positions — large, well-contoured and supportive. Tall rear-seat passengers may run out of headroom but otherwise, the accommodations are roomy and first-rate.
Genesis's rivals have been honing their skills for decades; the newcomer Genesis may need a little time to catch up.
Questions or comments? Contact Don at don@dadair.com.
2021 Genesis G80 RWD 2.5T Prestige
Vehicle base price: $47,700
Trim level base price: $57,625
As tested: $58,025 (destination and handling)
Options: 19-inch wheels; matte-finish wood trim; ventilated front seats; power rear and manual sunshades; three-zone climate control; power trunk; Lexicon premium audio; panoramic sunroof
EPA rating: 26 combined/23 city/32 highway
---
---