2021 Mercedes-Benz E350: Refinement is more than a buzzword at M-B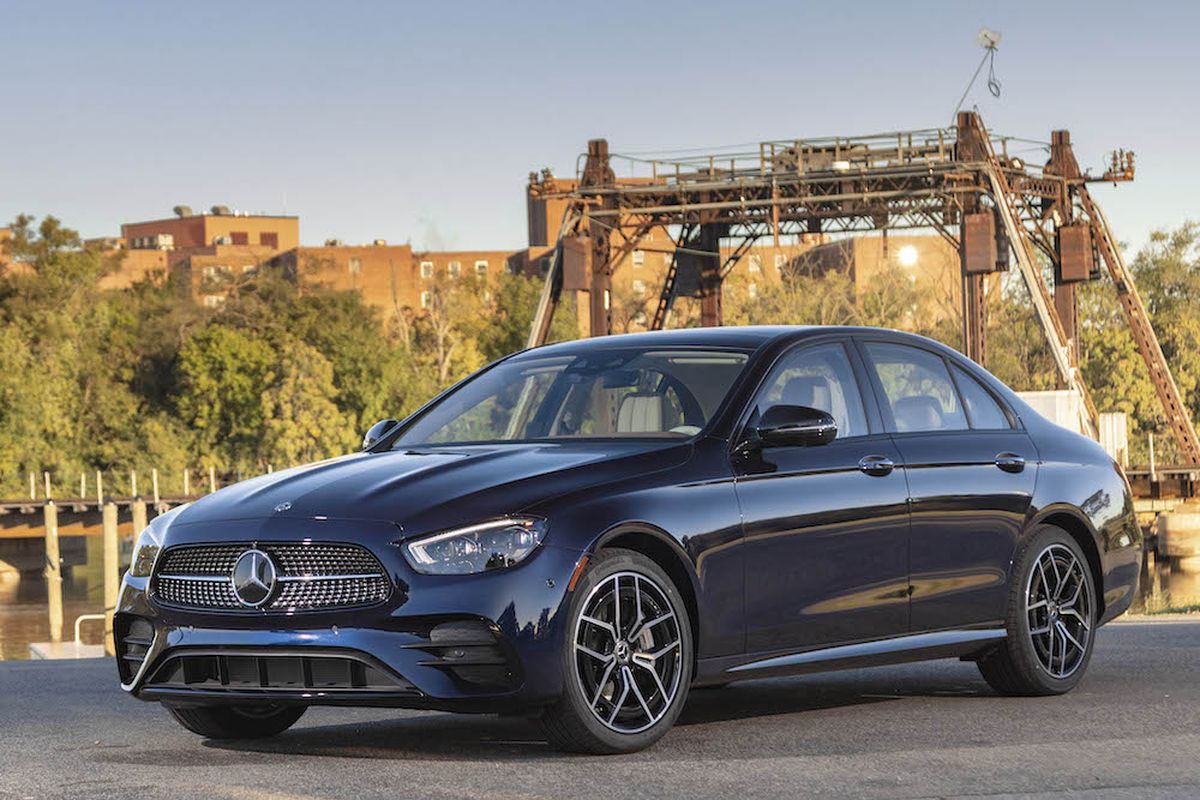 It seems that some variant of the word "refined" has been showing up in this space with increasing frequency.
Manufacturers of all stripes are looking to impress with signifiers of refinement. High-end cabin materials and a focus on fit-and-finish. Elaborate infotainment systems. Quieter cars that better isolate riders from the cold, cruel world.
In their push for refinement, a new generation of cars is proving they just want to be a Mercedes-Benz sedan.
Bone-deep refinement
We just finished a week-long test of the 2021 M-B E350 sedan ($54,250). The traditional, rear-wheel-drive (AWD is available) four-door embodies refinement.
The E350 is the entryway into M-B's midsize E-Class fleet, a mix of sedans, wagons, coupes and convertibles. The various E-Class pieces are powered by four-, six- and eight-cylinder powerplants, all turbocharged.
Power ranges from our tester's 255-hp 2.0-liter turbo-four to the 620-hp turbocharged eight nestled into the engine bay of the AMG E 63 S. Prices range from the E350's $54,250 to $112,450 for the E 63 S station wagon.
For 2021, the E-Class family gets a mild facelift, with revised headlights and taillights and a new grille. Inside there's a new infotainment system and a new thick-rimmed steering wheel, with capacitive-touch controls.
Like all its siblings, the E350 cabin is steeped in elegance. It sets 21st-Century tech into an old-country esthetic. Wood, leather (or M-B's convincing leather substitute) and chrome is fashioned into a stylish sanctuary.
Refinement is baked in, not laid on.
Impeccable manners
The same can be said of the E series' road manners. Its compliant and creamy ride is supported by a familiar, underlying Teutonic firmness. It's responsive and agile whether in traffic or on the road. Steering is precise and ideally weighted.
The E 350 is happy to be hustled down a winding road, its smooth and decisive nine-speed automatic transmission always finding the perfect gear for the moment. A pair of Sport modes quicken downshifts.
Or one can set the dynamic cruise control and settle in for a relaxed and stable freeway session.
Until recently, an automaker like Mercedes-Benz would not have considered a four-cylinder engine for an application like this. But it's an entirely appropriate choice; the turbo-four propels the E 350 from 0-60 in 6.1 seconds without undue noise or drama.
One step up from the E 350, the E 450 ($62,000) gets a new engine this year. The turbocharged mild-hybrid V-6 makes 362 hp and powers the E 450 from 0-60 in 4.9 seconds. The E 450 is available as a sedan, coupe and convertible and as a lightly lifted (5.2 inches of ground clearance) wagon called the All-Terrain.
A pair of high-performance AMG models —the E 63 and the $82,000, 429-hp E 53 — top the fleet.
Screen time
The E350 cabin is a good place to spend time. One settles into large, contoured and deeply supportive seats (with optional massage, naturally). Dead ahead of the driver lies a 12.3-inch digital instrument panel and next to it, an adjacent 12.3-inch touchscreen.
The screens are housed side-by-side within a wide pod bordered by a subtle metal band.
That horizontal theme is mirrored in the sandwiched layers of wood and metal trim that stretch across an unoccupied reach of dash.
Soft-touch surfaces dominate. You'll look long and hard for rough edges or other evidence of cost-cutting.
The new Mercedes-Benz User Experience (MBUX) replaces the previous Comand system with its knob-based controller. MBUX relies instead on a mix of input options; the touchscreen, a complementary console-mounted touchpad and voice commands.
Hard buttons and switches supplement the touchscreen, offering quick access to oft-used functions.
There is a learning curve, of course, but with practice the system is relatively user-friendly.
All E-Class cars are well-equipped, with standard LED headlights, dual-zone automatic climate control, a sunroof, keyless entry with push-button start and MBUX, with its 12.3-inch display and Apple CarPlay and Android Auto integration.
No need to pay extra for refinement, either; it's baked in.
Questions or comments? Contact Don at don@dadair.com.
2021 Mercedes-Benz E350 AWD
Vehicle base price: $54,250
Trim level base price: $56,750
As tested: $64,800 (includes destination and handling)
Options: augmented video for navigation; Panorama Roof; MBUX Interior Assistant; Inductive wireless charging w/NFC Pairing; Driver Assistance Package; increased cabin insulation, windshield and side windows with acoustic and heat absorbing membrane; PARKTRONIC with Active Parking Assist; surround view System, Burmester surround sound system, SiriusXM Radio with All Access Plan Trial
EPA rating: 25 combined/22 city/30 highway
Premium gasoline specified
---
---