Sun., July 4, 2021
2021 Honda Ridgeline: Honda updates its truck/crossover hybrid with bold new styling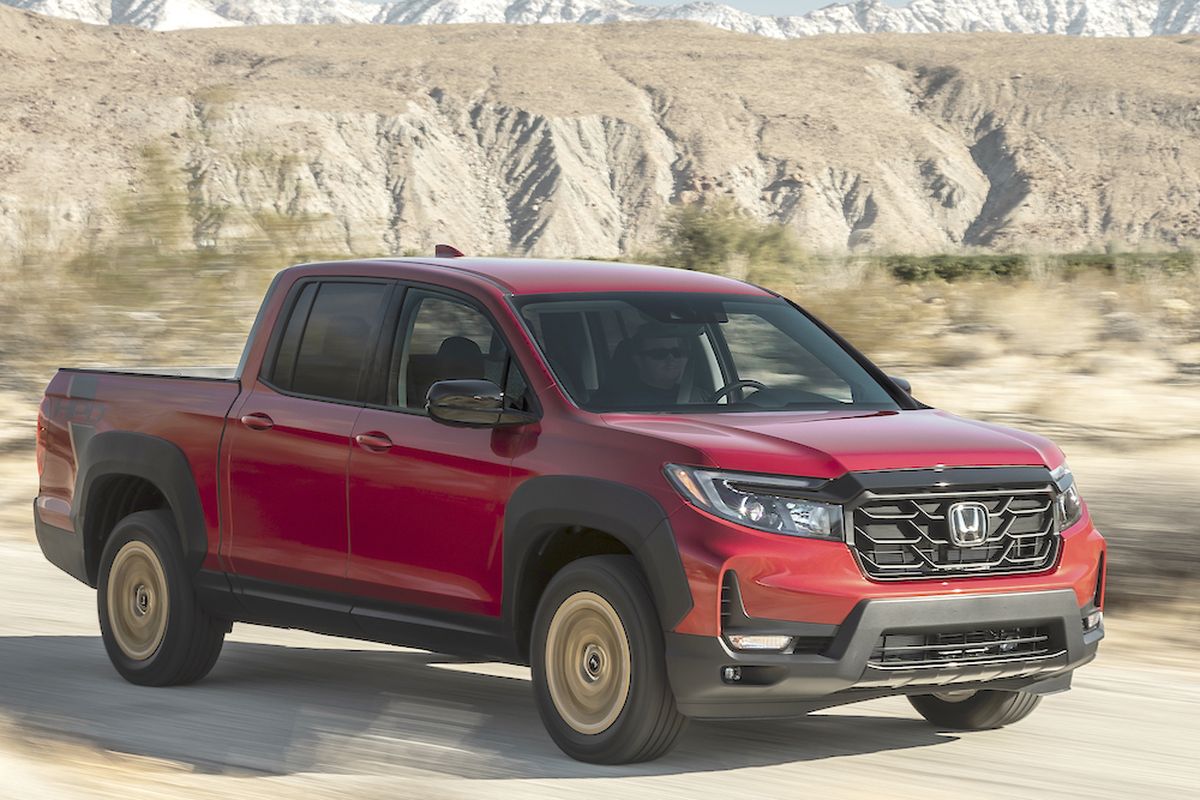 Ridgeline is Honda's truck/crossover hybrid. Like a crossover, it's built using unibody construction instead of a truck's body-on-frame chassis. (Honda)
Honda wants this to be a watershed year for its Ridgeline midsize pickup.
Ridgeline is Honda's truck/crossover hybrid. Like a crossover, it's built using unibody construction instead of a truck's body-on-frame chassis.
Its fully independent suspension swaps a truck's traditional solid rear axle for a coil-sprung rear suspension. This helps account for its car-like ride and handling package.
Ridgeline's ride is firm but not harsh.
The lightly weighted steering system is accurate but not engaging or communicative.
Beginning this year, Ridgeline is offered exclusively with all-wheel-drive.
Ridgeline's 5-foot bed is built of a heavy-duty, dent-resistant composite that eliminates the need for a bed liner. It's the only bed in the class wide enough to flat-haul a 4-foot-wide sheet of plywood between the wheel wells.
Ridgeline's 1583-pound payload capacity falls short of the class leaders, but should easily meet the needs of non-commercial buyers.
Truck/No truck?
Predictably, there are hardliners who say the Ridgeline is not a truck at all, but a crossover with a bed in back.
Image is everything, of course, and Ridgeline's soft-edged styling has confused matters. Everybody knows a truck needs to look tough. Until now, though, Ridgeline has played a subtler game.
For 2021, Ridgeline's front end — everything forward of the front roof pillars — is new and boldly drawn.
The new hood's prominent power bulge flows into a grille that sits straight upright, truck-style. Squared-off fenders house cat's-eye LED headlights that, says Honda, shine brighter than last year's lamps.
The lower bumper incorporates a skid plate, more for show, I suspect, than because Honda expects owners to venture far off-track. The functional lower vents route air through the bumper and around the tires and wheels, improving aerodynamics.
Twin exhaust tips peek out from below the new rear bumper. There are new, rugged-looking, Ridgeline-exclusive 18-inch wheels,
Ridgeline's track is wider by 20 millimeters, giving it a broader, more planted stance.
A packaging showcase
Inside, Honda bows to convention — and common sense — by adding a volume knob to the audio system controls. Wireless phone charging is now standard, as are Apple CarPlay and Android Auto smartphone integration.
Infotainment menus and controls are refreshingly straightforward.
All Ridgelines now get contrast stitching on the seats. Still, a
Ridgeline is a showcase of packaging. There are clever storage solutions throughout, from the uniquely configurable second-row seats to the large, locking and waterproof trunk beneath the bed's floor.
The tailgate can be opened sideways or dropped open, like a conventional truck's.
Ridgeline is available in four trims: Sport ($36,490), RTL ($39,470), RTL-E ($42,420) and Black Edition ($45,095).
All models are equipped with LED headlights, proximity entry and push-button ignition and automatic tri-zone climate control.
Smooth, quiet powertrain
Driver-assist features include adaptive cruise control, lane-keeping assist and forward collision mitigation.
One level up from the Sport, the RTL adds heated and power-adjustable front seats, leather upholstery, a sunroof and a blind-spot warning system.
All Ridgelines are powered by a 280-horsepower V-6 mated to a 9-speed automatic transmission.
It's a good combo. The engine is smooth and quiet, even under hard acceleration. Its 262-lb. ft. of torque gives the Ridgeline plenty of thrust for initial acceleration, passing and freeway merging. The transmission is consistently on the money, with clean, smooth and timely shifts.
The Ridgeline's 5000-lb. towing capacity lags the class leaders, but Honda's research department says only 16 percent of light-truck owners tow that much or more.
Honda's torque-vectoring all-wheel-drive system can send up to 70 percent of the engine's torque to the rear wheels. From there, it is split as needed between the wheels, maximizing traction and minimizing the danger of a skid.
It matters not whether you consider it a truck or a crossover with a bed; either way, Ridgeline will help you get the job done in comfort.
Questions or comments? Contact Don at don@dadair.com.
2021 Honda Ridgeline AWD Sport
Vehicle base price: $36,490
Trim level base price: $36,490
As tested: $40,860 (includes destination and handling)
Options: fender flares, 18-inch alloy wheels, black-out grille
Towing capacity: 5000 lb.
EPA rating: 21 combined/18 city/24 highway
Regular gasoline specified
---
---