Fri., June 25, 2021
2021 Mazda MX-5 Miata: Mazda's two-place sports car surpasses the cars that inspired it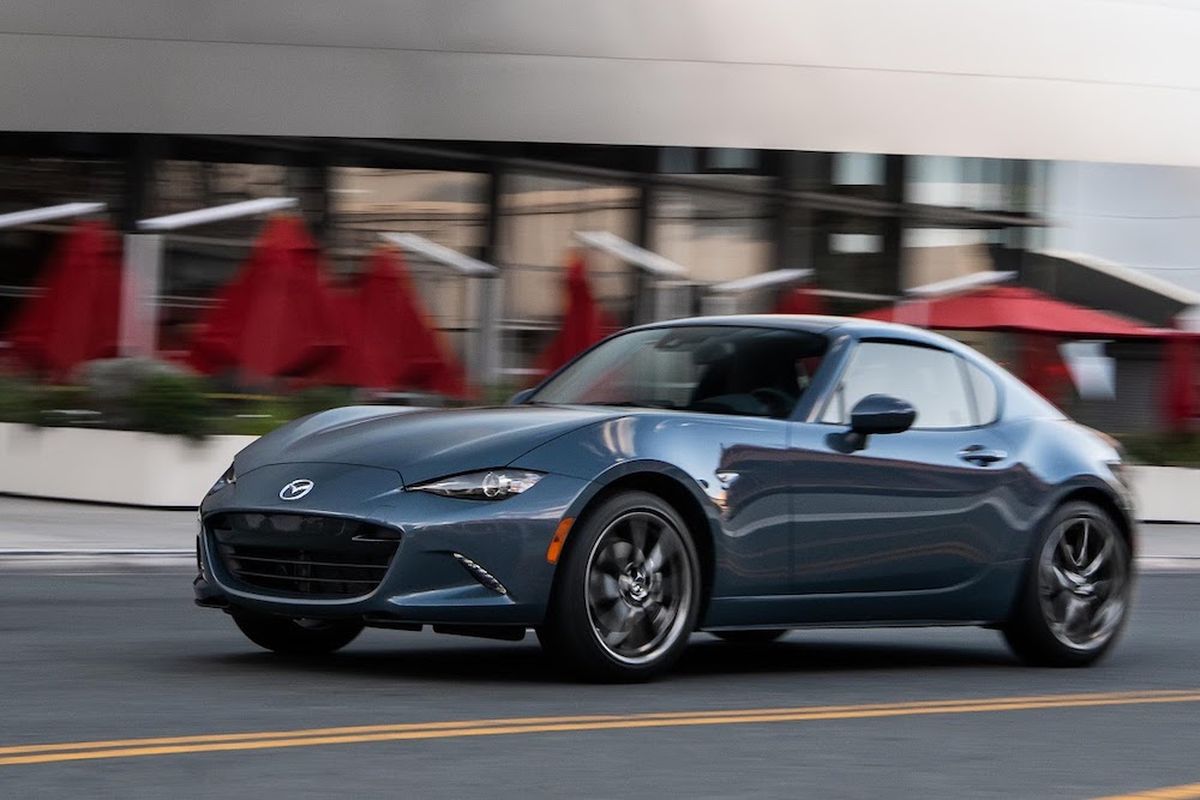 The Miata's two-passenger cockpit, front-engine/rear-drive architecture and folding canvas roof are borrowed directly from classic European sports cars. (Mazda)
It's tempting to regard Mazda's MX-5 Miata as a throwback to bygone times, but that would be to miss the point.
True, the Miata's two-passenger cockpit, front-engine/rear-drive architecture and folding canvas roof are borrowed directly from classic European sports cars.
Unlike them, though, the Miata is thoroughly modern. It's better engineered, better built and more reliable than the classics it emulates.
II's less likely to leave oil stains on your garage floor and its roof won't leak in a downpour.
The Miata is more responsive and more fun to drive than its progenitors. Throttle responses are immediate and brake and throttle pedals are ideally aligned for the heel-and-toe maneuver that helps balance the chassis during braking for corner entry.
Goes where it's pointed
The lightly weighted steering system is quick, accurate and communicative. The Miata goes where you point it, without hesitation and absent the twitchiness that can affect aggressively tuned sports cars.
The Miata's fully independent suspension is far superior to the solid rear axles of yesteryear. Power is transferred to the pavement more efficiently and the tail end of the car is better planted and stickier.
It clings tenaciously to the road surface during hard cornering. Body lean is nearly non-existent and the Miata's RWD dynamics and 50/50 front-to-rear weight balance make for smooth transitions through the corner.
The original, 1990 Miata was a convertible with a folding canvas roof. In 2016, Mazda grew the franchise with a new version topped by a power-folding hardtop.
The RF, for retractable fastback, is mechanically identical to the soft-top. It's about 100 pounds heavier than the convertible, which translates into a somewhat more substantial feel underway.
Fool the neighbors
It is quieter, more secure and, to my eyes, prettier than the soft-top. The buttresses that anchor the rigid top flow sensuously into the rear quarter panels. It's an elegant look that may trick the neighbors into thinking you've brought home an exotic Italian number.

The convertible is available in three trims — Sport ($26,830), Club ($29,950) and Grand Touring ($30,780). The RF drops the Sport trim and leads with the RF Club ($33,045) and Grand Touring ($34,525).
All Miatas are powered by a 2.0-liter four-cylinder engine that makes 181 horsepower and 151 pound-feet of torque. It can be paired in all trims with a six-speed stick shift or, for another $600, a six-speed automatic.
The Miata runs the 0-60 sprint in 6.7 seconds.
All Miatas are equipped with cruise control, LED headlights and taillights, keyless entry and ignition, a rearview camera, a height-adjustable driver's seat and a leather-wrapped tilt-and-telescoping steering wheel. Bluetooth connectivity, voice controls and a six-speaker sound system with HD radio are standard.
Storage a challenge
A 7-inch infotainment system touchscreen perches on the dash-top. Mazda's eyes-up strategy places the touchscreen and other key information up in the driver's line of sight. A console-mounted rotary knob supplements the touchscreen.
Android Auto and Apple CarPlay integration are standard, as are forward collision warning,
blind-spot monitoring and rear cross-traffic alert.
Such niceties as automatic climate control and heated seats and mirrors are reserved for the Grand Touring trim.
The only interior storage space is a small locking bin situated behind and between the seats. The Miata's small trunk gets called on a lot for casual storage. Even the cupholders feel like an afterthought.
Miata is not a car for large people, or for more than two of any size. There is not even a pretend back seat, just a bulkhead behind the bucket seats that boosts the unibody's structural rigidity.
That rigidity sets the Miata apart from its loose-limbed progenitors. And it enables a ride-and-handling package that rewards aggressive driving without punishing occupants. The ride is firm and the Miata rides low to the ground. There's no avoiding the jolt of big potholes and railroad beds and the ride can get bouncy on rough roads.
Club models fitted with the stick shift get a sport-tuned suspension, with Bilstein shocks; a shock-tower brace; a limited-slip differential; and an engine sound enhancer.
There's no replacing the vintage charm of a classic postwar droptop. Instead, the Miata keeps the tradition alive with its modern interpretation of the form.
Questions or comments? Contact Don at don@dadair.com.
2021 Mazda MX-5 Miata RF Club MT
Vehicle base price: $26,830
Trim level base price: $33,045
As tested: $39,255 (includes destination and handling)
Options: Soul Red Crystal metallic paint; front air dam; rear bumper skirt; side sill extensions; Brembo front brakes with front and rear red calipers; black roof; heated Recaro sport seats; BBS forged 17" dark alloy wheels
EPA rating: 29 combined/26 city/34 highway
Regular gas specified
---
---