Fri., May 21, 2021
2021 Kia K5: All-new Optima replacement scores with beautiful body-work, comfy cabin, abundant power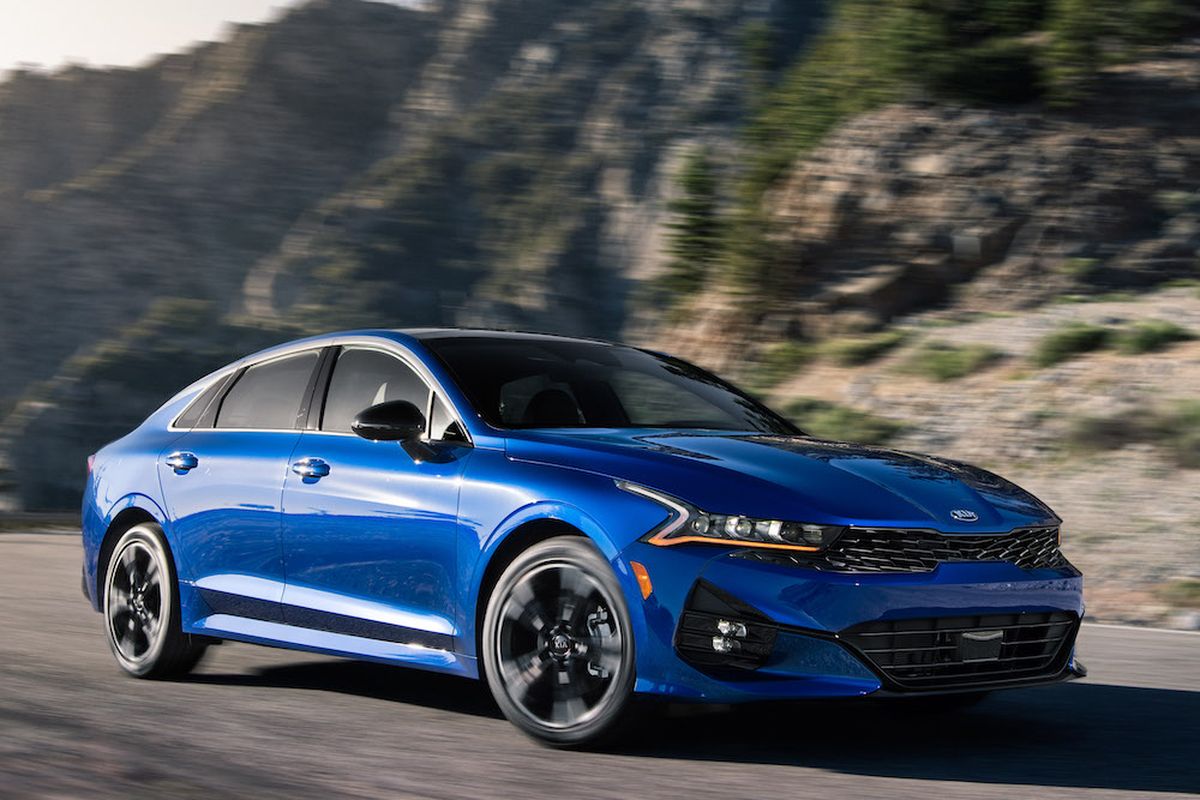 The K5 is longer, lower and wider than the outgoing Optima. It's a beautifully designed four-door with a flowing fastback, gently contoured body panels and such unique detailing as Z-shaped running lights and a faceted grille that plays with light in fun ways. (Kia)
A familiar name is missing from the Kia lineup this year and there's a new one in its place.
After a successful 10-year run, Kia's midsize Optima has departed the scene.
Its replacement is an all-new midsize sedan called K5 that picks up where Optima leaves off. It's a roomy, utilitarian sedan with the sleek lines of a coupe.
Optima has long been known as the K5 in Korea and most of the rest of the world. The name change brings the U.S. into alignment with Kia's global efforts.
The K5 is a significant update for Kia. It (and its Hyundai Sonata corporate cousin) are the first cars built on a new platform that will underpin the next generation of the company's small and midsize passenger cars.
Available with AWD
The new chassis is stronger and stiffer than the one it replaces. Front-wheel-drive is standard and K5 joins the growing number of midsize sedans to offer all-wheel-drive.
The K5 is longer, lower and wider than the outgoing Optima. It's a beautifully designed four-door with a flowing fastback, gently contoured body panels and such unique detailing as Z-shaped running lights and a faceted grille that plays with light in fun ways.
The K5 is available in five trims: LX ($24,585), LXS ($25,585), GT-Line ($26,485), EX $29,085 and GT ($31,585).
The base engine is a 180-horsepower turbocharged 1.6-liter four-cylinder engine. It powers all K5s but the GT, which gets a 2.5-liter turbocharged four good for 290 hp.
An eight-speed automatic transmission is standard, as are LED headlights, dual-zone automatic climate control, an 8.0-inch touchscreen and wireless Apple CarPlay and Android Auto.
Standard driver-assist features include forward collision mitigation with emergency braking; lane keeping assist and driver-attention warning.
User-friendly menu system
The EX is the "luxury" trim, with its simulated leather upholstery, panoramic sunroof, wireless charging pad and heated and ventilated front seats.
Key K5 options include adaptive cruise; a 10.3-inch touchscreen; a configurable 12.3-inch digital instrument cluster; a 12-speaker Bose audio system and a heated steering wheel.
Oddly, the larger screen requires that Apple CarPlay and Android Auto be wired.

There are few padded surfaces inside, but materials quality is good. I didn't notice any egregious fit-and-finish violations.
There's a fair amount of casual cabin storage and the rear seats and trunk are generously sized.
The infotainment system is built around a user-friendly menu system and includes multiple ways to access key features. The knobs and buttons for the HVAC system sit well away from the touchscreen, eliminating confusion.
The windshield is deeply angled, an essential component of the K5's coupe-like silhouette, slippery but located its top edge nearer my face than I like.
GT-Line adds sporty cosmetics
Overall, ride quality is quite good, though the 18-inch tires fitted to the upper trims are less compliant — and the potholes more obvious — than with the lower trims' smaller shoes.
We tested a front-wheel-drive GT-Line. The GT-Line gets a sporty body kit and 18-inch wheels. Inside, there's a 10-way power-adjustable driver's seat, a leather-wrapped steering wheel and back-seat charging ports.
Adding all-wheel-drive ($3,700) brings adaptive cruise control, LED headlights, a heated steering wheel, panoramic sunroof and wireless charging.
Like all trims but the GT, the GT-Line is powered by a 180-horsepower, turbocharged, 1.6-liter four-cylinder engine. It's mated to an eight-speed automatic that makes sure and smooth shifts.
Power delivery is strong and steady all the way from 1,500 rpm, where peak torque (195 pound-feet) arrives, to about 5,000 rpm.
So equipped, the K5 sprints from 0-60 in a respectable 7 seconds and delivers 31 mpg in combined driving.
The FWD-only GT is another matter. Its 290-hp, 2.5-liter turbocharged four is too powerful for the FWD layout. The GT is quick to 60 — 5.8 seconds — but the effort invokes lots of rubber-burning wheel-spin and squirrely handling.
Ironically, the GT's sweet, oil-cooled "wet" dual-clutch automated manual is fully track-ready, even if the car isn't.
Questions or comments? Contact Don at don@dadair.com.
2021 Kia K5
Vehicle base price: $24,585
Trim level base price: $26,485
As tested: $28,400 (includes destination and handling)
Options: Passion Red paint; panoramic sunroof: LED projection headlights; forward-collision avoidance assist; adaptive cruise control; wireless phone charger; LED overhead interior lighting
EPA rating: 31 combined/27 city/37 highway
---
---