Thu., Sept. 30, 2021
Two new 4x4 trims headline Toyota Tacoma for 2022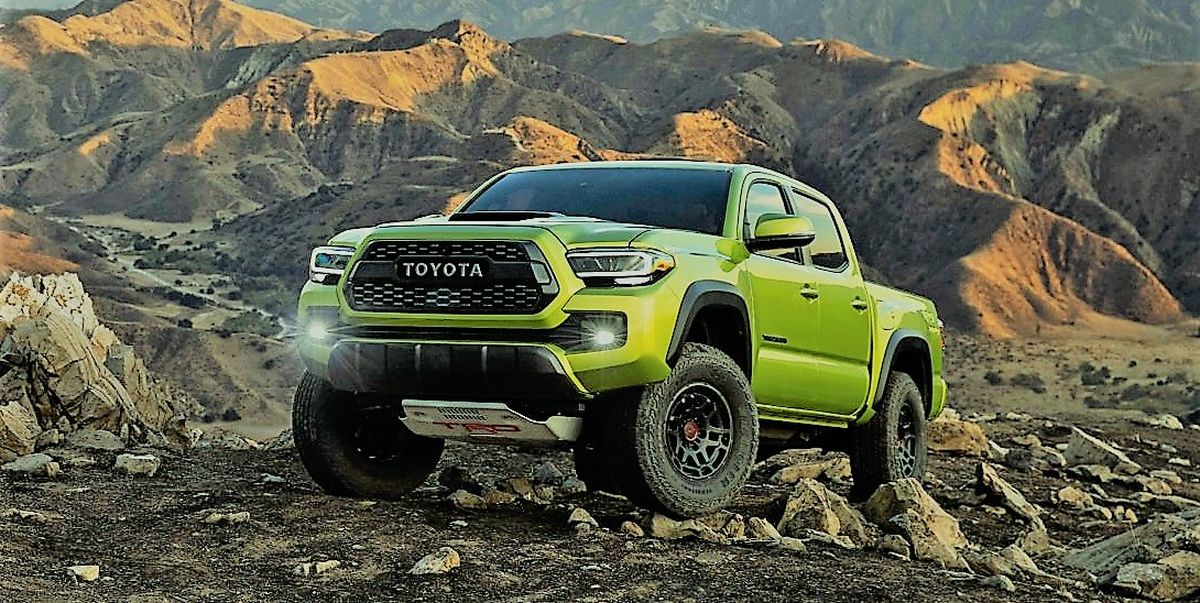 The 2022 TRD Pro in Electric Lime color (Courtesy Toyota)
This week we discuss two new 2022 Toyota Tacoma models currently getting ready for delivery to Toyota dealers nationwide. Although current new vehicle inventories are slim by normal standards, (even the media pool vehicles are scarce) we want to give our truck readers a heads-up before these models arrive at dealers in November. Specifically, Toyota is making some serious upgrades to its midsize truck offerings, especially the 4x4 units.
Two new Tacomas will headline Toyota's mid-size pickup line for 2022 as the Tacoma TRD Pro ups the ante with a new off-road feature that features a heightened suspension lift that gives more clearance on tougher off-road terrains.
The Tacoma Trail Special Edition, meanwhile, returns to the lineup but this time in a "4×4-only" package with emphasis on style, utility and a focus on off-road performance built around the Tacoma 4×4 Double Cab platform.
First, a bit of Tacoma history.
Toyota entered the mid-size truck market back in 2001 as Tacoma arrived at dealers an instant sales leader. Now in its third generation, Toyota's popularity and especially its owner reliability record makes it one of the most popular trucks in the world. To this day, Tacoma continues to be competitive in both foreign and North American markets and competes well against Ford, RAM and Chevy/GMC competition.
However, the mid-size Tacoma isn't Toyota's first foray into the pickup market by any means. Toyota pickups have been around since 1967 when the first compact Toyota truck arrived on American soil dubbed the Toyota Stout.
Further, today's modern day "midsize" is a far cry from what many called "lightweight midsize" trucks back in the late 1970s. Specifically, today's dual-cab Tacoma 4x4s are near 130-inches in wheelbase with curb weights eclipsing two-tons. To the full-size pickup owner, these dimensions might be "midsize," yet when you slip behind the wheel of a Toyota Tacoma TRD Pro, you feel "high and mighty" more so than small and "midsize." Ditto the competition, with the Chevrolet Colorado Z71 4x4 crew-cab pickup a good comparison.
For 2022, there are seven Tacoma pickups to choose from starting with the entry Tacoma SR Access Cab with rear jump seats at $26,500, and moving up to the SR5 at $28,290; TRD Sport at $33,410; TRD Off-Road at $34,690; Limited $39,255; and the new models Summit Trail at $35,000 estimate and TRD Pro at $46,000 estimate. The TRD Pro and Trail Special Edition are available in 4x4 Double Cab configurations only. Overall, Tacoma models in both two-door Access Cab and Double Cab four-door motifs will surely serve the needs of pickup truck consumers of all ages.
Four-cylinder models are available in the SR and SR5 trims in both 2WD and 4x4, but once you get to the Sport and above power comes from V6 engines that put out 278 horses and 265 lb. ft. of torque. The V6 offers the buyer a choice of either a six-speed manual or a six-speed automatic, while the four-cylinder models, which generate 159 horsepower and 158 lb. ft. of torque, are limited to six-speed automatic transmissions only.
The V6 is my recommendation even though fuel mileage is a little less with 18 city and 22 highway versus the four cylinder's 19 and 22 for the 4x4 Tacomas. If a consumer chooses a 2WD Tacoma, the V6 delivers 19 city and 24 highway while the four-cylinder is listed at 20 city and one-less highway 23.
Centering on the two new models for '22, the Tacoma Trail Special Edition finds Toyota merging the best of both on-road and off-road necessities. This 4x4 pickup comes standard with electronically locking rear differential and suspension lift to assist drivers through rougher terrain on and off the trail, while a "keep cargo in place" lockable bed storage, with insulation on the driver's side, and available 120V bed outlet make your trips safe and secure. Ready to hit either highway or mountain trail, this new Tacoma Trail Special Edition is available to order now at your Toyota dealer.
As for the new TRD Pro, heavy duty front skid plate underpinnings and ample ground clearance of 9.4 inches makes your weekend off-road excursions non-worrisome. There's also all-new TRD-tuned shocks, LED fog lights, TRD alloy wheels, and all-terrain tires built to deliver outstanding off-road performance.
Further, the Tacoma TRD Pro receives an added 1.5-inch lift on the front axle and 0.5-inch at the rear compared to the previous model. The new setup increases numbers that matter to off-roaders, IE: the approach angle increases 1.4 degrees and the break over and departure angles are upped by 2.7 and 0.8 degrees, respectively. Trail Special Editions are also raised up by 1.1-inch in the front and 0.5-inch out back. With the removal of the front air dam, the new 4x4 setup allows for a 2.0-degree increase at approach angles. This is all good news to the serious Tacoma off-roaders.
So, what's not new? How about those rear drum brakes? It's time TRD Pro and Trail Special Edition says farewell to drums and makes both 4-wheel disc brake setups.
Toyota's proven 4x4 system deserves note and is called 4WDemand. It's a part-time switchable 2WD, 4WD and 4WD Low with electronically controlled transfer case and automatic limited-slip differential. Standard for 2022 on all Tacoma trims is Toyota Safety Sense and Star Safety System, which adds all of today's high-tech safety offerings and the now more common enhancements like lane departure alert, pre-collision system with pedestrian warning and even automatic high beams. Add electronic brake force distribution, smart stop assist, rear safety camera, all traction controls, and a full complement of driver and passenger front and side airbags and you're riding in one safe pickup.
Additionally, all of the Class IV towing enhancements are standard on the TRD 4x4 Sport trims and upward. The tow package adds a bevy of must have items including four and seven pin connectors w/converter, 130 amp alternator, and a tow kit with hitch and trailer sway control. You can tow up to 6,500 lbs. with no worries.
Impressive outward styling finds Toyota Tacoma further solidifying its reputation as a major player in the midsize pickup category thanks to a TRD livery, projector beam headlights and aggressive front grille. The interior is also noteworthy offering lots of room, excellent stereo systems with SiriusXM, smart phone compatibility, all the modern gadgetry via an 8-inch touch screen along with three USB ports including a media port and two USB charge ports.
Important 4x4 Off Road TRD Pro numbers include a 127.4-inch wheelbase, 4,545 lb. curb weight, 21.1 gallon fuel tank, 5- or 6-foot cargo bed and a 40.6 ft. turning radius.
Toyota Tacoma pickups drive well and offer a degree of highway comfort over and above what's expected from full chassis pickup trucks. Granted, you can feel the road irregularities, but that's expected from pickup trucks like the 4x4 Tacoma with stiffer suspensions.
Contact your Toyota dealer for ordering info on the new 4x4 TRD Pro and Summit Trail editions. They won't last long when they appear on the lot, and ditto for the other "normal" Tacoma pickups.
Likes: Enhanced TRD 4x4 underpinnings, higher ground clearance, looks.
Dislikes: Rear drum brakes, delayed availability (not Toyota's fault), expensive options.
Entry price: $26,500
TRD Pro Price: $46,000 (estimate)
(Greg Zyla is a syndicated auto columnist)
---
---