Fri., April 3, 2009
Bizarre clash when Sun Valley folks come to the Legislature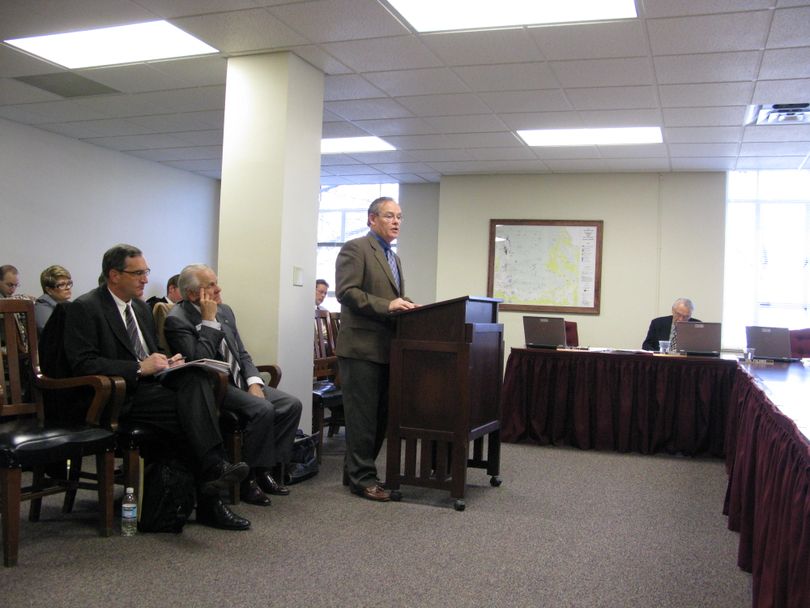 After a long and bitter hearing that pitted some Sun Valley city council members against others and ultimately resulted in the Senate State Affairs Committee killing a bill brought by a temporary senator who's a former mayor of Sun Valley, the general manager of the Sun Valley Resort had to be restrained by Capitol Annex security after he menaced a reporter. "That's my wife you're talking to!" Wally Huffman could be heard declaring loudly, as he got into the face of an Associated Press reporter his wife had just called "evil." The reporter had responded with a retort about being insulted; Sun Valley Mayor Wayne Willich had moments earlier confronted the reporter and told him to be sure to report that his city was the target of a "hostile takeover," and the reporter was attempting to leave the hallway.

Huffman was among those testifying against SB 1157, a measure sponsored by temporary Sen. Jon Thorson, D-Ketchum, to change state law regarding when cities consolidate. The bill would have let the voters, at the same time, pick the name of the new city, while current law gives the new city the name of the larger of the two that consolidate. The problem: Ketchum is larger than Sun Valley. Those are the two discussing consolidating; Thorson's a big backer of the controversial proposal; and Huffman opposes it, as does Sun Valley Mayor Wayne Willich and Sun Valley City Council President Nils Ribi, who both testified against the bill. Sun Valley City Councilwoman Joan Lamb, however, testified in favor of the bill. "Sun Valley is the brand," she told the committee. "That's the name that has worldwide recognition."

Huffman told the committee that the "brand" belongs to his business, and said consolidation would be "a disaster for my company" because of changes it would bring in local development ordinances. "It is shameful in my mind ... that the Legislature would be injected at this point into what is a local debate," Huffman told the senators. Thorson is filling in for Sen. Clint Stennett, D-Ketchum, who is ill.

Sen. Denton Darrington, R-Declo, noted that the Association of Idaho Cities didn't comment on the bill. He remarked, "The perception is crystal-clear that this injects the Legislature in the middle of a huge local feud." A motion to amend the bill failed on a 4-4 vote, and it then died on a 3-5 vote.


---
---