Stimulating times at the Statehouse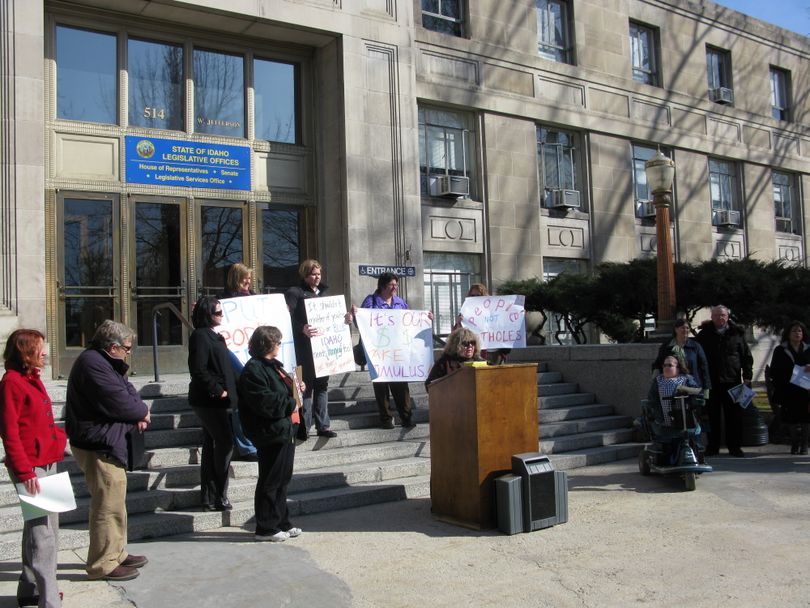 A small group of activists gathered on the Capitol Annex steps at mid-day today to urge Gov. Butch Otter and lawmakers to make use of the federal economic stimulus funds. Holding signs with slogans like, "It's our $$ Take the Stimulus" and "People not Potholes," the activists from United Vision for Idaho and the Interfaith Alliance called for using the federal money for state programs and workers, rather than cutting the state budget. "In bad economic times, cuts only hurt more," said Pam Baldwin of the Interfaith Alliance. Andrew Hanhardt, president of the Idaho Association of Government Employees, which represents state workers, said, "Use the money to keep state employees on the job and not in line for benefits."

As lawmakers today wrapped up the sixth week of this year's legislative session, it remained unclear just how the state will make use of the stimulus money. The Joint Finance-Appropriations Committee has set four days of hearings next week, to hear from and question its budget analysts on what's in the stimulus package and how it could affect Idaho's state budget. Senate Finance Chairman Dean Cameron, R-Rupert, said Idaho still likely will have to make this year's 4 percent holdbacks and the additional 2 percent cut lawmakers imposed permanent, but they might not have to dip into the public education stabilization fund this year as they'd planned. Budget cuts next year likely still will be steep, Cameron said, but a proposed 5 percent cut in personnel costs - a prospect that could even mean an across-the-board pay cut or layoffs - may not have to happen. Cameron said he's "hopeful" cuts in public schools next year can be avoided, "but I can't guarantee it at this point," he said. "Every time we turn around, there's another question."

Meanwhile, Gov. Butch Otter has assembled a special panel of three former governors and five former state budget directors - a group that's half Democrats and half Republicans - to help him sort through some of the same questions. Interestingly, three of the eight are registered lobbyists for energy interests - former state budget directors Jeff Malmen and Mike Brassey both lobby for Idaho Power, and former state budget director Brian Whitlock for Battelle Energy Alliance. Also, former state budget director Marty Peterson lobbies for the University of Idaho, and former Gov. Cecil Andrus, though not a registered lobbyist, is affiliated with Gallatin Public Affairs, a Boise firm that does lobbying, consulting, and government and public relations.
---
---