Jorgenson proposes illegal alien bill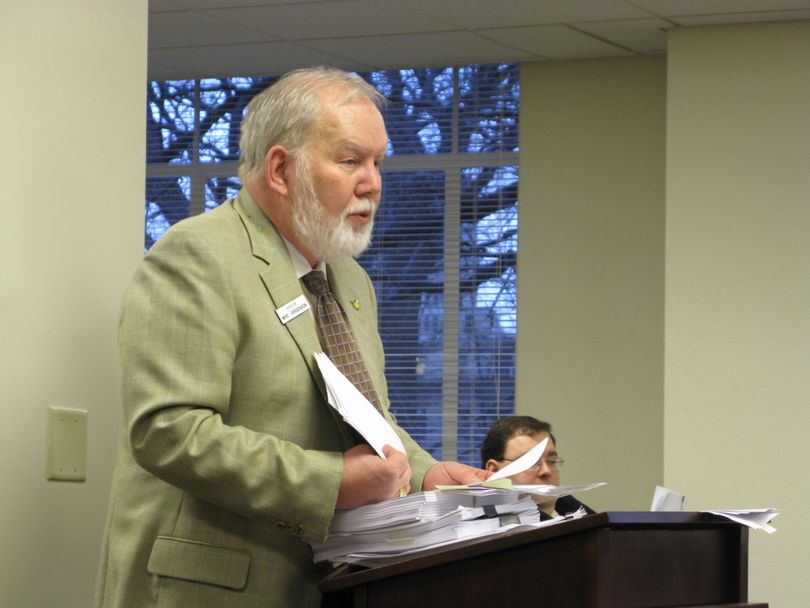 Sen. Mike Jorgenson, R-Hayden Lake, brought legislation to the Senate State Affairs Committee this morning to penalize Idaho employers who hire people who aren't legal U.S. residents. Jorgenson read his oath of office as a legislator to the committee, and said that's why he's bringing the bill. "What this bill is about is enforcing employers to hire legal citizens only," Jorgenson told the panel, adding that some will say that's not a state issue. "Yes, the states do have the right to enforce or pass this type of legislation," he said, shuffling through a large stack of papers. "Indeed, states do have the right to enforce employers to hire legal citizens, and they have the right to do that through licensing." His bill proposes to suspend or revoke business licenses for violations, and also take a series of other steps to make life in Idaho more difficult for illegal aliens.

Jorgenson said, "Folks, there's a big reason why we need to do it." He said Idaho prisons now house 487 foreign nationals, and of those, "425 are from Mexico. That's costing the state of Idaho in the neighborhood of $10 million a year," he said, "...as soon as they get out we send 'em back to Mexico." Senators on the committee asked Jorgenson to address what his bill does, rather than issues regarding  Idaho's corrections system. Committee members, including Senate Majority Leader Bart Davis, R-Idaho Falls, also raised several technical and legal concerns about the bill, and said they hope those questions can be answered after the bill is introduced.

"This is a knock-off of an Arizona bill," Jorgenson said, adding that several other western states are considering such legislation. "This is happening because of the spread of illegal workers, and you know, where there is strict enforcement they don't go, and where there isn't strict enforcement, they come." He said Arizona has seen everything from less rush-hour traffic to fewer limited-English students in school, as they dropped out after the bill passed. The committee agreed to introduce the bill, though several members said they still have questions about it how it would work.

---
---