School busing cut sent to amending order, other cuts clear committee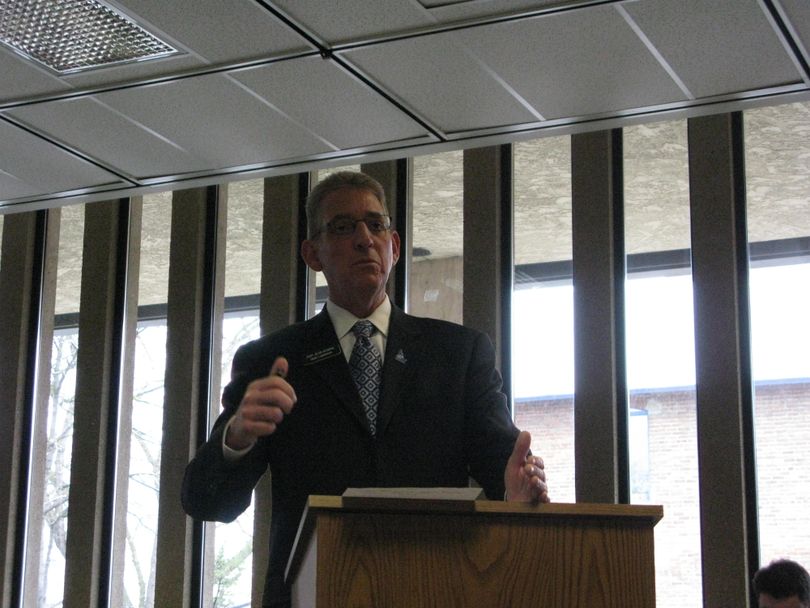 The Senate Education Committee has voted 5-4 in favor of HB 262, to freeze the teacher salary grid for experience-related increases for a year, and phase out an early-retirement incentive program for teachers, to save the state a little over $8 million next year. It was the same 5-4 split by which the panel passed HB 252 a day earlier, a measure that allows school districts to suspend various state laws when they face financial emergencies. Both are sponsored by House Education Chairman Bob Nonini, R-Coeur d'Alene, to enable unprecedented cuts in Idaho's public school budget next year. The committee backed HB 262 despite tearful testimony from some teachers about the financial situation they face, trying to live and support families on Idaho's  starting teacher salary. Nonini told the panel, "We're trying to spread out the cuts to education, and trying to minimize the impact on teacher salaries."

Nonini also sponsored a third bill, HB 256, to cut $4.1 million from the reimbursements the state sends to school districts for their student busing costs. That would be a permanent change that would start next year - and $1.5 million of the hit would be on the Boise School District. Senate GOP Caucus Chairman Russ Fulcher, R-Meridian, said, "I cannot support the bill as it stands, because of the fact that it all hits one district." He moved to send HB 256 to the Senate's 14th Order for amendments, where any senator may offer amendments. Fulcher said he wanted to remove the clause that hurts Boise, while leaving other transportation changes intact, including permanently eliminating funding for field trips. Goedde said he has his own amendment in mind, to form an interim committee to examine the transportation funding formula. Sen. Gary Schroeder moved to kill the bill, but that motion failed, 4-5. Fulcher's motion then passed, 6-3, with Sens. Mortimer, Andreason, Fulcher, Pearce, Winder and Goedde voting in favor, and Sens. Schroeder, Sagness and Kelly voting against. That means the bill goes to the amending order.
---
---