Wed., Sept. 2, 2009
Health care rally turns into shout-down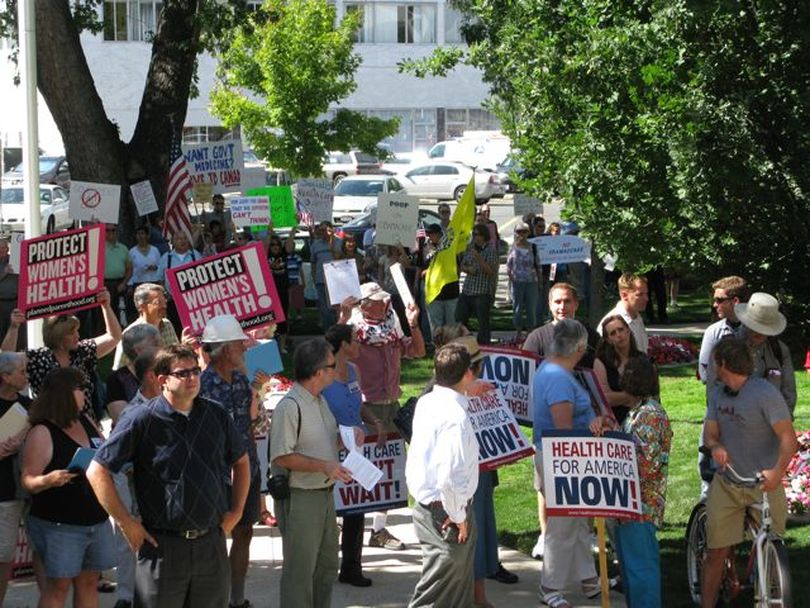 A health care reform rally in Boise today featuring Idaho small-business owners who are struggling to provide health insurance for their employees was disrupted by a counter-rally of health care reform opponents, who tried to out-shout the speakers at the rally. "That's kind of democracy - isn't that a debate?" asked Shanna Smith, who held a bright-green "Kill the Bill" sign and was among the loudest of the shouters. "I'm not angry - I'm afraid for our country," she said. "I'm afraid for the road we're going down, the road to socialism. ... It's pretty scary what's going on in that bill. It gives the government way too much power over our lives."

When the Rev. Betty Beck spoke at the main rally, framing health care as a "moral issue," protesters in the back hooted. When another speaker invoked "human rights," a woman in the back shouted, "You're a bunch of socialist dupes." Near a sign that said, "Poop on Obama care," a little boy in back yelled out, "I say you guys go back where the heck you came from!" His mother quickly hushed him.

Wendy Somerset, owner of Furniture and Appliance Outlet in Twin Falls, said her employees won't take the insurance she provides because of the cost: "It's groceries or health insurance," she said. "We need reform and we need it now." As she spoke, flag-waving protesters in back yelled, "Take your socialism!" and "Read the Constitution!" and a woman shouted, "We're not going to pay for your abortions!" When rally organizer Nancy Snodgrass of the Main Street Alliance appealed for quiet and respect from both sides, protester Lucille Verdolini shouted from the back, "Let's pray that you don't get breast cancer and die." The group in back then chanted, "Obama lies, Grandma dies."

Michaile Metro, owner of Metropolis Hair Salon in Boise, responded to the heckling by raising her voice and rallying the group in front, which numbered about 80, to cheers, temporarily drowning out the group in back, which numbered about 50. "I think they were trying to drown me out because they have fear, and they wanted to make sure my voice wasn't heard," Metro said. "It didn't really scare me, it fired me up and inspired me." Metro said she doesn't offer health insurance to her employees, but she wants to. "We're willing to pay," she said. "All we want is affordable health care."

Verdolini, whose husband, Jim, said he put the word out on the Internet to prompt the counter-rally, said she grew up in England, and doesn't want to see America go the British way. Holding a sign saying, "How lucky for Obama that his supporters can't think," Verdolini said, "I know what socialist care is all about, and I am desperate to make people understand that it is a desperate hazard to people's health, especially women. I am desperate to make people understand they are getting duped." The Verdolinis said they're "9/12'ers," which he described as people who want to recapture the patriotism, religious sense and unity Americans felt the day after the 9/11 terrorist attacks.

Both sides declared victory. "We need to all speak our minds - this is a free country," Snodgrass said, "but we need to take care of one another, and provide health care reform. So I was thrilled they were here. I believe we outspoke them. I believe our voices were heard." Jim Verdolini, a Boise retiree, said, "I think it was more of a success for us than it was for the other side." He added, "I'd sorta like my semi-fixed income not to be looted in order to pay for health care for illegals."

---
---