Fri., Sept. 11, 2009
Commemorating Sept. 11 with volunteer service to communities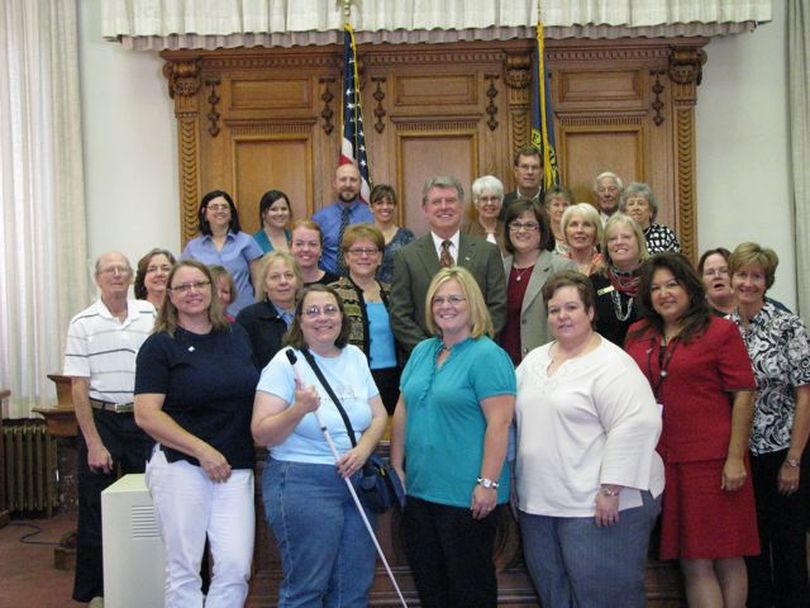 Everyone's deeply aware of the significance of today, the anniversary of the Sept. 11, 2001 attacks on the World Trade Center and the Pentagon. In commemoration, Idaho Gov. Butch Otter signed a proclamation this morning recognizing Sept. 11 as a day of service and remembrance; today is the first official, national "Day of Service and Remembrance" established by the president and Congress to  "honor the sacrifices of 9/11 heroes, and engage more Americans in serving their communities."

Said Otter, "One of the best measures of our character as a community, and our civic virtue as individuals, is the degree to which we are willing to reach out to our neighbors in time of need. Idaho is richly endowed with citizens who put their good will into action through volunteerism and service. This is a day to recognize them, and that ability in all of us."

The Governor's Commission on Service and Volunteerism, along with several other organizations, is encouraging Idahoans to volunteer in their community in commemoration today, and continue their volunteer efforts throughout the year. Click below to read the governor's full proclamation.
WHEREAS, on September 11, 2001, terrorists ruthlessly attacked the United States, causing the tragic deaths of thousands of innocent United States citizens and other citizens from more than 90 different countries and territories; and

WHEREAS, in response to the attacks in New York City, Washington, D.C., and Shanksville, Pennsylvania,  first responders and other citizens immediately and without concern for their own well-being rose to service, in an heroic attempt to protect the lives of those still at risk, consequently saving thousands of men and women; and

WHEREAS, hundreds of thousands of brave men and women continue to serve every day, as members of our nation's armed forces, with thousands having given their lives or been injured in the course of defending our nation's security and preventing future terrorist attacks; and

WHEREAS, in the years immediately following the September 11, 2001 attacks, the U.S. Bureau of Labor Statistics documented a marked increase in volunteerism among citizens in the United States; and

WHEREAS, hundreds of thousands of people in the United States from all 50 states as well as others who live in 170 different countries already observe the anniversary of the September 11, 2001 attacks each year by personally engaging in service, good deeds, and other charitable acts; and

WHEREAS, as on March 31, 2009, Congress passed the Edward M. Kennedy Serve America Act, which included for the first time the authorization and federal recognition of September 11 as a "National Day of Service and Remembrance," a bill signed into law on April 21, 2009, by President Barack Obama; and Congresswoman Matsui introduced a House resolution declaring September 11, 2009 a "National Day of Service and Remembrance"; and

WHEREAS, Serve Idaho, the Governor's Commission on Service and Volunteerism, the United Way of Treasure Valley, the Southwest Idaho Directors of Volunteer Services, and the Idaho Non-Profit Center, have come together to establish a statewide Coalition on Volunteerism; and

WHEREAS, under the banner of United We Serve, the Corporation for National and Community Service, in conjunction with thousands of national and local service agencies and non-traditional partners, has created the website Serve.gov to make it easier to find volunteer opportunities throughout the year to promote impact-oriented service; and

WHEREAS, as September 11, 2009, we will celebrate United We Serve, President Obama's nationwide initiative to create a sustained, collaborative and focused effort to meet community needs and make service a way of life for all Americans, and also will mark an opportunity for Americans to recommit to service;

NOW, THEREFORE, I, C.L. "BUTCH" OTTER, Governor of the State of Idaho, do hereby proclaim September 11, 2009, to be
Day of Service and Remembrance

in Idaho, and urge citizens to commit to community service on this day and an ongoing basis.

IN WITNESS WHEREOF, I have hereunto set my hand and caused to be affixed the Great Seal of the State of Idaho in Boise on this 11th day of September in the year of our Lord two-thousand and nine and of the Independence of the United States of America the two hundred thirty-fourth and of the Statehood of Idaho the one hundred twentieth.


C.L. "BUTCH" OTTER
GOVERNOR

BEN YSURSA
SECRETARY OF STATE
---
---